So, there was some major dramz last week getting Friday's post up (oh hey
Suckcast
Cable. Don't act like I didn't pay you on time this month. Lord knows we were both shocked when it happened, but what's important is it
did
happen.) so I didn't get it up until Saturday. Which is irritating because it was actually a good one

—

Dr. Reuben's Cease & Desist Order
and
a "Jersey Shore: Miami" recap. God. Why couldn't that have happened on a day when I talked about diarrhea or hand jobs or something equally unattractive?
Sigh.
Just make sure to check out Friday's post out when you're done reading this week's Queer Abby.
What's Queer Abby?
Our weekly advice column where you write in and our resident advice guru, Amy, answers your questions and I kind of flounder around and sometimes make things worse.
If her name is Amy, why do you call it Queer
Abby
?
Because she's gay. So it's like Dear Abby, but
Queer
Abby.
Why do you need to put a label on people's sexuality?
I don't. I just used the word queer; it's all-encompassing.
No, you said she's "
gay". OK, well, she's
queer
.
This blog is gay.
Gay like it likes other blogs or gay like it's lame?
Both, frankly.
Well...that's fair, I guess.
So are you gay? You never talk about dating and said you didn't want to do a 2birds1blog Investigates on speed dating.
I'm not gay; I'm just lazy.
Are you aware that you have a tag on this blog called, quote: "Meg would gay go for Cat Deeley in heartbeat"?
Uh, I think it would be more newsworthy if I
didn't
have a tag on this blog called, "Meg would go gay for Cat Deeley in heartbeat".
Point taken.
Are we done here?
I don't get T.G.I. Hagman. ...
I hate you.]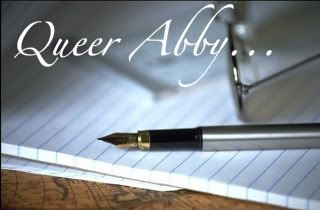 Queer Abby,




I think you might be the only one who can help me! I am an early 30s single lady (yes, we love 2birds1blog too! and eff suzy soro!), who recently decided to try to go back to school and pursue another degree. As part of this adventure, I've started taking a pre-req evening class with people who range in age from 19-y.o. college students to other over-30 club members who are trying to go back to school, like me. I'm definitely conscious of being one of the older students, but I'm not shy about it -- in fact, it's kind of liberating.




Sooooo, there's this one guy who's reeeeeally cute, and reeeeeeally smart, and sweet and nice and tall and, ok — you get the picture. Needless to say I have a crush on this guy. Which, until recently, I thought was completely anonymous and from afar. I mean, what's a harmless crush? Crushes are good for your health. But THEN, he started hanging around me more, coming and sitting next to me in class, etc. I started getting a vibe from him. Which, at first was exciting — until I googled him. And from what I can tell, he seems to be at least 7 or 8 or maybe even 9 years younger. I would have to outright ask him his age to confirm, and I almost don't wanna know. It would kill the dream.




Which brings me to the most recent happening, which is that he invited me out! Part of me is doing a happy dance, and part of me thinks I should put the kibosh on the whole thing. On the one hand, it's not like I'm gonna marry the guy — it would just be hanging out. And suppose we ended up going out — so what. Actually, I'm not even for certain that he's actually interested — maybe he's just being nice! But, on the other hand, my radar is usually not too far off — I think he might like me (although, I'm not sure if he realizes how much older I am) — and I definitely like him, even though it makes me Mrs. Robinson.




The question is - is it okay for me to see what happens with this guy or is it totally inappropriate to even consider it?? (I should also mention that this whole going back to school thing has taken away any time I had before for dating men my own age, and so it's getting kind of lonely up in here.)




I'll do what you say because I think you are wise!




Signed,




Demi Moore Wanna-Be




PS. Hi Meg! [Ed. note: Hello!]
Dear DMWB,
Honestly, I can't see any reason why you shouldn't go out with him. You're right to acknowledge that a considerably age difference comes with some potential challenges, and if he was 18 or younger that might be one thing. But since he's not, it's fair to let his personality, not his age, determine your involvement with him. And the fact that you only realized how young he is after googling him (as opposed to by the way he acts) says to me that most of the biggest problems that can come with dating someone significantly younger aren't immediately evident in this case.
So yea, why not have some fun with it. The best you can do is test the waters—knowing the potential issues that could arise with dating someone much younger—and discern whether or not those are legitimate concerns in this case as you get to know him better. Don't try to deny it if it seems like they are, but don't assume they will be until you've had some time to get a better sense for him and decide you're interested in taking it to the next level.
Ah, The Google. What would happen if we lived in a world where we didn't constantly feel the need to google ourselves and each other? Answer: I would get sued 90% less often and you'd get some quality tail without feeling like a complete child molester. Oh, how I long for simpler times...
Look, I don't want to seem pompous, but your situation reminds me of one of my very favorite William Wordsowrth poems, and although it was written in 1795, I think its message still applies to today:
Age ain't nothing but a number 

Throwing down ain't nothing but a thang 

This lovin' I have for you 

It'll never change
Don't email me. That was a joke. I'm aware that was Aaliyah and not Wordsworth. I mean, you can email me, just don't correct me about that. God forbid we have another Journey/Bon Jovi debacle on our hands...But I digress; the point is

—

it's not a big deal. True, I'm basing my argument on a woman who illegally married R. Kelly when she was 15 and died in a plane crash, but still. (Sidenote: in the spirit of any and all of my advice, this has nothing to do with anything, but, it never doesn't shock me that Aaliyah is dead. Ever. Tulane Chris and I were on the phone discussing blog stuff the other night and I randomly started thinking about Aaliyah and interrupted Chris all, "I'M SORRY, BUT IT STILL BLOWS MY MIND THAT AALIYAH IS DEAD." I thought he was going to be like, "Come on, Meg. That happened in 2001 and we have business to talk about now," but instead we ended up having a 10 minute conversation about how completely bizarre it is that she's dead. (Which is pretty par for the course, I guess, when two people with ADD decide to do business together.

And it

might

explain why we're both still broke.)
I can remember exactly where I was when I found out that Aaliyah died: it was the summer before junior year of high school and I was in Victoria Alexis' kitchen with Jen, Jill and Talia and we were obviously on AIM talking to BoYZ~* with MTV on in the background, and suddenly a news crawl came across the screen that Aaliyah had died in a plane crash and we freaked out. More so, I distinctly remember I was wearing a denim skirt with a blue canvas belt from Express, because it was 2001 and what was 2001 for if not wearing Express? That outfit is scorched into my memory because I thought it looked really good on me, so I wore it a lot that summer because that was the summer we hung out with Jason Rose a lot and I had the biggest crush on him. And what really blows my mind, perhaps more so than Aaliyah being dead, is that half of the people I just mentioned are now married and I'm in bed blogging at 12:39 on a Sunday night wearing boxers, a yoga headband and no shirt, all while clutching a stuffed fox. Put. That. In. Your. Pipe. And. Smoke. It.
I don't even remember what this question was originally about...? Oh. Yes. 30-something woman crushing on 20-something dude. Are you kidding? Go for it. It's not a big deal unless you make it a big deal, so don't make it a big deal so you can get yourself some new and exciting ass.
Dear Queer Abby-




My boyfriend of 19 months broke up with me 4 days ago. He is going to law school in Virginia and we didn't know what was going to happen to the relationship when he left. We knew that we had to talk about it so we planned on having a conversation where both of us could say what we wanted. The entire week leading up to the conversation he told me that he loved me and acted like nothing was wrong. The day of the conversation he said he didn't want to date me long distance if he couldn't see himself marrying me, and he couldn't. I was hurt and sad but I was happy that he was truthful with me. I was accepted the decision and was actually carrying on with life normally. Tonight I found out that he is going on a date with someone else. I was devastated and really angry that he could think about dating someone so soon after we broke up. My friends tell me that he is using her to get over me but I'm afraid that he was interested in her while we were dating and she is the real reason he broke up with me. What do you think about his date? Are my friends right or am I? Please help.




Sincerely,




Heart Broken
Dear Heart Broken,
I'm sorry about your break up. No matter the circumstances, it's never fun, and I promise it wasn't for him either.
I wish I could answer your questions more definitively, but who knows if it had anything to do with her? And more importantly, does it matter? I know right now you feel like it does, but really it doesn't. What you're looking for is affirmation that the relationship mattered to him. And, HB, I can assure you that people don't spend 1.5 years in a relationship they don't care about.
So, I know it's way easier said than done, but just trust it was worth it to you both, and know that now it's time to move on. You don't need to know his reasons in order to do that. All you need is the information you already have, the self-respect to know you deserve someone who wants nothing more than to be with you, and a little faith that that person will come along.
I know that may not help a whole lot right now, but trust me, just focus on those points and give it a little time… And if you still feel the same way you do now on August 2 of next year, let me know and I'll give you $50—on my honor. Now look at that, you win either way! So take a second to smile and look forward to your payoff, no matter what it is.
1.) The mental gymnastics I just had to perform to figure out how many years are in 19 months was startling.
2.) Christ on a cross—that shit is brutal.
3.) I agree with Amy; I don't know what his history with this chick is, but frankly, it sucks either way. So, if I were you I'd spend more time watching Shop Girl and crying to the point where I get a nose bleed and less time trying to Perry Mason my way into this girl's history. One is cathartic and will help you get over it, the other is pointless and will just drive you crazy.
4.) I don't have 50 bucks to give you (ahem, Amy...) but if I did, it would be all yours. What I do have is personal embarrassment. And that, as we know, I have in spades. It's my currency. So today I'm going to give you 50-dollars worth of embarrassment in a desperate attempt to temporarily make you feel better. And since I normally give you embarrassing stories for free, this time I have to step it up. It has to be visual. So what you're about to see is a picture of me when I was 8-years-old, taken by my sister in our back yard at the height of my modeling career. Because as we all know from this vintage blog post, yes, I had a childhood modeling career. And by "I had a childhood modeling career", I mean I did local runway for Nordstrom's AN time, was a live mannequin at the Limited Too in White Flint mall and watched a lot of "Cindy Crawford's House of Style". And then one day Becca, ever the supportive big sister, decided that she was going to help me build my modeling portfolio, so she grabbed my mom's camera, took me out back and told me to work it.
It was 1993. I had a belted Hanes t-shirt, unkempt hair, a clef chin and day lilies coming out of pretty much everywhere. Feel better. (Even if it's just for like, 40 seconds.)
Got a question for Queer Abby? Email QueerAbby@2birds1blog.com!