A few thoughts that have nothing to do with anything before we get to this week's Queer Abby questions:
1.)
I would like to amend my list of Movies I Regret Watching Alone at Midnight to include
The
Messenger
. In retrospect, that was almost an impressively god awful late-night
Netflix
decision. Although that kid from "Flash Forward" really stepped his shit up and I was
not
mad with the results. Not mad, and horribly confused about my strong sexual feelings for him, as in my mind, he will always look like this: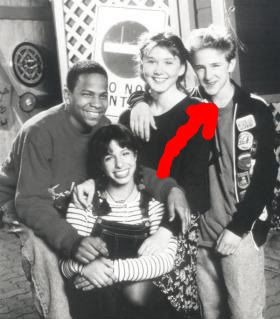 2.)
I went out to dinner with my parents tonight to a pub downtown and
unbeknownst
to us, it was Trivia Night. I haven't been to one in forever and man; I completely forgot how irritating I am at a pub quiz. I guess my primary example of this is that when I get an obscure question correct, it's my honest-to-god natural reaction to throw my hands up and dramatically shout, "
OHHHHHHHHH
MY
GOD
" like I just sunk a basket from the half-line. Because in my world (a world full zero hand-eye coordination or athletic prowess at all,) the equivalent of a slam dunk is accurately identifying
Barb Wire
as the Pamela Anderson
movie
set in the second American Civil War. I wish we lived in a society where that was even a slightly useful skill...
3.)
GOD
DAMNIT
. My mom knew my Harry Potter wand was in the Christmas tree the entire time. (Slash, kudos to her for restraining herself from throwing it out or shoving it up my ass, I guess?)
4.)
I moved out of my parent's house (for the second time) almost two years ago and they still accidentally call the cat "Meghan" every time they yell at her. I can't tell you how many times I've been over and one of them shouts,
"MEGHAN, GET DOWN FROM THERE!!!!!"
and I subsequently have a heart attack because I just wanted a Snapple. "Oh, I meant Evie.
Evie
get down from there." I'd like to say I'm offended, but frankly, I kind of see where they're coming from. Evie and I share an overwhelming amount of similarities.
We both:
- are obscenely attractive to the point where it's unfair and feels like god is playing a cruel prank on the world
- take a while to warm up to people
- bug my mom when we're bored or hungry
- require a large amount of attention from my parents
- don't like Tulane Chris (HA HA, just kidding.)
- split the day between napping, eating and primping
- get easily distracted by crinkling noises and shiny objects
- have a tendency of getting into the liquor cabinet (true, once in, I tend to drink and she just knocks shit around to be annoying, but I feel like our hearts are in the same place.)
There's only one overwhelming difference I can think of: she's...
Asian
.
Subtle racism aside, let's get to this week's Queer Abby questions. I kind of struggled with these, so I called Alex to get his opinion. Thus, my answers this week are infused with his flavor. (I just had the following conversation with myself in my head: "I wonder what Alex's 'flavor' would taste like? Probably money,
Burberry
cologne and
Seafari
." Alex, I hope this doesn't change our friendship, but I would
absolutely
put a light sprinkling of that on my steak and chicken dishes. There it is
—
honesty. The cornerstone of any good friendship.)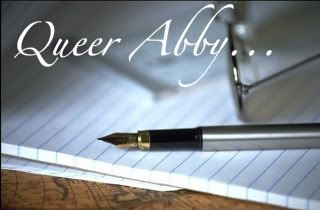 Queer Abby,




I am writing on behalf of my friend - no really, my friend - to get your perspectives on her situation. She - I'll refer to her as "Girlfriend" - is going through a divorce that came out of nowhere (to her) when, the day before Valentine's Day, her husband freaked out on her and said "I don't think I want to be married to you anymore". There were also rumblings of infidelity on his part (he had admitted to her months before that he "fell in love" with a co-worker (jerk!) but according to him, nothing physical ever happened between them and the other woman moved away anyway). Girlfriend and Jerk married very young and both were pretty inexperienced in life, sex, love. Her husband, being the biggest self-absorbed dummy on the planet (he's from Canada) called all the shots in the relaysh because she was too insecure to put her foot down on anything. She stood by him through it all because she considered herself a dutiful wife, and would never ever assert herself. (She had to sell some of her Coach bags to make ends meet because he would go out drinking with his buddies at least 3 times a week...gasp!!!). My man would get a second job before I sell a purse.




She has since pulled herself together with such class and grace over such a short amount of time - it makes me so proud of her. She's been talking to friends, family, a counselor, a priest to help her through this time and I hope learning more about herself and figuring out what is good for her in a relationship and what makes a relationship healthy. Now, she wants to date, but nothing serious. Understandable. But she is really conflicted when it comes to having sex before she's divorced. She's religious but not over-the-top about it and is a sweet, morally-afflicted girl so she states that she will not have sex while she's still married.




Here's my take: We've been spending a lot of time together since all of this stuff has gone down and I'm learning what a dork she is for boys. Like, bat-shit boy-crazy that no 30 year old woman should be. She's very pretty, not so heavy on the inner monologue, if you know what I'm sayin', but she gets a lot of male attention and is well aware of that. I let her babble on about it, chalking it up to everyone loves to be flattered and I know the attention helps her feel good about herself, but when she's telling me about guys she's speaking with (via online dating sites), I can tell that she's already way too emotionally invested and picking out colors for wedding #2 - and this is before any sort of actual date. More recently, she's been talking on the phone with a guy who she met briefly while visiting her grandparents a month ago - and who lives 700 miles away - but dang if she isn't retarded for him already.




I've told her that while I understand it's all very exciting, she needs to get it together and slooooow down with the emotional crap. But then the sex part comes up. My thought here is to tear it up - partially because I think it might toughen her up in the emotional department, and maybe boost her self-esteem, which can then help her in the relationship department down the road and give her the confidence to be more assertive when it's necessary. Essentially, she needs to man it up. I'm not sure if I'm explaining my point well enough but I'll keep going...




Girlfriend's reasoning is that she's got moral convictions and she just cannot have sex while still married, even though she really wants to. I tried to explain to her that a) the relationship is gone. Over. Le Fin. and she and Jerk both know that so it's not cheating. And b) God isn't the one granting the divorce because that's not really his line of bidness, but the State of MD is and putting aside legal ramifications (which I truly don't think would come up, the divorce is moving along pretty amicably), I doubt the state thinks too much about Girlfriend gettin' a poke. I don't think she should put her sex life on hold and miss out on some great opportunities to expand her horizons because someone hasn't stamped their insignificant name on a piece of paper.

She keeps crabbing about how horny she is and the flirting dudes are making it soooo hard for her to keep her "vows". So I offer my two cents (see above) but always follow it up with "You gotta do what's right for you so make sure you can handle whatever you decide...". I just want her to open her mind to the idea of sex before divorce and use everything about what was a crappy situation to get as much self-discovery out of it as she can. I truly think she needs it. And I'm not saying humping should become her new favorite hobby, I've been encouraging her to get involved in her own creative pursuits as well - and she's been doing that, which is awesome.




Is there anything I can tell her to help her consider things differently, or at least putting herself first for once? Or do I just sound like a big, hee-whopping whorebag who's putting too much emphasis on sex and/or men and pressure on her (although I only chime in when she brings it up)?




Thanks for your thoughts,




Girlfriend is a Total Charlotte and It Kinda Makes Me Want to Puke




P.S. - Can we all be BFF's? LOOOVE you guys!!!!!!!1
You're a good friend; she's lucky to have you around. I agree, there really isn't anything morally reprehensible about her having sex before the divorce is finalized; she has every right…. But I agree with you even more in saying "You gotta do what's right for you so make sure you can handle whatever you decide..." Part of healing after a shitty break-up or divorce is reconnecting with who you are, who you want to be and what's important to you. It sounds like she's really been putting in her time doing that, so now it's important that she lives according to her own compass. After coming out of a relationship where someone else called all the shots, it's no small accomplishment that Girlfriend is defining and minding her own boundaries…
I wouldn't worry so much about the disadvantages of her waiting. She's working on self-discovery in other ways right now and that can carry over and enrich her sex-life when she's ready for a little more sexual exploration, which she'll have plenty of time for once it's all said and done. And having sex doesn't necessarily boost someone's self-esteem (trust me, chicken and egg aside, there are lots of people out there getting plenty of ass from plenty of people who still have really low self-esteem overall). Sure, knowing you're sexually desirable might help with your confidence some, but true self-esteem comes from feeling good about your decisions and being a person that you can be proud of, and it sounds like that's exactly what she's working on… Not to mention, if sex is something that's this serious to her and you're worried that she is viewing these new relationships too seriously already, well maybe it's best she's not sleeping with them.
Bottom line: Sometimes we just have to do things on principle and, for her, this is understandably one of those times. Obviously, I really hope she's doing it so she can feel good about herself and her decisions, and not because she feels beholden to Jerk or is waiting for something as arbitrary as a signature on a piece of paper to truly move on. But, assuming that's the case, respect and support it as best you can (without being insincere) even if you'd do it differently, or don't completely get it… Now, that being said, the martyrdom thing would totally annoy me, so if she continues to complain about being horny, tell her she's the one who decided that's the price of piety and point her to babesintoyland.com.
THOUGHTS:
1.) If we become BFFs, does that mean you'll encourage me to have sex more? Because if so, I don't see this friendship working out. I can't afford to go out and Christ I hate sweating.
2.) Selling your Coach bags to make ends meet because your husband spends it all at the Lobo Lounge is quite possibly the whitest problem and solution I've ever heard. And this is coming from the person who spent the better part of last Friday venting to Helena about the design flaws on her new $200 coffee machine.
3.) Real conversation between me and Alex re: your question:
Meg: You know how after you lose your virginity, you go through a giant ho-bag phase?
Alex: Yes.
M: Maybe she needs to have one of those and get it out of her system. But then again, do you really learn anything about yourself from doing that?
A: Oh, absolutely.
M: Really? What did you learn?
A: [Pauses and gives it some serious thought] That having sex in public is tricky?
Ah yes, subtle soul-searching and the benefits of having a jacket and lube on you at all times.
4.) OK, advice. I don't know dude, I'm conflicted. First and foremost: I think we all agree that God and the great state of Maryland don't give a shit who puts what it inside of her. Both have bigger fish to fry. (Pun COMPLETELY unintended. Vomit.) Here's the thing: on one hand, you're sick of constantly hearing about her BoY cRaZy shenanigans, but on the other, you want her to bang everything that moves because it might help her, despite the fact that it will increase the BoY cRaZy talk exponentially. Huh. That's really selfless of you. What's that like? That doesn't really answer your question, but sometimes the best questions raise better questions.
I'm sorry to say I don't have advice on how to loosen your friend up based on principal. I feel bad I'm being rough on her because she's clearly been through A Time, but she's not doing herself any favors. I mean, if you're going to sit atop your cloud of Holy Morals, what's the point in making life harder on yourself by going out on hot dates all the time? Either she's not ready, in which case she should slip her lawyer a 20 and tell him to expedite some shit, or she's ready. Period. I just don't get the point in going out, seeing what you can't have and going home to whine to your friends.
I think you need to tell her to piss or get off the pot. It's like that episode of "Intervention" with the chick who wouldn't eat, but still chewed food and spat it out into a cup. Every time she went to a family BBQ, they'd be like, "thanks for wasting two hamburgers and a rack of ribs, asshole." That's pretty much how I feel about your friend. And again, I'm sorry, because what happened to her is genuinely a nightmare, but she's just making shit harder for herself and you're the one who has to deal with the angst. That doesn't seem fair to me and I'm irritated for you. Now I'm going to listen to some Blink-182 and punch a few holes in the wall.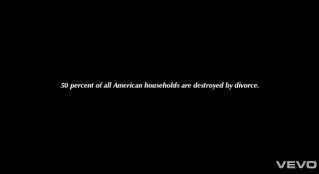 Dear Queer Abby,




As I lay wide awake at 1:30 last night/this morning unable to sleep (Hi Meg!) I kept ruminating about something that's been bugging me for a long ass time and suddenly it hit me. I should write you so I can come to some sort of resolution. Let me lay it down for you.




I got married over a year ago to an amazing man. Since both he and I have a lot of really close friends from all over the country and didn't want a 14+ member bridal circus, we decided to keep it simple and just have a MOH and BM. I picked who I thought was my best friend from middle school.




My now-husband and I were engaged for well over 1.5 years and during this time, my "bestie" not once offered to help me with the wedding. It's an exciting time, and she was a buzzkill. She never came to any of the bridal showers that my other friends and family members threw for me, (nor did she offer to throw me a bridal shower or bachelorette party.) One thing n particular that hurt my feelings was a shower that my aunt threw for me knowing that my friend was doing absolutely nothing. (BTW, she knows all my family members really well as we were best friends all throughout middle school, high school and beyond. So not knowing anyone is SO not a valid excuse.) Anyway, she called my MOH asking if she would like to host it with her, and never heard back. My husband even went behind my back and later told me that he emailed and called her giving her ideas on what he thought I'd like to do for a bachelorette party and never heard from her. (He now hates her for this and several other reasons.)




I called her a couple times crying, saying how my feelings were hurt because I felt like she didn't care. Like I said, it's exciting stuff and you'd hope your best friend would share in that excitement as well. I didn't care if she actually threw a party, but it would have been nice had she at least offered. You know, "it's the thought that counts" schpeal. Long story short, she was MIA throughout the entire process, which completely sucked because she was it as far as the bridal party goes, and she knew that. To add to it, she didn't come until an hour before the rehearsal, (despite me begging for her to fly in early and help me since I desperately needed help with last-minute crap AND I even offered to help pay if cost was an issue) and she left at 6am the day after the wedding. Who does that?! (I hope she puked on the flight back.)




Anyway, I haven't been able to get over the hurt feelings. She was my best friend and this was a huge event in my life that she wasn't there for. I told her repeatedly that my feelings were hurt and she did nothing to resolve the issue at hand, nor did she apologize. As a result, I've drifted apart from her but feel guilty for doing-so. Do I build a bridge and get over this or did her true colors show and is the friendship not worth salvaging? What makes it doubly hard is that most of my friends dislike her because of her complete apathy towards me, and my husband hates her and doesn't get why I'd want to remain friends with her.




Thanks so much for any advice!




-Should have eloped in Vegas




P.S. Sorry for the novel-length question. :(
Nope, SHEV, it's over. You've done everything you can and should do in this situation.
Seriously, I'm ALL about forgiveness. I tend to be of the mind-set that it hurts worse requires more energy to hold a grudge against someone you're close to than it does to forgive them, even if they've knowingly let you down. (I don't necessarily mean like forgive, forget and go back to being besties: I just mean letting them remain part of your life so they have the chance of one day redeeming themselves.) However, I feel like you should pretty much never feel guilty about cutting someone (you're not related to) out of your life if you can honestly run down the following list of questions and not answer "Yes" to a single one of them.
- Was she unaware that what was (or wasn't) doing hurt you?
- Was she unaware, at the time, as to how she could've done it better?
- Were you making unreasonable demands of her?
- Was she really trying to the best of her ability, but just falling short of your expectations?
- Is there some extenuating circumstance in her life that prevented her from meeting your expectations? (Childhood issues don't count and neither does 'I've been really busy', I'm talking like terminally ill family member, personal health, safety or legal issues, etc.)
In fact, if "no" really is your answer to all of those questions, I can't think of a lot of situations in which you shouldn't automatically cut that person out of your life as a matter of self-respect and appreciation for your own time and energy, ESPECIALLY if the person hasn't taken responsibility for hurting you and tried to make things right or make it up to you. So yea, if anyone should be building a bridge here it's her, not you. You obviously have other friends and family that are there for you and want to see you happy—give them your time and attention. You don't have to be a bitch to her, or announce the end of your friendship or anything; don't waste your time on her at all anymore (she clearly wasn't willing to give you much of hers). Just be done with it. I know it sucks, but sometimes it just has to happen that way…and it's not you're fault that this is one of those times.
This question made me feel like an asshole because I left at 4 o'clock the day after College Roommate Danielle's wedding. But it was a Sunday. And I wasn't in her bridal party. (Although I did get a name drop in her vows, which again, insides -> corkscrew -> via asshole.)
I'm my sister's maid of honor and you have no idea how constantly paranoid I am that I'm doing to her what your friend did to you. Because I can't tell you how many fights I've overheard at work between brides and their aloof bridesmaids and it's my #1 fear that that will be me. Because her wedding will be the third I've ever attended and first I've been in, nevertheless been a maid of honor in. I don't get how any of this works or what I'm responsible for and I'm always nervous that I'm not doing enough or I don't seem supportive or I seem too disinterested. I was out to drinks with reader-turned-friend Bea last month and she was like, "you haven't really written anything about being your sister's maid of honor. What's up with that?" I then went through this downward mental spiral being like, "Wait...should I be? Would she want that? I don't know what I'd write about. Does that mean I'm not doing enough? Do I need to plan more things? Should I be more active? AM I BEING THAT GUY?"
So when I read your question, my initial reaction was to be like, "MAYBE SHE JUST DOESN'T KNOW WHAT SHE'S DOING AND HER FLEDGLING BLOG CAREER HAS MADE HER NOCTURNAL AND SHE'S NOT AWAKE TO EMAIL YOU DURING THE DAY AND ASK HOW THE PLANNING IS GOING AND YOU SHOULD JUST SAY SOMETHING. MAYBE SHE CARES? MAYBE SHE CAAAAAAARES?!" But, you did say something to her. Repeatedly. So that sucks. Because now it's time to break out your pinking sheers and snip, snip, snip. Which as I've discussed before, hurts like sin. I'm starting to come to the realization that one of my closest friends is over me and it sucks. Part of me thinks I should say something, but other part is like, how many times can I fucking beg you to hang out before I should just take the hint? You know? I don't know. What I'm trying to say is: I feel you. Losing a friendship blows, especially when it feels like they're not willing to fight for it and you are. So you stay up late thinking about it and thinking about other friendships and relationships that didn't work and you watch disturbing military movies on Netflix staring Disney child stars from the 90's and you can't fall asleep to save your life and you can't have a cathartic cry because your body is 60% water and 40% anti-depressants, so as the sun comes up, you take four Tylenol PM and listen to NPR until Garrison Keillor's "Writer's Almanac" lulls you to sleep, a feat you're so grateful for you actually consider pledging during the next drive because god bless and who doesn't need a tote bag?
Or at least that's what I recommend.
Got a question for Queer Abby? Shoot an email to QueerAbby@2birds1blog.com and we'll all have a good cry.