For reasons that I'm not going to explain because it makes me look like a giant loser, I was recently looking through all of the guys named Ryan in New York City on Facebook. First, let me say that there are a lot of gents named Ryan living in this city. Although I didn't find the Ryan I was originally looking for, my quest became a truly interesting study of facebook photos and faux pas.
The Facebook Photo— a bitch and a lover. As a girl, I choose my facebook photo primarily by how unrealistically attractive I look in it. It's narcissistic, but you can't deny that you do the same thing. I'm not going to lie, sometimes when I'm getting ready to go out, I'll evaluate whether or not I'm lookin' "Facebook-worthy" that night. In other instances I'll even attend certain events just because I think I'll get a cute Facebook pic out of it. Overall, it's accepted that girls use their Facebook pic as an outlet to display their "Oh my Gawd I look HAWT!" pictures. What about guys? With guys it's harder. It would be a little gay for a guy to display a nicely cropped photo of himself trying to look as cute as possible, workin' all the right angles and sucking in like the world is about to end. While I was searching through the Ryans, I discovered that there exist 20 different standard shots that guys use for their Facebook picture. It's like guys got together and agreed that these 20 poses will make them look good without trying to hard because that would be gay dude. The best part is that most of them are a hilariously horrible call. Let's do a little study, shall we? I present to you, The 20 Male Poses of Facebook!
#1: The High Contrast/Photoshop Filter/iSight Shot

This is the equivalent of walking around wearing a half mask and a cape like the Phantom of the Opera. You're hiding something. And there's a large possibility that something is a skin problem.
#2: The Prepster at a Function Shot
He could be at a wedding, cocktail party, engagement party, sailing team reception, whatever. Either way he inevitably graduated from Wake Forest and now works for Ernst & Young.
#3: The Just Hangin' with my Bros Shot

Whereas girls have an odd ability to quickly line up in cute formation, hug and make a kissy face to the girl to their left, guys have the ability to stand next to their bros, look awkward, barely touch each other and look stoic. SMILING IS FOR PUSSIES BITCH! NOW GET ME A NATTY LIGHT!
#4: The Too Much Party For One Picture Shot

Dude, I was so fucked up that night. Who were those girls?
#5: The I Love my Girlfriend Shot
Awww you love your girlfriend! Sadly 9 times out of 10 the girlfriend withheld sex or whined uncontrollably until he put this as his pic to ward off evil sluts and give his bros something to laugh at him for. There's nothing like forced love.
Speaking of couples…#6: The Me & My Girlfriend Support a Team! Shot

I was surprised at how many of these there were. I actually find this less offensive than The I Love my Girlfriend Shot. It's less forced and involves beer.
#7: The THIS GUY! Shot

One of my all time favorite poses. It always makes me wonder, what is it about that guy? That Guy always seems kind of lame and bro-like. What is it about him that makes you not only like him enough to share your Facebook profile pic real estate with him, but also point directly at him? This kid man…this guy…
#8: The Drunk Guido Shot
There's beautiful consistency in these shots. Ingredients to make a Drunken Guido Shot: year round tan, gelled up hair, groomed eyebrows, designer suit, shirt open, expensive mix drink in hand (optional: slutty girl named Alexa on your arm, name of the lounge's website at the bottom, usually containing "Nite Life" somewhere, proving that you're so hot, you're a local celebrity.) Now aggressively point to the camera like the photographer just insulted your mother's lasagna.
#9: The I Don't Know if you Know, But I Work Out Shot
This is an extreme version, but I had to share. Usually this shot is of a guy who just happens to have his shirt off and who just happens to have a 12 pack and just happens to be flexing at the moment someone randomly took their picture.
#10: The Wacky, Fun Guy Shot
I would date this guy and then be surprised when it turns out he has a drug problem and treats me like shit.
#11: The Babby Daddy Shot
When I have a kid, I think I'm going to retire all of this Internet socializing. Know why? Because I'll be too busy actually raising my kid and not virtually poking people. (That's a lie and we both know it.)
#12: The Just Jamming with my Band Shot
So emo, I'm not even mad.
#13: The Seasonably Inappropriate Shot

God knows you looked good in that James Bond costume, but it's June, time to switch up the photo. I have to admit, I have been victim to this shot myself. I have this one picture of myself in my sophomore year Halloween costume where I look ridiculously cute. It's sort of blurred, I'm wearing Playboy bunny ears and I was caught at the best angle ever. I think I rocked that picture for like 8 months straight before I finally had to retire it. But, all good things must come to end…so let's retire all Halloween costume pictures, sitting on Santa's lap shots, and maybe even drunk St. Patrick's Day pics. Look forward to Earth Day on the 22nd!
#14: The Self-Photographer Shot

Not to be confused with…
#15: The Self-Cell-Photographer Shot

The shittier version of an already shitty action. But then there's always…
#16: The Accidental Self-Photographer Shot

God Damnit I love these. You can crop a photo all you want, but the telltale elevated shoulder will always give you away. I love these because the photographer/subject truly believes that we will believe he was just caught by someone in this moment of pensive thought. But this isn't even the height of social retardation and self-photography! We still have…
#17: The Future Pedophile of America Shot
What the fuck? Are you trying to tell me that you don't have one friend who could take a picture of your creepy ass? Not one person? You're just forced to sit there in a dark room, creepily lit up by your computer monitor and take it yourself with your web cam? And are you so into your porn and/or Myst game that you can't be bothered to look in the damn lens and smile? These make me want to take a shower immediately…
#18: The Fuck You Shot

So, let me get t his straight— you're too cool for Facebook, yet there's calculated effort to seem badass and aloof. And every Fuck You Shot I found was of a fat little middle schooler like this one. Kid, get a friend and let your hair grow in.
#19: The Throwin' a Hand Sign Shot
A classic. I understand the need to be doing something with your hands when taking a picture; it's a little awkward. But a good gang sign or shocker is much better than the middle finger (you little Columbine-esque freak). I don't know how many pictures exist of me throwing the shocker (not because I enjoy it, just because it makes people uncomfortable and is badass.) However, what is that sign this guy is doing??? It's…
#20: THE MYSTERY HAND GESTURE SHOT
Ok. What's going on here? Seriously, what is that? A consistently sideways peace sign? That has to mean something. 20 points to the first person who solves this mystery.

I saw it countless times during my photo-research.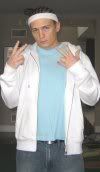 It's like the carrot sign thingy you use when you're coding something. Is it slang for something? I thought I knew all of the cool ghetto hand signs! Did I seriously just use a coding reference in trying to prove that I'm cool?
Wow. I'm out.
Sha la la!
Patsy