I'm a little bit bogged down with work today and I'm doing a freelance gig, so I don't have all the time in the world to talk about what I really want to discuss with you: my fight club I created with my roommate leaving me with a horribly disfigured bruise that impresses me with a darker shade of black each day I wake up, Halloween shenanigans and my inability to stay awake at work etc. However, I had to share a few things with you:
1.) Quote my therapist (yes therapist, pretty people have problems too), "Kido this is New York—everyone has a Blackberry and a therapist. Welcome to the club."
2.) Speaking of being welcomed to the club, there were a few weeks where every morning I got a bagel from the breakfast vendor guy on the corner of Madison and 41st. I stopped last week because I am poor and can't afford a dollar bagel every morning ("aint got no cash, but I stay fly"). This morning, however, I decided to splurge and get a bagel again. I waited in line, walked up to the friendly bagel vendor and he immediately put a sesame bagel with light cream cheese in a bag and asked, "I haven't seen you in a while! Is everything okay? How are you doing? Is it work?" I was truly taken aback. I don't think even my dad's asked me those questions with such honest interest and worry. I damn near asked if that gentle Afghani man wanted to spoon.
3.) Most importantly, R.I.P. Robert Goulet.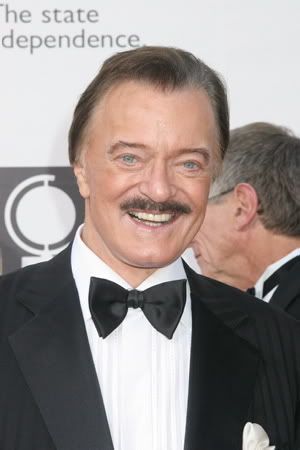 "
I have a real love for Robert Goulet. May you croon in heavan sir.
I leave with you some classic Goulet sent to me by my roommate Serena:
In an interview leading up to the date, Goulet spoke his mind to the Syracuse New Times on the state of music--"

"I don't listen to Britney Spears. She has no voice at all, and she's made $100 billion, and I've made 28 cents."

--And his personal recipe for success:

"I stick to good lyrics and good music," Goulet said. "I don't sing junk."
A sad sha la la,
Patsy