TGIDGF you guys...TGIDGF in a big, big way. This week has been torturous. I thought every day this week was Thursday. But it wasn't. It was other days of the week that are not nearly as close in proximity to the weekend.

Sigh

...BUT! I have good news: the 2b1b promotional stickers that I owe a fair portion of you finally arrived in my fair District yesterday! Sorry for the delay in sending them out. I'm what they call, "not wealthy" (

but you're Jewish!

I know, I know...) and thus could only afford the cheapest production time and delivery options available. Specifically, I chose the "print these whenevs you have time" turnaround rate and the "old man on Jazzy Scooter" delivery option. But! They're real. They're here. Expect 'em next week sometime!

And In case you haven't heard, we're having a blog promotion

*

! If you go here and here, vote for us, send a screenshot and your address to

meg@2birds1blog.com

, I'll send you stickers and a handwritten note as a token of my gratitude!
*

Promotion = shameless bribe.
Now, onto what you all really came here for; this week's drinking game! I'm not going to lie; I am

RULL

excited about this one. I've been in the mood to watch

Weekend at Bernie's

ever since I suggested you all "Lomax" your dead relatives to give me more votes last week. Plus,

W@B's

is just such a classic summer movie. It makes me want to get a perm and a speedboat, go to the beach and see what hilarious hijinx I'll get myself into. Growing up,

W@B's

was one of my and Becca's favorite movies to watch. I think we've seen it about 500 times and can quote not only complete scenes, but can also the vintage '80's previews before the movie (specifically for

Quantum Leap

, the Jim Belushi movie and a PSA about drugs where a chick dives into an empty swimming pool.) Some little kids have

Bambi

, Becca and I had

Weekend at Bernie's

. (Which may explain both of us slightly more.)
Thus, it's a privilege and an honor to give you

The Weekend at Bernie's Drinking Game!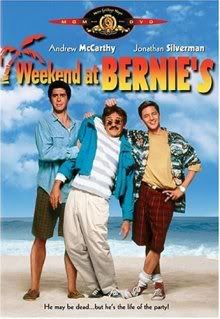 (FYI: The entire movie is on youtube in 9 chapters, located here. You're welcome.)
Rules:
Drink When:
- Someone says the name of a New York City beach (i.e. "We could always go to Coney Island and watch the fish disintegrate")
- Someone complains about the heat
- Someone hits on Gwen
- Anyone says "Lomax"
- Andrew McCarthy smokes a cigarette
- It's obvious that someone just did coke
- Richard stutters
- HOUSE PARTY!
- A bottle of champagne is popped (or you hear the sound of a bottle of champagne being popped)
- For ever fabulous '80's string bikini worn (i.e. Tawny's)
- Richard and Larry drag Bernie somewhere
- Bernie falls off the deck (or is pushed off)
- Someone has sex with a dead person
- Someone says they should call the cops or are going to call the cops
- Someone posthumously plays a board game
- Paulie kills Bernie
- Paulie kills Bernie again
- And again
- Richard lies to Gwen
- "He buried all of Bernie!"
- Bernie's head smashes into something (i.e. deck planks, bowie markers buoy markers etc.)
- There's a chase scene with golf carts
- And finally, just chug during the speed boat scene. Why? Because HIJINX, HIJINX, HIJINX!
Thank you so much for reading, forwarding to your friends, voting and voting and facebooking and Twittering and JEEZ you guys are good to us. And thanks for that! Have a great weekend and we'll see you bright and early Monday morning!