Yesterday I was in the vortex of heat and humidity that is the Dupont metro station, just standin', mindin' my own business, not putting "g's" on the end of my words when a man walked by me. But this wasn't just any man. No no no. This man looked shockingly like Milton from

Office Space

. He was rotund, had an impressive comb-over, was wearing a bona fide pocket protector and of course was wheeling a rolling briefcase behind him. As if this weren't enough to ruin my morning, he wheeled his little briefcase

directly over my foot

and didn't apologize.
Now, I could go easily go into a rant here about the necessary eradication of briefcases with wheels and the a-fucks who roll them, but let me tell you

why

he didn't apologize to me (because it takes it to a whole nother level of mind boggling): he didn't apologize to me because he was

too busy singing "Don't Cry For Me Argentina" from

Evita

.

I swear to all that is good and holy, just picture this guy strolling through the metro yesterday, haphazardly dragging his briefcase behind him, singing show tunes from

Evita

and you pretty much have my morning down to a T:
A: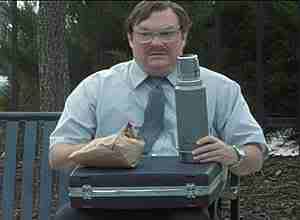 +B:
= C:
What boggles my mind the most is that he was shamelessly singing at full volume! He wasn't even wearing headphones and singing along to what he was listening to! Not like that would make it any better, just more understandable. But I will not cry for you, sir. I will not cry for you, for you just dragged the contents of your briefcase across my foot without a shred of an apology.
After work I swung by the FedEx store around the corner from my office to send out a package. The chick at the FedEx store hates me because I always write our company's FedEx account number wrong and screw things up. The middle numbers are 722 and I always write 772. As I approached the counter and handed her my package (that's what she said,) the following exchange went down:
Sassy FedEx Employee:

How you doin' today?
Me:

I'm OK thanks, you?
Sassy FedEx Employee:

Fine. Now you sure you wrote your account number right this time?
Me:

Oh yea. Sorry about that. Dyslexia: she's a cruel, cruel mistress. I mean—

mistress cruel Dyslexia is!
Sassy FedEx Employee then looked up from entering numbers in the computer and stared at me with a look on her face that clearly said, "the fuck??" I know this facial expression well. I give it to other people on a regular basis. And then I realized—

I'm

this woman's Milton Peró
n. I'm the weirdo who ruined her day. Not the other way around. She's probably going to go home and have a good laugh with her friends about the fucktard who referred to Dyslexia as a "cruel mistress." Why did I have to do that? Why couldn't I have just said, "Yes, I wrote the correct number" and moved on with my life? And why did I have to go the whole nine yards and make the "mistress cruel Dyslexia is" joke?
Humbling.