1.)

It's New Year's Eve. Kill me. I don't really know what to say about New Year's Eve that I didn't say
last year
. I hate it. It stresses me out. I wish it didn't exist. Simultaneously, I find my own level New Year's Scroogery to be irritating, but can't make it stop. Seriously, I'm irritating myself right now. As I type this. Each sentence is more irritating than the last. My ideal New Year's Eve involves taking a shit ton of Ambien, sleeping from the night of the 30th to the morning of the 1st and pretending like New Year's never even happened. And I'm not saying that for giggles; I feel like I could actually pull that off. Then Heath Ledger had to go and forget how many sleeping pills he took and ruin it for the rest of us.
GAWD
. Anyway, I guess what I'm trying to say in my own special Meg way is: Happy New Year's!
2.)

I've gotten a lot of emails asking me if I'll be re-capping
The Real World: DC
and I'd like to take this time to answer those questions: No. No, I will not be. While I'm honored you thought of me for your recapping needs, I just can't make myself watch that trash. Which is saying a lot because watching trash is sort of my
shtick
. I know I should care about this season because it takes place in my 'hood and I've got mad
DC pride
and blah blah blah, but honestly,
The Real World
could take place in Edward Norton's pants and I would still rather poke my eyes out with a blunt object than watch. There's nothing appealing to me about watching a bunch of whiny 20-year-olds walk around DC acting super impressed with themselves. Because I did that already. It was called:
I went to American University.
So, thanks but no thanks and sorry to disappoint. (Man, I really shouldn't blog on New Year's Eve. I'm being a fucking asshole today more of a fucking asshole than usual today.)
3.)
Mad Max Beyond Thunderdome
is currently on AMC.
4.) We don't need another hero.
5.) Soooo, the newest episode of
Jersey Shore
(a program I
can
get behind) is on tonight at 10 o'clock. Which is awkward. Because at 10 o'clock tonight I plan on being three distinctly different kinds of fucked up in a pile of
Andre
, tears, self-induced vomit and fake eyelashes somewhere in the greater Washington, DC area. (Awkward...) I also don't have DVR. (Double awkward...) And I don't plan on blogging Friday in anticipation of being
fiercely
hungover. (We've reached Zoinks! level.) BUT! God willing, MTV will probably show tonight's episode 9,000 times over the weekend, so perhaps I can get a recap up for Monday? I make no promises. Wait...full episodes are online. Ok, I make promises. If you
are
planning on catching tonight's all-new episode, I recommend you play along with 2b1b reader,
John "The Business" Hubbard
's
Ultimate Jersey Shore Drinking Game!
I'm so jealous I didn't write this; it's just that good. Have a wonderful New Year's Eve, thank you so much for reading and as always, we'll see you back here Monday morning! Buh-bye!
The Ultimate Jersey Shore Drinking Game!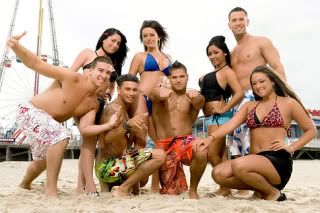 Rules:
Drink When:
- Someone says "juicehead"
- Pauly is drying his hair
- Snookers alienates herself from the housemates
- You can see more than 3/4's of J-Woww's boobs
- Vinny openly mocks someone else in the house
- A Guido says "honestly bro" or "pound it out"
- Angelina cockblocks someone
- For every person in the hot tub
- Someone uses the word "Guidette"
- Angelina acts like simple retail tasks are really, really hard
- Someone talks about hair gel or tanning
- A muscular dude drinks a shockingly feminine drink
- Mike talks about The Situation
- There's something blatantly sexist
- Someone says either "Jersey" or "Shore"
- Sammi "Sweetheart" refers to herself as Sammi "Sweetheart"
- Anytime someone feels betrayed
- There's a guy with his shirt off
- There's a can of light beer in view
- The Situation sells a t-shirt or pair of hot pants
- Someone responds to someone else's comment with the exact same or coequal comment, eg:
J-Woww: "You don't understand how bad I want you."
Pauly: "You don't understand how bad I want you."