Yesterday at around 4:30pm I was waking myself up from my mid-afternoon nap, quickly stapling invoices together so it looked like I actually did something that day and was about to head home to take my

pre

-happy hour nap, when suddenly, in walked the creepiest living man I have ever seen in my entire life.
He was tall, wearing a madras suit, had a giant

Cosi

shopping bag and the laziest lazy eye I have ever seen. I thought maybe I was still taking my mid-afternoon nap and might be dreaming, so I smacked myself across the face with a stapler a couple times and took a big whiff of my highlighter to wake up. 50 dead brain cells later, I realized I was already awake.
This

madrased

man, without saying word one to me, walked over to our wet bar and proceeded to line up bottles of sparkling water, apple juice, diet coke and create a little display of cookies and

biscotti

.
"Um. Can I help you?" I asked him.
"Just setting up for the event, I'll be done in one second," he answered.
I looked at my schedule to see if perhaps I had blacked out and scheduled an event with the Preppy Lazy-Eyed Association of America (

PLEAA

,) but the only thing on my schedule for that day was:
9:00am-4:30pm: catnap/watch Dynasty
4:30-5:00pm: call mom
"Sorry, but do you have an event scheduled with me tonight?" I asked. An appropriate question, right? His response? To throw his lazy-eyed head back and crack the fuck up. Seriously. No one has ever laughed that hard at even my most well-crafted and rehearsed jokes. I had to go back in my head and review what I had just said, because

nothing

could justify how hard this man was laughing. I will be the first to tell you that I am not

that

funny.
Finally, he responded, "You are ADORABLE! No, we don't have an event tonight. You are just the benefactor of me having a horrible day. HI, I'M TIM!" At this point I thought
—
welp

, I'm going to die. This man is going to kill me in his van and turn me into a lamp shade. Good.
Tim continued, "You see, your company is represented by an independent sales group. The president of that sales group's name is Lily. Lily has been in this business for 20-some-odd years. Now, wood furniture comes in various shades of wood veneers: espresso, amber, light cherry, dark cherry, medium cherry
—
"

*ZACK MORRIS TIME OUT*

Sir, why in the sweet name of

fuck

are you telling me any and/or all of this? You are essentially explaining to me my own company, who my boss is and what wood veneer is. Now I may not look like the smartest cookie in the jar, but do I look

that

oblivious?

Sigh

.

*TIME IN!*
He continued, "Sometimes I'm the veneer supplier for Lisa's projects, because we've been close friends for the past 15 years." Ah.

Ok

. "Is she here?" No, no she is not. "WELL LET'S CALL HER AND LEAVE HER A GOOFY MESSAGE!"

*ZACK MORRIS TIME OUT*

Sir, it is 4:50 in the god damn afternoon. I leave in 10 minutes. The last thing I want to do is crank call my boss with you and giggle like two school girls. You may be her best friend, but you are not

my

best friend.

*TIME IN!*
"O...k..." I dialed my boss as Tim loomed over me trying to stifle his giggles, giving me the thumbs up like,

"here we go!"

My call went straight to voicemail.

-

beeeeep

!-

Hi Lily, this is Meghan calling. Uh, your friend Tim is here, and uh
—
"SAY SOMETHING FUNNY! SAY SOMETHING FUNNY!!!

,

"

Tim hissed at me.

*ZACK MORRIS TIME OUT!*

Ok

, sir. This isn't Showtime at the Apollo. You are not the Sandman. Do not harass me to tell a funny joke.

*TIME IN!*
"Uh, yea Tim is here and uh, he brought us goodies, or something...I think. So just call us back?

Ok

. Bye." Tim then proceeded to crap his pants laughing, again. I mean, I guess on some level I sort of appreciated the easy crowd, but people who are that easily humored make me really,

really

uncomfortable.
I looked over at his queer little snack spread on the wet bar and still slightly confused asked, "So, I'm sorry but do you have an event tonight, or what exactly is going on?" "Oh no! No event! I just had a horrible meeting with a design firm down the street and thought I would swing by with a snack and see if Lisa was here." "Oh. Well that's unfortunate, but yea, she's not here." "That's

Ok

! Because

you

are! Now split this bottle of

Pellegrino

with me, pull up a chair and let's talk veneer!"

*ZACK MORRIS TIME OUT!*

Now I appreciate a free

biscotti

and bottle of sparkling water as much as the next girl, but if I could gnaw my own leg off to get out of this situation, I would have. It's now after 5. I am officially off the clock. I don't courtesy laugh at wood jokes and drink tepid water for free. Also, I had plans at 7 and really wanted to take a power-nap to avoid any crankiness. It's difficult to live life like a lazy cat/small child, but I've adapted.
"Well I hate to be rude, but the studio is only open until 5 and it's past 5 now," I said in my most sugary sweet

oh darn!

voice.
-Tim scoffs-

"Oh

I'M SORRY

,"

-scoffs again-

"Do you have somewhere to be?"
At this point, I think I genuinely felt fangs pop out of my mouth, True Blood style. Because,

no

Tim! No I don't have somewhere to be after work on a Thursday night. I would love nothing more than to sit here with your

madrased

-ass, try not to look at your googly-eye (but get nervous that you sense I'm trying

not

to look at it, which is worse than

actually

looking at it, so then I look at it, but then feel badly about looking at it, so look between your eyes to avoid the situation of where to look all together, but inevitably keep drifting back to looking at the googly one because it's horribly disgusting yet fascinating at the same time,) while discussing the

least

interesting topic in the history of the world: wood veneer. This is what I want to do.
"Uh, yea. Actually, I do." I deadpanned. Then Tim in a

"well, I never!"

fashion got his shit together, limply shook my hand and mumbled, "Well, sorry to take your time. It was nice to meet you," and walked out just as abruptly as he walked in.
I am now completely paranoid that this man is going to talk shit about me to my boss and get me fired. Because I didn't want to talk about wood veneer with him. After 5 o'clock. On a Thursday night. Unannounced. With his googly eyes a-

googlin

'.

Why couldn't he have just killed me in his van and made me into a lampshade? At least then I wouldn't have to get a lecture from my mom about my necessary and overdue "attitude adjustment."


I also can't stop thinking about lazy eyes. I just don't understand how a grown man could still have such an extreme case of lazy eye? I mean, it's not 1830...aren't there ways of fixing it? Are you

that

busy breezing into offices unannounced and forcing people into wood veneer conversations that you can't slap on an eye-patch and fix the damn thing?
Given my current fascination with lazy eyes, only one movie seemed appropriate for this week's drinking game. I give you

The Mr. Deeds

(Adam

Sandler

version, not Gary Cooper)

Drinking Game!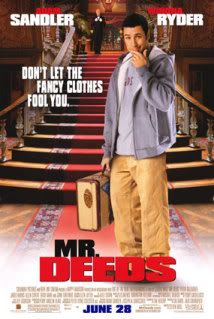 (For the record, I am thoroughly ashamed of how funny I find this movie. There...I said it.)
Rules:
Drink when:
- One of Deeds' greeting cards is read out loud
- A pizza is delivered
- The

Butler

sneaks up on Deeds
- John McEnroe makes an appearance
- The Rev. Al

Sharpton

makes an appearance
- Deed's dead foot is shown
- Babe lies to Deeds
- Peter Gallagher's eyebrows jump off his face and take over New York, Godzilla-style
- Mac gets injured
-

Westchestertonfieldville

, Iowa is referenced
- Deeds saves a life (feline or human)
- And finally, in honor of my new friend Tim, chug when Crazy Eyes says the following line:
"Time heals all things...except these crazy eyes."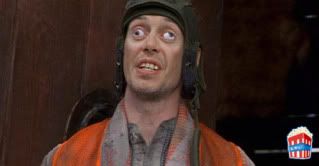 Thanks for reading, maybe tell a friend?, have a fantastic weekend and we'll see you back here Monday morning!