I did a lot of research on walking poles this morning. I wanted to avoid writing a post about how ridiculous this woman looks, only to have someone point out that these poles are made for people with Parkinson's disease or something and oh, aren't I just a

horrible

person? Because this woman looks like she could possibly have a shake. And there's plenty of uneven pavement in this cit

y
—Lord knows I
've

experienced it first hand. Although it would prove me wrong, I really had hoped this was the case. It would make me feel better about this woman and our society as a whole.

So I went to Google and typed in "urban walking sticks." Via the second link, I discovered The Nordic Walking Pole, The American Nordic Walking Association and their blog, the Nordic Walking Blog. What is Nordic Walking, you ask? Well,
"Nordic Walking is a great fitness workout for people who are looking for a fun physical activity and maximum health benefits combined with convenience." (Read: It's speed walking with two sticks.)
Now, I'm not hating on Nordic Walking. I watched the exclusive web trailer and while, yes, you do indeed look stupid while Nordic Walking, it apparently targets 90% of your muscles and seems to be a good fitness option for the older crowd. Hell! I'm even gonna go ahead and say that Nordic Blading looks kind of legit: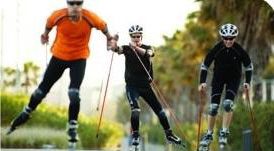 So I get Nordic Walking. I may not

like

it, but I get it. I am an educated consumer in the art of Nordic Walking.
But here's the thing: the woman in question was not Nordic Walking. I wouldn't even say she was walking at all; it was more of a

meander

than anything else. Being educated in the art of Nordic Walking, I also know that for Nordic Walking to be effective, the poles must be shoulder-width apart, at their proper 45-degree angle, hands open and in the "grip-and-go" state.
Therefore, I am able to mock this woman, free of all guilt or ignorance.
Now, the problem I have with this woman's misuse of her Nordic Walking poles is the same problem I have with The Snuggie/Slanket, The Peekaru and The Tinge: it's stupid and unnecessary and someone (who is not me) is making money off of your stupidity and need of said unnecessary products. And I hate it.
I just don't understand why this woman feels the need to walk around with Nordic Walking poles at all. Lady you're clearly not exercising; you're just slowly walking to the office. And you're walking through fucking

Dupont

, not the god damn Himalayas. It's not

that

challenging of a walk. I know this because I live in Dupont Circle. If it were challenging to walk around Dupont everyday, do you think I'd live there? No. Because I am a fat, lazy, house cat who hates a challenge. If I can do it, you can do it.
And this isn't even the first able-bodied jackass I've seen sauntering around the city with walking poles! There are plenty of 'em out there! Check out this father-son team featured on the Nordic Walking Blog: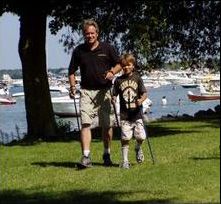 What?! You're not exercising! You're not even hiking! You are literally walking on the flattest, most lush-green-grass-covered plane of earth in existence! What, your son doesn't get beat-up enough at school so you decided to give him two sticks and take him on a walk to the local yacht club? Good idea. That'll make a man out of him. What sort of father are you?! This photo isn't "family fun," it's evidence for someone to call Child Services.
Sigh.

I just. Don't. Get it. If you're not going to use the walking sticks for their intended low-resistance, high-results purpose, then why use them at all? Because you look absolutely ridiculous! And I can completely understand looking ridiculous if it means dropping a few pounds. Fuck, I'd commute to work in a sombrero and assless chaps if it means dropping even

half

a dress size. But would I walk around in a sombrero and assless chaps just for funsies? No. Because I still have a shred of self-respect left. One single shred.
Yesterday someone I follow on Twitter tweeted a link to a "What Color is Your Psyche?" quiz. Being bored as fuck, I dediced to take it. I was very displeased with my results, so I made Anna and Chris take it as well. Now, both of their results were pretty accurate and yet, here's mine:
Your Psyche is Violet

You are spiritual, intuitive, and serene.

People trust you to rescue them from bad situations, and you usually come through.

While you are quite enlightened, you find that your path is very lonely.



When you are too violet: you can't connect to ordinary life or ordinary people



When you don't have enough violet: you lack wisdom and can't learn from the past

What?! First of all, I am the least spiritual, intuitive and serene person you will ever meet. "Neurotic," "stressed out" and "tense" are three better terms to describe myself. And my path in life is destined to be "very lonely"?! Not even just plain lonely, but

very

lonely? What the fuck is that?? I want off this path! I mean, being enlightened is great and all, but I don't want to be

very

lonely for the rest of my life! Look at that sad, emo avatar! I don't want to be the girl who picks flowers and cries!
I'm scared that this whole urban walking pole craze, Tinge, Snuggie/Slanket/Peekaru nonsense is just further proof of my lonely enlightenment. Because I don't want to walk down a

very

lonely path for the rest of my life without the aid of two European crafted Nordic Walking poles.