You how there are tons of things everyday that you just take for granted and don't think about. But then when you do think about it, you realize just how weird it is. Like the word fork. Fork. No, I'm not high, I just think fork is a weird word. Anyway, sex is another one of those things. Recently, my sex life had been going through a serious serious drought. It was like I was trekking across the Sahara desert barefoot and my canteen was empty and I kept seeing mirages of people I would want to have sex with. And the one oasis I did come to was tainted. That's a clumsy metaphor for saying the one time I had sex last year (yea I know! ONE TIME in a full fiscal year!) was horrible. I can't even explain it to you as there aren't words for how bad it was.
Anyway, the drought is over now, and I'm happily getting my swerve on so I'm going to take a page from Salt, Pepa, and Spinderella and talk about sex.
http://www.youtube.com/watch?v=Mg1PEoQ_cq8

I apologize for not embedding the video, but Universal Music Group apparently disabled that function for this video. Which is a shame, because there's absolutely nothing I don't love about this video. Seriously, watch it and love it. The 90s fashion, the kickin' dance moves, the amazing ghetto hairdos complete with intense spit curls in the middle of their foreheads. (Are those spit curls? I'm just assuming, but if anyone knows for certain, please fill me in as I'm genuinely curious.)
But I digress. Take a minute and think about sex. Just in general. It's so bizarre, right? You are putting yourself inside of someone else's self. Like physically inside of someone. Or conversely, someone else is inserting themselves into your person. Repeatedly. Sure, that's what those parts are made for. But if you were to stop mid-coitus, you would just be lying around with someone else in you. Like Siamese twins connected at the genitals. Except sexier.
More than that, unlike the ~1,500 people on this website (not necessarily NSFW, but maybe don't click and then call your boss over): I don't want just anyone to see the weird faces I make during sex. I don't even want to see them. Sex in a room with a mirrored ceiling? No thanks. Why do you think I'm not already an internet sensation of the X-rated variety? Because I'm not interested in a lasting memory of my oh-face.
And the faces wouldn't even be the worst part of video. That would be the sounds. Like I'm talking straight up sounds people make during sex, not words, I'll get to that later. Taken out of the context of getting freaky, all the grunts, gasps, screams, moans, and other noises are almost entirely inappropriate. My neighbor, during her various and extremely loud sex romps, is fond of the noise "Aw," sort of an abbreviated "Aw yeahhh." (To be fair, she throws that in later.) Not quite "Oh" and not quite "Ah." Nowhere else would "Aw, aw, aw!" be appropriate, unless I suppose you see three adorable things in a row. Isn't moaning is what ghosts are often said to be doing? Ghosts must then be perpetually horny from being all dead and whatnot, because that shit doesn't happen anywhere else in life. In regular, non-sex world, grunting just makes you sound illiterate. Who decided that grunting during sex was sexy and encouraging?
Oh, I know. Porn decided. Which brings me to my next point: the stuff people say during sex. Talking dirty is pretty friggin' hot. I'm horrible at it, as I feel ridiculous telling people to do what they are already doing. I've only ever told someone to "Suck it" whilst doing the appropriate hand gesture.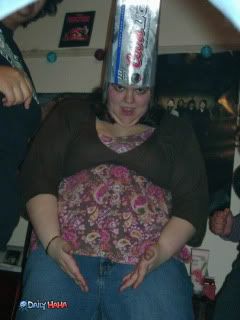 And even then, I was like 15. My inability to talk dirty aside, the only reason people say all this bizarre stuff like "You like when I fuck you like this?" "I want to cum in you!" "You're so tight!" is from watching too much porno. They say that stuff in porn so the fat, old creepster who is watching it by himself in a dark room can imagine what it'd be like if he were the one doing the fucking. No one is watching while you have sex, so you don't have to describe it to anyone. And common sense says that whatever you're feeling, you're partner can probably feel it too to some degree, as previously mentioned, you are inside of them (or they are inside of you).
Conversely, it would be weirder if no noises were made at all. The aforementioned horrible sex I had involved no noise. Which was all kinds of awkward. You could have heard a pin drop in that room. I can only fill the void for so long, but being a one-man moan show is exhausting and not sexy.
All that being said, I had forgotten how much I enjoy getting laid. I mean, that's a pretty asinine statement, but previously when "U & Ur Hand" would come on in a bar, I'd cry a little, because it was true. It got the job done, but you know how it is. But I have to completely remove all of these thoughts from my head during sex, because if I think once about what is happening, my penis will definitely go all turtle on me faster than you can say "Bonerkiller."