Ooof. Two YKWRMF? features in two weeks, huh? What isn't ruffling my feathers these days? (UH, ANSWER: my sexy, new two-man band with Helena—Joe Biden & The BFDs. Helena's on keyboard, I'm on bass and lead vocals. It's no big deal. Except that it is in every possible way and it's all that I'm living for right now. Although I don't know if "gigging" is going to be a realistic option for us. As far as I know Helena doesn't play the anything and while I've done some mean community musical theater in my day, the extent of my bass experience begins and ends with getting one for my 20th birthday (I was going through a heavy Doobie Brothers phase at the time and was really into, quote the many emails I sent my dad in April 2005, their "sick bass lines"), posing with it in the mirror, and attempting to play it once when I took a shower at the height of having mono, subsequently thought I was going to die, curled up on the floor, and just strummed it for a while until I felt alive enough to put some pants on. So if we do gig, it might involve partial nudity and a whole lot of "What a Fool Believes". And you know what? You're welcome.)

Remember last week when I said that there are two things I can talk about forever—spit in porn and the moral reprehensibility of TLC's 19 Kids and Counting? Well, I lied. There are three things I can talk about forever, and although this past weekend was all about helping my sister, I think I spent the majority of it talking about the third. I talked about it on the party bus to the rehearsal dinner, I talked about it at the rehearsal dinner, I talked about it in the salon getting ready with the bridal party, I talked about it at the actual wedding... But Lord knows Becca wasn't mad! You know why? Because she agrees with me! In fact, I have yet to meet a single person who doesn't agree with the following statement: You know what ruffles my feathers? The Food Network's Throwdown! with Bobby Flay.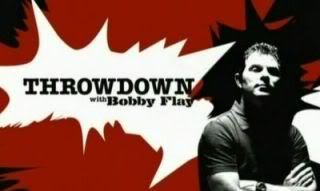 I've never said that to someone and had them been like, "Oh, really? Bobby Flay seems like a really great guy and that show is just great." It's always, "Ugh, Bobby Flay is a douchebag and that show sucks." And you know what? Good! Because I think that just reflects what high-caliber people I surround myself with on a daily basis. Much like how my Thrillhouse tattoo is a litmus test of whether or not I'd like to continue having a conversation with you, your opinion of Throwdown! with Bobby Flay is indicative of whether you fucking suck or not. Because I don't care if you're Cillian Murphy's twin brother with a genetic disorder that makes your dick ejaculate candy corn and rent money; if you like Throwdown! with Bobby Flay, we're done here.

If you've never seen Throwdown! with Bobby Flay before, you are sincerely a better person for it. But for the sake of clarity, here's an excerpt from the show's Wikipedia page:
Throwdown! with Bobby Flay is a Food Network television program in which celebrity chef Bobby Flay challenges cooks renowned for a specific dish or type of cooking to a cook-off of their signature dish. At the beginning of each show, Flay receives – via bicycle messenger – a package detailing the chef he is to compete against as well as the dish. Examples of opponents include a skilled chili maker or a famous wedding cake designer. After practicing and preparing the item in question, Flay shows up for a surprise competition (or "Throwdown"). During the competition, both chefs prepare their particular version of the dish, and both are then evaluated by local judges to determine a winner.


Well, thank you, Wikipedia. That was very eloquent. But here's how Throwdown! with Bobby Flay really works:

First and foremost, per my sister, the show should actually just be called: FUCK YOU, I'M BOBBY FLAY! And every week on FUCK YOU, I'M BOBBY FLAY!, Bobby Flay leaves New York to go to Small-Town America where he finds an old woman who, as the Nazis were dragging her out of her family's cottage in Soskut, managed to grab the stock-splattered recipe card for her grandmother's famous goulash in her young, trembling fingers and clutch it tightly to her breast for the remainder of the war, so someday it could be passed down to her children, and her children's children, and her children's children's children, to keep those simple country days around her grandmother's hearth alive. And once he finds her, Bobby Flay turns to the camera, lets out a sinister laugh, holds up a fake moustache to his cold, pale lip, and knocks on her door to inform her that she and her goulash recipe are going to be featured on a new Food Network show about Hungarian Family Cooking. Filled with excitement and pride, the old woman then tells everyone she meets from the pharmacist to the paperboy that she and her goulash—her world famous goulash!—are going to be on a show on the Food Network and that they must come over to watch the taping and have a bowl. A week later, it's the big day. As the old woman stands over the giant pot of boiling noodles, gently fingering the delicate gold filigree on the broach affixed to her freshly pressed blouse and thinking of her bubby, Bobby Flay bursts through the wall like a carrot-flavored Kool-Aid guy, shouts, "FUCK YOU, I'M BOBBY FLAY!" and repeatedly rapes her until her friends and family admit that his goulash is better than hers is, or will ever be, and she was a senile, old whore for thinking otherwise. And that is what Throwdown! with Bobby Flay is.

Sort of.

And aside from the blatant grandma-raping and disrespect for Holocaust survivors, it irritates me on the following levels:

1.) Every single time I watch this show, I find myself wondering the same thing—how small is your penis, Bobby Flay? How small is your penis that you feel the need to be on a television show where you travel around the country, reminding chefs who don't have 10 restaurants, nine books, seven TV shows, and a weekly Sirius XM radio show that you're better than them? How small are we talking here? Less than three inches? I mean, does it function at all? Because judging from the mom and pop chefs you force into competing with you, my guess is not.

2.) I find the level of trickery involved in this show to be insulting and cruel. Per Wikipedia:
Each show includes a mini-biography about the chef who is to be challenged, shown before the challenge takes place. The content for the biography is actually collected as part of an elaborate ruse or setup, where the chef or cook is told that they are going to be featured on a fictitious Food Network show. As part of the show, the featured chef (and their associated restaurant, if any) hosts a small party, which is then unexpectedly "crashed" by Bobby Flay. Upon Flay's arrival, he reveals the true nature of the show, and the "Throwdown" is initiated.
I just don't understand what's stopping him from calling ahead of time and being like, "Hi, I'm Bobby Flay. I heard you make a mean lasagna—let's do a Throwdown."? Why does there have to be an element of surprise? I mean, these are people's signature dishes made from recipes passed down from generation to generation; it's not like they're going to perfect or change it in the week leading up to the Throwdown. Thus, I have two theories on why Bobby needs it:

a.) Because if they were aware ahead of time that they'll be going head-to-head with Bobby Flay in a cooking challenge, the show would just be Iron Chef America, which already exists and already sucks. Plus, the chefs Flay goes head-to-head with on Throwdown! are nowhere near as accomplished as those on Iron Chef America, so basically Bobby Flay tricks small-town successful chefs into being on Iron Chef vs. Homely Chef: Bobby's Gonna Sleep Gooooood Tonight, which is cruel and brings us directly back to point number one.

b.) He gets off on how starstruck everyone gets when he crashes the party. And I hate it. It's the worst part of the entire show. The small-town chef is hard at work making his specialty and you can tell he's shitting himself because he's pretended so many times in the kitchen that he was on his own Food Network show and now he really is and everyone is so proud of him, and all of a sudden Bobby Flay walks in all, "Heard someone was making fettuccine! Ha ha, yes, yes, it's me, Bobby Flay. Very exciting, I know. But seriously, let's all just calm down." Just once I want Bobby Flay to walk in and have the other chef be like, "Are you serious? I have to cook with that asshole?" Like, if Chelsea Handler were to kick in my front door right now and be like, "Meg, I'm a better female comedy writer than you are," I don't think I'd get all teary-eyed and profusely thank her for coming. I'd be like, "Hi, I'm not wearing any pants and your obsession with little people genuinely weirds me out. Please leave." I mean, seeing famous people is cool and all, but so is not being the grown man who got the shakes upon being in the same room as Bobby Flay.

3.) Bobby Flay's professional advantages are laughably unfair:
In the Food Network's test kitchen, Flay and his two sous-chefs (Stephanie Banyas and Miriam Garron) experiment and prepare the particular dish, often opting for a variant of the dish.
The format of the show does not edit or disguise Flay's lack of knowledge of technique regarding cooking for the challenge. He often makes use of New York City-area experts to teach him basic techniques.
Seriously? His "lack of knowledge of technique regarding cooking for the challenge"? He's a fucking Iron Chef; shouldn't he be able to handle cooking a bundt cake without needing to raise Julia Child from the dead and slowly feed her Giada De Laurentiis' brains until she gives up her ace-in-the-hole recipes?

4.) He's a total asshole to both of his assistants and you can tell they totally want to jump his bones. They do that girl thing where they pretend to get all pissy and put a hand on one of their hips and say, "BOB-BAYYYY" while trying not to smile and squirt on the camera. I get that chefs are kind of assholes in general and I'm not not saying that I've had a fantasy where Gordon Ramsay puts a bag over my head and hits it from behind while calling me his little piggy, but seriously ladies? Bobby Flay? This may sound antifeminist, but my sugartits really belong in the kitchen it's sexy when a guy's an asshole to you because he's powerful and confident, not because he's worried that if he got into a culinary dick-measuring contest with your grandma, he'd come up three inches short.

5.) He just adds Chipotle flavoring to everything. I mean, for fuck's sake.

6.) There are eight seasons of this horseshit! EIGHT! Which means we live in a world where Clone High got cancelled after one season to make room for Punk'd; Arrested Development got cancelled after three; Undeclared after one; and Party Down after two, but we, as a people and a Nation, agreed that we needed EIGHT seasons of FUCK YOU, I'M BOBBY FLAY?? Fuck George W. Bush; we should be embarrassed when we go abroad because of that.

7.) His daughter and I share an April 16th birthday, which just makes me wish I had been aborted.

8.) I swear to God, there's an episode of Throwdown! that starts with The Flay sitting around one of his restaurants, nonchalantly autographing a giant pile of his BBQ books, sipping wine, and listening to jaunty jazz music for a solid ten seconds before he's finally interrupted by the bike messenger with that week's challenge. And I was just about to say, "what kind of an asshole has the balls to insert that disgusting a level of self-promotion in an already impressively egotistical show," but...you know, Bobby Flay.

But do you know the part that really kills me? He'll always win. Maybe not on the show, but in the Throwdown of Life that is Meg McBlogger vs. Bobby Flay, Flay wins every time. Because despite the fact that I think this show is an epic shit-stain on the underwear of Humanity, I watch it every single time it's on. I can't know that it's on and not watch it. And it doesn't make any sense, I know! If I hate it this much, I just should not watch it! BUT I CAN'T! I PHYSICALLY CAN'T!

And that's when I realized that I'm Throwdown! with Bobby Flay's Mike. If you're active in the 2birds1blog comments, you know that Mike is our resident reader who vocally hates us, yet insists on not only coming back to read us every single day, but be an active member of the 2b1b community. And up until now, I never got Mike. I always thought, "Nobody's strapping you down in a seat, putting hooks in your eyes and forcing you to read our free blog, A Clockwork Orange style, Mike. If we piss you off that much, just stop reading." BUT I GET IT NOW:


Meg McBlogger is to Throwdown! with Bobby Flay

as

Mike is to Meg McBlogger

Which of course begs the question: what does Mike think of Throwdown! with Bobby Flay?

Logic dictates that he should like it, and yet, for some reason, I'm dubious. For the first time ever, I look forward to your comments, sir.