-
First and foremost, I didn't forget about last Thursday's cracked out promise to do a "Spit in Porn" entry; it'll go up tomorrow. I need one more day to gather my thoughts on the subject matter. Because I have a lot of them. But like, a
lot
of them. To the point where the thought of organizing them into a cohesive blog entry is completely overwhelming. Thus, I've decided I shall spend all day today in a dark corner of a quiet coffee shop, pair of bifocals perched slightly below the bridge of my nose, brow furrowed while I flip through old leather-bound books on human sexuality, biology and...spit..., feverishly taking notes and yelling at the waitress for interrupting my train of thought to do something as pedestrian as
clear my cup away
, a-thank you. Because tomorrow's entry isn't going to be just your run-of-the-mill blog post
—
it's going to be my
opus
.
-
Only 10% of me is shocked that my opus involves spitting on genitals.
-
Based on my interest in "Nip/Tuck" and Louis C.K. stand-up, Netflix has recommended that I watch
Scooby-Doo and the Monster of Mexico
.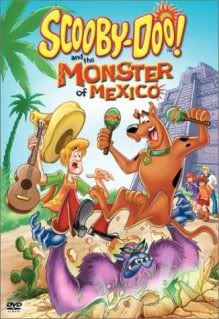 That dog better be in Mexico to get cheap botox or because he deeply resents his children; anything less and Netflix and I are going to need to have words.
-
There is no other music in the world that toes the line between "jolly" and "I'm going to kill myself tonight" like Christmas music. While I was waiting for Teresa to come over and drink wine and Christmas-ify my apartment with me last night, I put on my Pandora Christmas music station and started tidying up a bit. At first it was playing swingin' Michael Buble "Holly Jolly Christmas" type stuff, but somewhere along the line it slowly progressed into like, recently orphaned children singing through their tears about Christmas trees and songs comprised of a single, haunting bell echoing through the night that forgot you. I didn't even notice the progression happening; one minute I was making my bed and the next I was curled up in it, hysterically crying and wailing, "I'M SO FUCKING ALONE!" into a pillow.
-
That being said, the Christmas spirit has arrived in the old Meg McBlogger residence!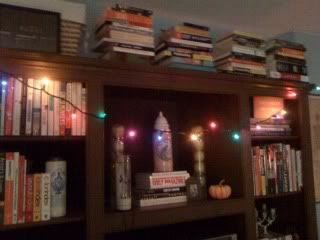 My Christmas tree is kind of anorexic. And fake. And casting spooky shadows on my wall in that picture. And up until a few hours ago was covered in Luna bar wrappers and old
US
magazines in the crack between my bed and the wall
—
or my
Shame Hole
, as I call it. And by Luna Bars, I obviously mean empty ice cream cartons. And it's now standing on an old H&M pashmina covering a Jäger cooler. Basically my Christmas tree is the antithesis of Alex's fancy-pants real person Christmas tree: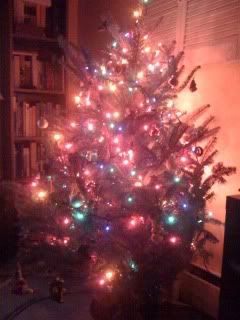 Whatevs. Mine's got moxie.
-
Speaking of Teresa, I never thought I'd say this to anything but the mirror as I gaze at my Thrillhouse tattoo (which, for the record, I do quite often), but this is probably the sexiest tattoo I've ever seen: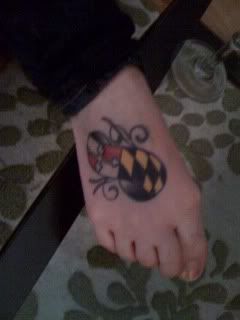 If Maryland pride is gay, then I'm the Old Line State's Bruce Vilanche.
-
If all goes well this year with HannuClaus, I will soon be making the switch from a duvet to a comforter. I'm kind of bummed about it though, because truthfully I find duvets more comfortable than comforters. My problem with duvets, however, is that I'm an incredibly active sleeper and as I toss and turn all night, the duvet separates and gets pushed down to the bottom of the cover and I somehow manage to tangle myself in the entire apparatus and all of a sudden I'm having nightmares about being in a straitjacket and
feh
. I feel like it has to just be easier to get a comforter. I'm tired of not getting enough sleep because the
ratio of
duvet to cover
is off.
Speaking of my odd little bed neurosis, there was a solid month in 2004 when my sister's best friend, Rachel, would sign into AIM for the sole purpose of featuring a new "Embarrassing Meg McBlogger Fact of the Day" on her profile. I completely forgot about this little gem until it was a featured EMMFOD:
Embarrassing Meg McBlogger Fact of the Day: When Meghan was a little girl, her parents used to have to safety pin her pillow to the center of the bed.
Uh, A.) that's incredibly true and although safety pins aren't in the mix anymore, the odds of me being able to sleep if my pillow is off-center is still slim-to-none; B.) That being said, just the fact that
safety pins
were even involved in my bed time growing up makes me feel so Aspie's I'm shocked there isn't a social worker reading this over my shoulder as I type.
-
You know what I've come to realize? If God forbid I ever run out of things to write about, all I need to do to get more material is simply go down into the metro. I don't even necessarily have to take it anywhere! I just need to physically enter the human cesspool that is the Washington, D.C. metro system and within 30 seconds, I guarantee you I'll have a story about how society is crumbling in upon itself and I want to set 98% of everyone I see on fire. Case and point:
I had the great displeasure of taking the metro to my parent's house during the peak of evening rush hour the other night. I entered the metro from Dupont south and from the top of the descending escalator I could see that the platform was packed
everywhere except for the far end. "HUZZAH!" I thought to myself. Still reeling from Ren Fest. Apparently. "That's the side where the train pulls in; the first few cars are normally pretty empty anyway. I'll stand there!"
I slowly worked my way through the crowd and eventually arrived at the opposite end of the platform. As I stood there waiting for the next train, I felt very content with my situation as I had about five feet on either side of me free of Other Person. Which is exactly when an older woman walked over and stood directly in front of me. Let me repeat that: Bitch stood DIRECTLY. IN FRONT. OF. ME. She had more than enough room to stand
next
to me, but she chose to stand
in front

of me
. And you know what pissed me off most about that situation? It wasn't that she was poaching my prime platform real estate; it wasn't that her person was about three inches away from mine and very clearly invading my privacy bubble; it wasn't that she was going to board the train before me although I got there first
—
it was that what she did was the equivalent of the people on "The Price is Right" who graduate from Contestant's Row by bidding one-dollar more than the highest bidder. You people are the fucking scum of the earth and if I'm sure of anything in this world, it's that there's a Hell and there's a special place for you in it. In my mind, here's the pecking order of Hell:
1.) Hilter
2.) Pol Pot
3.) An army of child molesters
4.) "The Price is Right"
—and one
, Bob! bidders
5.) Osama bin Laden


That's right,
—
and one, Bob!
bidders come before Osama bin Laden. You people are collectively worse than the mastermind of 9/11. I am genuinely shocked that murders haven't been committed as a result of someone betting one-dollar more than the highest bidder, winning, and going on to play Plinko. Because Lord knows I'd kill you! I'd kill you, pry that fucking bedroom set from the Ashley group out of your cold, dead hands, and dance on your grave! And you can say, "Oh, that's just the way you play the game. Those people are being smart," but I completely reject that. You know why? Because there's a little thing called
dignity
in sport. I mean, we'd all win a few more football games if we went around shaking members of the opposing team, but nobody would actually do that because there's no dignity in that win. If you're going to walk into "The Price is Right" studios, come correct
—
know the prices of shit. Go to Safeway and do some recon; it's not that hard. A bottle of Garlique is $15.99. There. Have some god damn respect for yourself. Don't just wait until the fine Americans who actually did their homework place their bids and then bid one-
dollar more. It's disrespectful to me, it's disrespectful to them, it's disrespectful to Bob Barker and his Beauties, and it makes a mockery out of what is undeniably the finest game show of the 20th century.
And that's why I hate the metro.