[Sorry for the delay in today's post. I had extreme technical difficulties. Which makes item #4 in this post that much more infuriating. HA HA,
oh
...tears. Tears of a clown.]

----------------------------------------------------------------------------------------

I am feeling ultra nostalgic for college this morning, you guys.
Ultra
nostalgic. I blame this on the following:
1.)

John Forsythe aka Blake Carrington from my beloved
Dynasty
died over the weekend at the age of 92 years young. And it's always in the end that we look back at the beginning...
2.)

The other day AU sent free holographic luggage tags in the mail to their alums trying to hit them up for money and the accompanying letter had the ominous reminder: "wherever you go, remember AU is always with you." Kind of like Christ. But
holographic!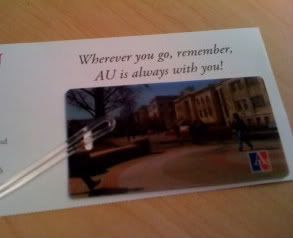 3.)

I'm working at my college job again. And let me tell you; shifts are
far
more manageable when you don't show up all hung over and banged out six ways to the weekend. I guess this is growing up...
4.) I've officially given up on the dream of buying myself a new laptop because I desperately need the money I saved to buy sandwiches and pants and pay bills and blah blah responsible blah. I'm so unbelievably depressed about it. I certainly don't miss my old job, but I
do
miss my computer. I still have Alex's old laptop, yes, but it doesn't have Microsoft Word or any of the design programs I need on it and is just generally one megabyte away from biting the dust. Bless it's heart. Now that getting a new laptop is officially out of the question, I decided to gank the computer I used in college last night from my parent's house and
whooo!
This bitch be a throwback! I literally haven't turned it on since 2008 and browsing through the files is like stepping into a time machine. (Side note: I can't bring myself to delete a single one of the papers I wrote in college. Christ only knows when I'll ever need a Gender in Society term paper on Herland again, but should the day come, I am
more
than prepared.)
Looking through my photo library was a total blast from the past. I forgot that I used to be That Girl in college who always had a camera with her and took pictures of everything. Which is weird because I don't think I've taken a picture of anything since 2007. I spent a solid hour last night browsing through the 6000+ pictures and I'd completely forgotten half of this shit. Not that I blocked it out or anything; I just straight up forgot. Here are some of my favorite discoveries:
- Valentine's Day 2003.

Ah, memories. My friend from high school, Billy, came to stay for the night and got so drunk that he vomited all over god's green earth. And by god's green earth, I mean
Helena
's bed, pillow, rug, notebooks and photo albums before promptly passing out on her floor. Talia was also visiting for the night, so we did to Billy what any good friends would do—we shaved his legs, defaced his t-shirt and invited people from other floors to come over and gawk and take pictures: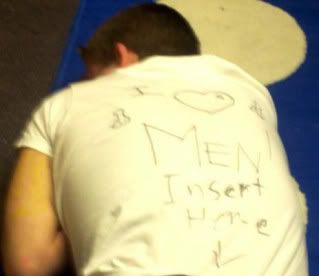 The best part is that while shaving his legs, we cleaned out the razor in Helena's Brita filter so when Billy woke up a few hours later and poured himself a drink, he got a nice tall glass of leg hair water. Well, technically this was funny until we informed Billy (mid-gulp) that he was drinking leg hair water and he vomited all over again—except this time on Ashleigh's side of the room. OH BILLY. I miss that kid. He called me Friday night and left a voicemail that I haven't listened to yet. I should do that. I'm writing my inner monologue again, aren't I?
- FORK POPE!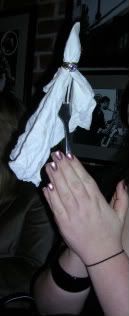 God I miss the Fork Pope. I created Fork Pope when I was out to dinner with my friends from high school one night and got
rull
ADD while waiting for the check. I started fiddling with my fork, napkin and ring and suddenly the Fork Pope was born. I should mention this was really,
really
funny to me and only me. I made him strut regally around the table and bless people. Again, I'm continually shocked that I have any friends.

-

I have an oddly high number of pictures of me flicking off paper assignments: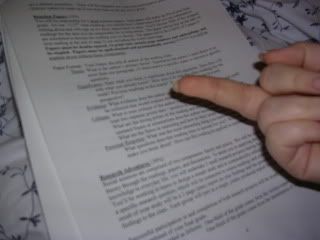 -

I

also have

an oddly high number of pictures of when attractive people poked me on Facebook: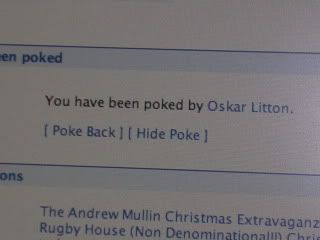 -

And I made Alex put Ziplock bags on his feet (or "feet condoms," as I called them) when he did homework on my bed to keep his grubby little feet away from my clean pillows. Again, reason #2352341243
I'm shocked
Alex still wants to hang.
- I HAD CATS!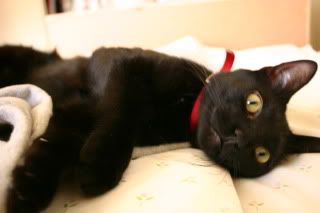 I don't want to say I always "forget" about Graydon and Kirikou because that sounds so heartless...yet, I kind of always do. It's a defense mechanism, really.
College Roommate Danielle
and I got Graydon and Kou when we moved into our apartment Junior year and she got custody of them after graduation. It made sense. She was going back to her animal-friendly parent's house in Texas whereas I was traveling abroad for a while and then moving to New York and Christ knows they were
not
welcomed at my parent's house in the interim. I'm apt to make it a race issue, but mostly I think it was just because Graydon would have eaten
Evie
. Let's not lie.
- Remember when Alex had long, luxurious, shaggy hair?? And remember when I got bored and Coolio-d that long, luxurious, shaggy hair up good? Now I do!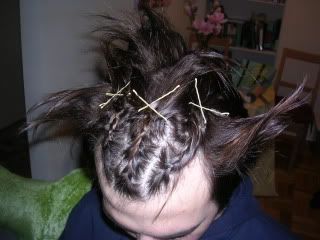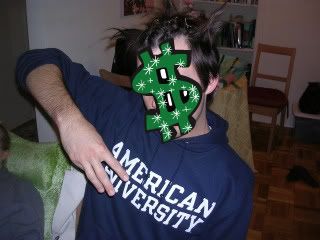 -

There is an honest-to-god photo shoot of myself, taken
by
myself, from the day I got my
Jack Daniel's pajama pants
a.k.a. second skin:
And I'm making it look like I have a boner in one of them:
...I would like it to be known that I want to be married and buried in those pants. Kthnx.
-
Ex-Co-Blogger Eddie
and I once created a "Sports Bar & Key West Style Grille" called

The American Shocker

out of boxes from L.L. Bean.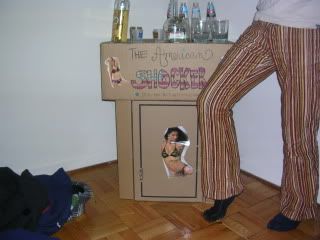 ...That's never not the funniest sentence I've ever read.
- Helena's Poon Cake!
Helena despises the word poon and is an all around class act. So, naturally, at the stroke of midnight on her 21st birthday, we made her watch Portuguese porn (a film entitled
Butt Fuckin' Bi's
) and eat the section of her cake with POON on it. You're welcome Helena. You're welcome.
- THE ONLY SURVIVING PICTURE FROM
MATTHEW LILLARD NIGHT
!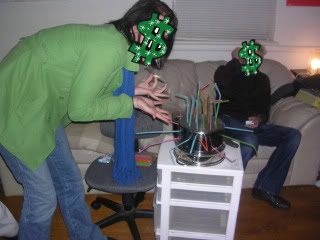 Holy crap. This is the one surviving photo from the night we met
Matthew Lillard's Doppelganger
. Apparently someone shoved multi-colored straws in a colander and set it out on display. This is Danielle being like "WTF is wrong with this night?! What is going on?! Who did this? Who was just as bored as us??" And then five minutes later the cops came.

God. I am so happy I found this picture. I want it tattooed on my person.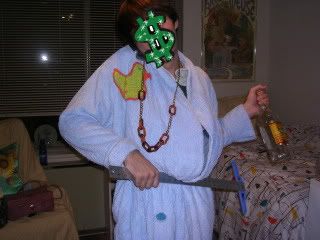 - This is Alex doing an impression of me. And apparently to do an impression of me, all you need to do is put on a robe or other piece of loungewear, stuff your shirt with a towel (not socks, not a shirt, a
towel
) to replicate my boobs, grab a t-square and a bottle of tequila, put on jewelry and talk on your cell phone.
Hmm
.......I shall consider this payback from the Ziplock bags and/or Coolio hair and/or
multiple phone pranks
and move on.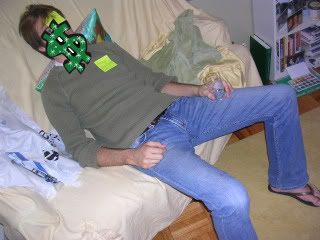 - Ok, so one night Senior year Alex came over and we got drunk. This is pretty par for the course, except on this particular night I decided to haze him. Really that just means I stuck obnoxious post-it notes all over him and shouted "DRINK,
FRESHMAN!"
at him a few times for good measure. (I don't really know what to tell you about that. Boredom makes you do unique things. Back in the day a hoop and a stick was a party. In '07, posts-it notes and belligerent shouting got the job done.)
I bring this up because I remember making the post-it note that said "Class of 2010" and being like "HA HA, the freshman class is class of
2010!
That's insane. We'll all have
flying cars
by then and
robot butlers
will do our homework for us!"
...The class of 2010 graduates next month and I turn 25 next week. Man I feel old. Old and nostalgic. Old, nostalgic and pissed off at
Ava Cutrone
.