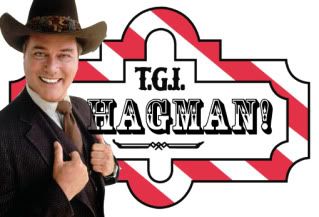 As of 10:47am on April 16th, 2010,
Larry Hagman
is...
alive!
BEST. BIRTHDAY PRESENT.
EVER
.
That's right, today is my 25th birthday.
Bitch be
old
. I mention this less to get attention and more so to explain why there won't be a post today. Sorr about that. I still have strong feelings for you that border on love. It's just that I switched shifts with someone at work today specifically so I could sleep in and spend all day pantsless in bed doing fuck all. I feel like of all people, you'd understand.

Hope you guys have a great weekend and we'll see you right back here bright and early Monday morning! Buh-bye!