Well, well, well...if it isn't
April Fool's Day
. Look at you, old "friend." Standing there in your pretty new party dress, fancy little bow in your hair, shiny new pennies in your penny loafers...Another year older? ANOTHER YEAR MORE IRRITATING, I SAY.

In case you new readers haven't picked up on it, April Fool's Day—or
Day of Shattered Dreams & Burning Regrets
, as I call it—is an especially hard day for me. Besides being a truly obnoxious "holiday" in and of itself, April Fool's Day is also the anniversary of the day I let my one shot at love with Michael Showalter slip between my fingers like sand through an hourglass. I'm not going to get into what happened because if I start I won't stop, so kindly educate yourself on my heartbreak
here
. This year marks the two year anniversary of Operation M! F.I.L.M.'s failure and much like the anniversary of the death of a loved one; it never gets any easier. I'm sorry. I'm getting a little choked up.
I promised myself I wouldn't cry.
........
OK, I'm over. (No, no I'm not. Nor will I ever been, but there's only so much blog space I can dedicate to pining over a lost opportunity to say "Um. Hey." to Michael Showalter before I start feeling slightly too
Misery
for my liking. So for the greater good, I'm going to move on.) (I'm just saying that I'm a Jewess with
huge knockers
and it's his loss. That's all.) (OK, seriously, moving on.) (I mean, I bought the entire first fucking season of
Michael & Michael Have Issues
on iTunes, what more do you want from me?!) (Meg, you're making an ass out of yourself again. What did we learn last April Fool's Day? Just move on.) (And I
will
, I just have one more thing to say.) (Frankly, I don't trust you.) (Please?) (
Sigh
...fine. Make it quick.) (Why? We both know you don't have anything to write about today.) (I think I fleshed something out last night while I was doing laundry, thank you very much.) (Oh this should be good. Pitching more books about
road head
today, are we?) (Do you want to get your last little piece out or not, asshole?) (Yes, sorry. OK. I just want to say that I'm a young, attractive, comedy writer with a heart of gold and breasts as big as my personality and I think I would be a wonderfully fun and supportive girlfriend. So there. That's all I have to say..........And if all else fails, I have a block and a sledgehammer and I will HOBBLE YOUR ASS BACK TO THE STONE AGE!) (..
Sigh
. God damn I hate you.) (Sorry.)
In other news, Co-Blogger Chris and I finally got together for dinner last night to celebrate him finally moving to the area. Unfortunately for the both of us, he was distracted the entire time by how anxious the first week at work has been and I was distracted the entire time by how sick I felt and the result was a kind of match.com first date vibe wafting throughout the evening. I think I know more about Chris than any other person on the planet and we've both been looking forward to this for months, but the phrase "

S
oooo
...what else can I tell you about my life?" was uttered more than a few times throughout the meal.
As we waited for our check, I asked Chris a question that I'm sure all of my friends are sick of hearing at this point: "What should I write about on the blog tomorrow?" "Well," he answered, "what's been going on in your life recently?" I thought we had established during all of the awkward silences in our dinner that
nothing'
s been going on in my life recently, but for the sake of a blog post, I sat there with Chris and made a list of noteworthy things that have been going on my life recently. A
State of the Meg
, if you will. I share that State of the Meg with you now:
State of the Meg — April, 2010

- I turn 25 in a few weeks. I guess that's kind of legit. I can legally rent a car, which is...cool.
- I head back to the work force this weekend. I'll be going back to the retail job I worked in college to get some money while I work on my writing (HA HA, lofty goals. I'm

adorable
!)
I'm not saying where though because I don't want certain bosses who might hold certain grudges against me and a certain blog I write (META!) calling certain managers and telling them what a certain asshole I am. I just googled "2birds1blog" plus the name of said mystery establishment and it yielded two posts, so it's out there. Happy hunting. And please don't be the asshole who figures it out and posts it in the comment section thinking you're helping people because really you're just helping certain bosses. If my vagueness is really that irritating, just shoot me an email and I'll let you know.
- I'm sick, which kind of blows. I can't tell if it's allergies or a cold/flu, but it's something
fierce
. According to my mom it's allergies, but
Becca
and I have a little inside joke that our mom thinks everything is allergies. I could be like, "Mom, I've got my period" and she'd be like, "PSHHH, you're not menstruating; it's just allergies." I think
Alex
and I are going to check out the Cherry Blossom Festival Friday, so if that kills me, my mom was right; it's allergies. Damn you DC. You are beautiful, yet

painful

when in bloom.
- In the meantime, I'm all about Mucinex. Upon hearing this, Chris expressed some concern tonight that I have an "odd obsession" with Mucinex and I "talk about it too much," but I'm sorry—that shit works. Having the immune system of Tiny Tim, I've always just accepted that always being stuffed up but never able to blow my nose will always be a part of life. AND THEN, I MET MUCINEX. Absolutely nothing breaks that shit up like Mucinex.
Nothing
. It boggles the mind. I didn't even know what Mucinex was until my sister got sick last year and her fiance was like, "Duh, Mucinex. Ever heard of it?" And frankly, the McBlogger family never had. So thank you, sir. You enrich my sister's life and my nasal passages. I welcome you to the family.
I might really talk about Mucinex slightly too much to be healthy though.
I can't talk confidentially about my writing skills or this blog to save my life
, but I would happily travel door-to-door selling Mucinex if I could. Full time. The following was very seriously my ghcat icon for a significant period of time:
I'm not saying I have a problem; I'm saying I have a
solution
. (And for the record, Mucinex isn't paying me to say any of this. And even if they did, I wouldn't accept it because the relief their product provides me with is payment enough.) (HAHAHAHAHAHA!
Lies
. I'm so fucking broke.)
- I'm nervous because I can't take take a deep breath without wheezing and going into a painful coughing fit. I just really hope whatever I have isn't pneumonia or anything because I obviously still don't have health insurance and I think I wasted my one parent-paid trip to the hospital on when I had
diarrhea
. God damnit, I hate my life...
- I've been watching a lot of
Living Single
recently. HA HA,
Maxine
.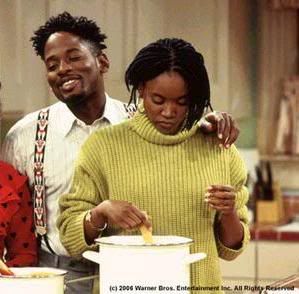 I find her witty banter with Kyle to be sexually charged and
hee
-larious.
Living Single
is another odd thing I've begun bringing up a lot in lieu of office talk. I was at my friend
Jenna
's dinner party a few weeks ago and she was talking about how there had been a few break-ins in her neighborhood recently. I jumped into the conversation with:
"Oh! I was watching
Living Single
today and somebody broke into the girl's apartment."
::Silent stares around the table::
"Yeah...Queen Latifah got her nunchucks out and scared him off."
::More silent stares. I think Laura added a slow head nod to help me out.::
"...That's really all I'm bringing to the table these days, guys."
::Conversation moves on::
- Did you know that pigs can't swim and if they try, they'll slit their own throats with their hooves? I swear to god, that's actually something I told Chris re: what's new in your life? A fun fact about pigs.
That's
what's new with me.
- I'm super excited about our new advice column,
Queer Abby!
So I hope you guys have questions! Email
QueerAbby@2birds1blog.com
. W00t.
- Remember my story last week about
American Dan
? Well it turns out a 2b1b reader went to high school with him and emailed me his full name yesterday along with the fun fact that he just joined
Facebook
. I'm going to go out on a limb and make a bold statement—I am
just
as attracted to him as I was when I was 18, if not more. Yeah. I said it. And I am 100% standing by it. He's also still living in Ocean City and very much single. So there's that. Just facts. Just simple facts I'm throwing out into the universe and hoping come back to me in the form of flame tattoos...
- I have a note in my phone reminding myself to use the following phrases more:
Feh

Hambeast

Hepatitis jokes in general

And again, this isn't me slipping into another edition of Thoughts I Couldn't Flesh Out..., I literally referenced this to Chris as something that's "new with me".

Overall State of the Meg:

STRONG!

Unlike a pig in water. BOOM! FULL CIRCLE!