Woo
—thank Jah it's Friday, huh?? Except not really because now that I work queer retail hours, Tuesdays and Wednesdays are technically my "weekend" and my conventional weekends are full of work. So really, Monday is my Friday. TGIM! (Side note: After typing that, I thought to myself, "Thank God it's—" and my brain auto filled with Mo Collins.
Fascinating
.) Despite having to work today, and tomorrow, and Sunday, and Monday, I'm still psyched it's Friday. And I'm 99.9% sure we all know why...
It's
TGI Hagman
, baby!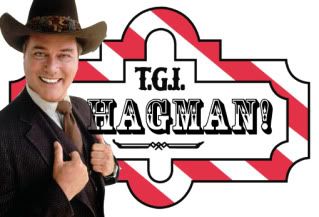 (By the way, I get an oddly high number of emails from people being like, "I love TGI Hagman!...But I don't
entirely
get it. What's the story behind it?" For the record, the back story is located
here
and I link to it every week to avoid confusion. Looks like I've been doing an "awesome" job.)
As of April 30, 2010 (a.k.a. my
Facebook
wife
Talia
's 25th birthday. Happy birthday, baby! You look just as good as you did the day I met you when you were 13. Oh,
I
was 13 too, for the record. Just wanna clear that up. Things were starting to feel slightly homo stranger danger in here for a hot second...) at 2:44am, Larry Hagman is...
alive!
And the Lord said, "Let there be Hagman."
Cella
's alive too, for the record. As is the last surviving fish from the
Real World DC
house,
Real
. I'm pretty much a pro at sustaining the life of Z-list pets. It's a gift and a curse, really. Despite the touching number of people pulling for her, I'm probably not going to make TGI Cella a weekly feature. I feel like throwing the fact that she's maybe kind of about to die in Becky's face once a week on a public blog might be a dick move on my part. Emphasis on the

might
. So, god speed, little Cella. The 2b1b community is rooting for you.
SPEAKING OF THE 2B1B COMMUNITY! I have lots of things to talk about involving you fine people. Let's delineate, shall we?
-
I have the results from yesterday's edition of "
Am I Crazy, or are
You?"
Re:
Cleaning the lint trap in a shared laundry environment
SURVEY SAYS:
You are crazy. And by "you," I mean the degenerates in my building who don't feel it's necessary to clean the lint trap after using a dryer. And despite my win, I'd like to address this comment: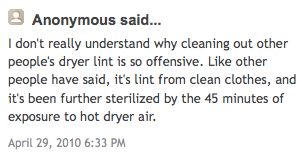 That's not the point. It's not a sanitation issue, it's a
common courtesy
issue. You used a public machine and as a result, residue built up. Said residue needs to be removed before the next person can use the machine. Therefore, it is
your
responsibility to remove
your
residue. I don't care if laundry lint is made of candy corn and orgasms; I don't want to touch yours.
Re:
For all intents and purposes vs. For all intensive purposes.
SURVEY SAYS:
We
are crazy. It's "for all intents and purposes." I'm always so fascinated by what puts the 2b1b communities panties in a twist and this debate definitely did. I haven't seen you guys this fired up since I said Journey sang
Livin' On a Prayer.
Grammar snobs and 80's power ballad fans, you are. This kind of marketing research is
invaluable
. But, yes, wipe the sand out of your collective vadge everyone, because now we're all officially on the same page: the phrase is "for all intents and purposes." AND FUCK ME IN THE FACE HOLE FOR EVER THINKING OTHER WISE.

Jesus Christ. I've put on a little depression weight since my birthday; wanna talk about that too?
Jesus von Creezus. If by "careless" you mean I typically write this between the hours of midnight and 4 o'clock in the morning because I have a day job and a social life, than yes, I have gotten mighty careless. That being said, you have a point. I actually considered asking
Becca
to start editing my posts before I put them up, but that would delay the posting time considerably because homegirl has a real person job. I don't know, dude. Its you're call. (SEE?! See what I did their?!) (And they're!) (And they are!) (I could do this all day.)
Re:
Eye-you-dee vs.
Yood
SURVEY SAYS!
Blow up your vagina because I don't want to talk about IUDs anymore.
Ok, good. Glad that's all settled.
- Now, I know I was kind of just an asshole to three of you (BECAUSE YOU WERE AN ASSHOLE TO ME FIRST,
GAWD
) but this is a quick reminder to please go
here
and write in 2birds1blog for
Best Local Blogger
. Ha ha ha...ha, yes...awkward
timing
. Today is the last day to vote so please, please,
please
take five seconds to do it and maybe recruit a few friends to do the same. Any additional awards we win or press we get helps keep the blog going. We appreciate it!
-
You know who else I appreciate? 2b1b reader Kate from Atlanta. Why? Oh, I don't know. Perhaps because she went to a
Kelly Cutrone
book signing and made
this
happen: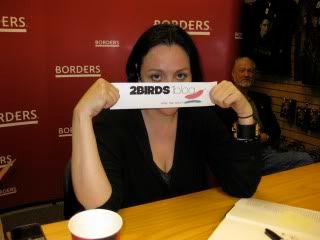 I mean, can we all just take a moment to stand up in our cubicles wherever we may be and give Katie one hell of a collective standing ovation? Because well played, madam. Well played,
indeed
. You are my newest new best friend. (Also shout-out to
Andrew M
. Because I have a mega friend crush on him and maybe we're already BFFs in my head? What? I don't know, I blacked out.)
-
This doesn't have anything to do with the 2b1b community, but I've had the song
Hands Across America
stuck in my head for three days now. And it's horrible. Because not only is the song stuck in my head, the visual of celebrities
swaying
is stuck in my head as well. Specifically Stevie Wonder, for some reason.
-
And while we're on the topic of things that have absolutely nothing to do with anything, I grabbed a burger and a beer with
Lara
after work tonight and when our check came, I cackled my face off, took a picture of it and emailed it to
Alex
with the subject line: "BAHAHAHAHA!" Why? Because our check number was 69 and I'm a small child.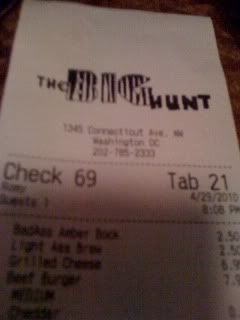 After I hit send, a lightning bolt of fear shot through my body because for the hottest of hot seconds, I thought I sent it to the person
above
Alex in my email contact list—this total cuntbag from
Gotham
magazine who interviewed me for a graphic design position when I was trying to decide if I should get a new job or leave New York all together in 2008. She was horrible and point-blank made fun of the magazine I worked for at the time and obviously didn't offer me the job. I felt Ok about it though because as hot as she thought her shit was, she was wearing a halter top with her black bra straps blatantly showing. Because, hi, I'm a strapless bra, we should get a drink some time.
Anyway, the point being, my heart momentarily dropped into my butt at the thought of her getting an email from me, two years after the interview, the only contents being typed laughter and a picture of a receipt with the number
69
on it...But I sent it to Alex, thank god. Although he hasn't responded, which is out of character. Hm. (Alex, call, text or email me as soon as you read this to confirm that you indeed got the email. And do
not
fuck with me and say you didn't get it when you really did because you think it would be fun to watch me have a stroke.) (Ha ha...
stroke
.)
-
Yesterday was Amy's birthday (woo hoo!) and I'm sure she's still nursing her hangover (something I think we can all understand) so we're going to skip Queer Abby this week and move on to this week's drinking game. But don't forget, if you have questions, you can always write in to
QueerAbby@2birds1blog.com
.
Considering how the theme of today has been appreciating the frightening, comical and powerful force that is the 2b1b community, I whipped up a 2birds1blog drinking game to start the weekend off right! So I give you—
2birds1blog's 2birds1blog Drinking Game!
(META!)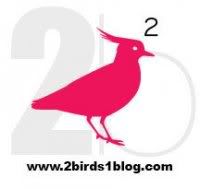 Rules:
Drink when:
- TYPO!
- A Meglet story is told
- Evie makes an appearance
- Meg solicits her readers for narcotics
- Tulane Chris uses a word that makes you wish you paid attention in SAT Prep
- Tulane Chris makes an obscure history reference that makes you wish you paid attention in AP Modern World
- An ex co-blogger is referenced
- Becca is hyperlinked to the Moustache Manifesto
- Sorr about the bag
- A post is tagged with a tag that has literally nothing to do with anything (i.e. "Boobs boobs the magical fruit" or "tampon flinging")
- A word is italicized
- A word is in bold
- An em dash is used
- Meg talks about her time in New York like it was a tour of 'Nam
- The 2birds1blog
Twitter
account is hyperlinked (DRINK)
- Depression, alcoholism or technology problems are discussed
- American University gets ripped on
- No Post Monday (and pour one out for the fallen blog post)
- Someone has a WHAT THE FUCKITY FUCK FUCK?!?!?! moment
- Someone asks Dr. Reuben a question
- Dr. Reuben answers a question
- Meg mocks Dr. Reuben's answer to a person's question
- Someone makes love to a food product
- Narwhals

- Welp
- Blokay
- Blalright
- Oh,
I'm
sorry
- I'm not
not
_______
- AN
- rull or rully
- batshit crazy
- !!!!!!!!11
- There's a photo
- There's a video clip
-
Turtle Rapes Shoe
- It's a fictitious holiday (i.e. TGI Hagman or Drinking Game Friday) (DRINK/DRINK)
- Something awkward happens (HAHAHA, just kidding. We'd all be alcoholics.
Ooo!
Discussing alcoholism! Drink!) (AH! Italics! Double drink!)
- The Jack Daniels pants a.k.a. Second Skin are referenced
- Weekend Hair and/or Aspie's Clip are referenced
- A McCain is referenced
- Someone overshares
- Pen names are used
- Meg tries to get you to vote for something
-
You do
- Thanks!
Again, thank you so much for all of your support. Have a great weekend and we'll see you right back here Monday morning. (KNOCK ON WOOD!) Buh-bye.