I know I promised you all a good old fashioned All-American rant on metro pole huggers today, but it's just not going to happen. Boss #1, Boss #2

AND

Russell the Homophobic Co-Worker are all in the office today making my life a living hell. In retrospect, I probably should have written today's post last night, but I had a few margaritas and went to bed early instead. I feel like now is the time I should apologize, but frankly, it was

awesome

and I have no regrets. I'm not even trying to lie. So I guess I apologize

for that

. Unfortunately I have to wrap things up quickly because I gotta go assume the position while The Holy Trinity of A-Fucks take turns paddling me like the little bitch I am. Or

Wednesday

, as I call it.
I feel like I should leave you with something...hmm...I sort of wish I hadn't exhausted
Turtle Rapes Shoe
yesterday. That's my one ace in the hole. Oh, I know! I'll leave you with this comical image I made for Ex Co-Blogger Eddie. Eddie wrote her senior thesis on the 80's soap opera
Dallas
and in that time became oddly attached to Larry Hagman (aka J.R. Ewing). She was petrified he was going to die before she completed her thesis; a fear that has since grown into an overall obsession with Larry Hagman's health and well-being. It's not unusual for me to get a text or email at least once a week from Eddie simply stating: "Meg, I thought you would like to know that as of _____ at __:__, Larry Hagman is

alive

." I think 98% of Larry Hagman's
Dead or Alive?
page traffic comes directly from Eddie. The following are her honest-to-god facebook interests:
Eddie Izzard, Jackie O., Crafting, Dance Parties, Flappers, Cat and Girl,

Larry Hagman's Health

, Burlesque
My favorite Larry Hagman updates are on Fridays because that means it's the completely fictional, yet gloriously hilarious (probably in my mind, and my mind only) holiday that is...

T.G.I. HAGMAN BABY!!!...T.G.I. HAGMAN!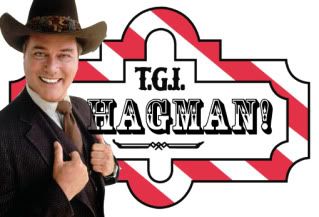 K. Well, that was fun. Hopefully Co-Blogger Chris will swoop in and save the day with something more substantial later this afternoon. In the mean time, pray for Larry Hagman's health.
*BTW: This is what happens when Jäger refuses to support us financially...OH SHIT!