I secretly enjoy the holiday season. I have already decorated my apartment with a small tree, bells, bows, and the scent of the holidays (Christmas smells like gingerbread and

Goldschläger

.)


There is something magical about this time of year. Like a sucker I feel the need to watch every TV holiday movie. These poorly made classics are staples on my television. A Charlie Brown Christmas is arguably the best.
A Charlie Brown Christmas shows a simple world where children run everything. With bit of talk about the Big J and speeches against commercialism it has touched the hearts of the American Public. If you hate this movie you ARE THE DEVIL.
In light of the upcoming holidays (and the recent biography of Charles M Schulz) I decided to spice up this holiday classic with a drinking game!
Take a Sip When…

* Charlie Brown says something that is ridiculously EMO.

* Every time a non-white character comes on screen.
* Schroeder rebuffs Lucy's advances. (Finish your drink if anyone in the room suggests that Schroeder is gay…or if you think it.)

* Every time Schroeder's piano produces the sound of some absent instrument. (Finish you drink if his piano magically sounds like a full jazz quartet.)

* Every time someone makes fun of Pigpen's appearance. (Kids are horrid rude creatures. Shouldn't the Christmas sprit extend to all people, including the dirty kid?)
* The relationship between Snoopy and Woodstock confuse you.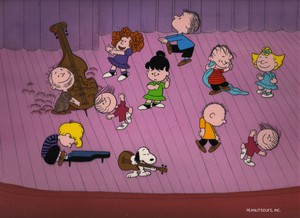 I wish I could quit you,
Eddie