I have to tell you something upsetting
—
I almost died last Wednesday night. That's right. I stared into Death's cold, soulless eyes and saw no mercy. I choked on his icy grip and gasped for air. More importantly, I fought back like a Babylonian Warrior and I lived to tell the tale. (Specifically, I was really high and choked on a sandwich, but let's not mince words.) So who's to blame for nearly ending my precious little life? A little television channel called TLC. For it was the shock of seeing a commercial for their new documentary

My Monkey Baby

that lodged a shitake mushroom square into my windpipe and sent my life flashing before my eyes. And there's no way in hell I was going to let the last thing I see in my lifetime be a capuchin monkey in a Victorian parlour dress being spoon fed in a high chair. So I had no choice but to survive.
But really.

My Monkey Baby

. That really happened. Last night. And it will happen again tonight at midnight EST, so I recommend you set your DVRs to

stunned!

Because did you know that there are over 15,000 monkeys in the United States who have been adopted by couples looking for an alternative to human adoption? Did you know that these monkeys are called

monkids

and cost upwards of $5,000? Did you know that the statistics I just shared with you make me want to bury my head in the sand like an ostrich until I cease breathing or society becomes less appalling, whichever happens first?
My Monkey Baby

follows three couples who have chosen to adopt and raise a monkey as their own child. And I can't stress how literally I mean that statement. These aren't helper monkeys or service animals of any kind. And the people who have adopted them aren't obsessed pet owners either. Mostly because they don't consider their monkeys to be pets
—
they consider them to be their adopted offspring. Which is apparently a uniquely American "craze." That's what the documentary calls this, by the way. A "craze." To which I say,

the fuck?!

Because The Twist? That was a craze. Crystal Pepsi? A craze. Nickelodeon's Gak? A craze. Being so disillusioned that you honestly think a pet monkey is your child? That's called being mentally ill. And frankly I don't want to live in a world where people this sick are rewarded with their own light-hearted TLC documentary, comically titled

My Monkey Baby

.
I think my favorite couple of the night was Indiana's Jesus and Carmen. Gather ye 'round children and let me tell you a tale about Hay-Zeus and Carmen: Hay-Zeus really, really,

really

doesn't want kids. So much so that when he was 22 years young, he scoured this great Nation to find a doctor ethically questionable enough to give him a vasectomy. Which bless his heart, he did. Now he's left fillin' up Carmen, his girlfriend of one year, with blanks and a burning desire for something more.

*~QuIz TiMe!!~*

Should Hay-Zeus and Carmen:
a.)

Get a dog
b.)

Have a sit-down about the direction of their relationship and consider reversing Hay-Zeus' vasectomy
c.)

Take up ball room dancing
or

d.)

Drive to Missouri, buy a monkey for $5,000, name it "Butters" and raise it as their child
If you chose D, you are possibly clinically insane, but more importantly correct! For that is exactly what the J-meister and Carmen do. And then they swaddle it in blankets, pop it in a baby carrier and take it to Target where they buy it infant clothes and a pint-size Swiffer Wet Jet at a very reasonable 15% off. God I love this country.
Next up we have Bob and Mary Lynn. Mary Lynn is somewhat recently divorced and desperately misses her ex-step children, whom she no longer sees. Although happily married to her third husband, Bob, Mary Lynn sadly can not bear children of her own.

*~QuIz TiMe!!~*

Should Mary Lynn and Bob:
a.)

Get a dog
b.)

Get a better attitude
c.)

Adopt a human baby in desperate need of a loving home
or

d.)

Adopt a wild monkey in desperate need of a jungle
If you chose D, you might live in Tennessee, as that is exactly what Bob and Mary Lynn decide to do.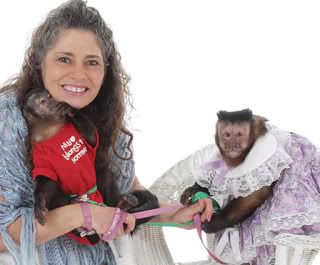 Mary Lynn is now a "stay-at-home mom" to her monkey daughter "Silly Willy," who at one point refuses to wear her bloomers, causing Mary Lynn to shriek

"DID YOU TAKE OFF YOUR PANTIES?!"

an ungodly number of times. Which is when I lit a q-tip on fire and shoved it in my ear to burn the pain away. I'd say the highlight of the entire program for me was when Mary Lynn loses one of her hormone pills and fears Silly Willy ate it.

*~BONUS QuIz TiMe!!*~

If you were concerned that the monkey you believe is your honest-to-god child ate one of your hormone pills, would you:
a.)

Assume she'll be fine and continue on to Dress Barn
b.)

Tear your car apart until you find the lost pill
c.)

Take your monkid directly to the vet
or

d.)

Call an animal psychic to read your monkid's thoughts
If you chose D, congratulations
—
you are now the proud parent of a rabid monkey baby.
And finally, there's old Lori and Jim Johnson from Bumblefuck Nowhere U.S.A. First and foremost, let it be known that I think I'm 78% in love with Jim Johnson and would be more than willing to get married to him on the back of his John Deer mower. Unfortunately for me, Jim is married to Lori. And unfortunately for Jim, Lori is insane. Prior to marrying Jim, Lori had six human children of her own who selfishly grew up and moved away from home to pursue "lives of their own." After her last child moved out, Lori fell into a deep depression and ended up in the hospital.

*~QuIz TiMe!!~*

Should Lori:
a.)

Get a dog
b.)

Continue seeking medical help for her depression
c.)

Mentor an inner-city child
or

d.)

Leave the hospital and adopt a monkey because a monkey will never leave you to go to college, fall in love, get married or try to have a life of it's own in any way, shape or form
Thankfully for capuchin monkey Jessica Marie, Lori chose D. And then she married Jim Johnson. Bitch.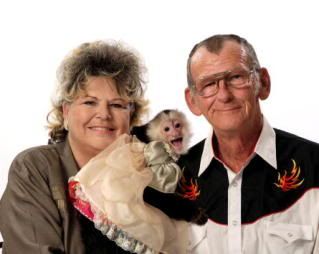 You'll notice in that photo that Jessica "Jessy" Marie has quite the gummy primate smile. That's because Jessy kept "nipping" at her mommy and daddy, so mommy and daddy had all of her teeth ripped out. Which makes it even more pleasurable when her daddy Jim Johnson tongue kisses her. And I'm not making that up for effect. He literally french kisses his monkey daughter.
Which leads me to my problem with this "craze": I can understand being obsessed with your pet

(cough
—
Evie
—
cough)

. Likewise, I can understand pets in outfits are adorable. I can

even

understand that there are people bat-shit crazy enough to consider their pet as their child. However, it is complete and utter bullshit to demand that the rest of the world recognize that a monkey is your child and must be treated as such. Because you don't fucking tongue kiss your children. Nor do you have their teeth removed when they "nip" at you or put them in cages when they lose their "panties." It's just asking far too much of us. If we have to play by your ass-backwards rules then you have to play by a few of ours.

For example, when Lori and Jim are kicked out of a restaurant for bringing Jessy, Lori throws a shit fit at the audacity of the manager to not only kick them out, but also to call Jessy a

"monkey"

instead of her

"daughter."

"WELL I'M CERTAINLY NEVER COMING BACK HERE AGAIN!" Lori shouts. Madam, your daughter has a

tail

. A rat-like

tail

protruding straight out of her ass bone. She also has

fur

. And starred in the 1995 movie

Outbreak

. Because your daughter is a fucking

monkey

and monkeys are not allowed in eating establishments for good reason: they're unsanitary. Just because you put an ironic wedding gown on it does not mean it's been soaked in a vat of Purell for a week.

All I'm trying to say is the day we have to accept monkeys as legitimate forms of children dining next to us at the Cracker Barrel is the day I'm allowed to call Child Protective Services to tell them that you just went to first base with your daughter and put her and her panties in a cage.

God bless America.