- 2b1b reader
Lovenotestoself
challenged Becca in the comments section of her Moustache Manifesto to give an example, besides her boyfriend, "of a man rocking a mustache today that most normal women without daddy issues would want to ride." And as I knew she would be, Becca was more than up to the challenge. She found not one, but two examples:
1.)

Jason Lee, of

My Name is Earl

fame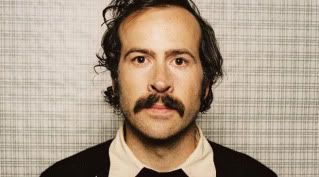 and

2.)

Randy Marsh, of Stan's Dad fame
Well played, Ms. McBlogger...well played indeed.
-

(NOTE: It is so incredibly vital to me that you turn up the volume and/or put in your headphones and hit play at the end of this anecdote. If not, it will ruin the entire effect and my day will be shot to hell. Mmkthnxenjoy.)
I got a slew of emails after Becca's Moustache Manifesto from readers inviting my sister to various upcoming Moustache-themed parties. Not so much inviting

me

, more so specifically inviting

her

. Which I get, considering my great disdain for The 'Stache! However, it reminds me of a traumatic event that happened a few years ago involving MySpace (as most traumatic events do.) This was back when MySpace wasn't exclusively for child molesters, emo kids and sexually active thirteen-year-olds and people actually used it to network. One night, College Rommate Danielle came home from dinner with her sister and was like, "Dude. My sister keeps going on a shit ton of dates thanks to this new-fangled thing called a 'My...

Space'?"

We had a good laugh and were all, "That's weird!!! LOLZ! Who trusts people they meet on the Internet? FREAKS! LOLZY WHHHAAAA?!?" and then ran to our respective corners to sign up for our own accounts. Naturally, I only uploaded pictures of myself where I look unrealistically attractive, which included a picture of me and my sister looking "petrified" at the Petrified Forest in Calistoga Springs, California. (God we're adorable.) Within minutes of posting my profile, I got a message from a hot 26 year-old DC guy with the subject, "Just Wondering..." I browsed his (dreamy) profile and had pretty much sent out our wedding invitations and monogrammed the guest towels towels when I actually read his message. It said something to the effect of the following:
Just Wondering...
Does your sister have a MySpace page?? She is GORGEOUS!
Aaaaand
—
- I haven't been on MySpace in legitimately over two years and decided to check out my profile this morning for old time's sake. The following is what I wrote for favorite movie: "The 1975 classic

Mitchell

starring a perma-drunk Joe Don Baker and

Dynasty's

Linda Evans."
And for favorite music: "Funk music.

Pure

funk though."
...Is it cocky to say I would

totally

date myself?
- I would like the world to know that Boss #1's ringtone is Jamie Foxx & T-Pain's

Blame it on the Alcohol

. That's it. That's all I got. I just wanted you to know. And now you do. K, have a good day.
- And speaking of Boss #1 and bad musical choices! You know what really ruffles my feathers? When I'm literally given

AN

day to plan a 40-person cocktail party, so I hustle my fuckin' ass off to make it happen and when I actually

do

make it happen and stop to look around the room and think, "Wow Meg! You did it! It looks amazing in here!" And then Boss #1 immediately blasts

Save a Horse, Ride a Cowboy

through the sound system.

That

really ruffles my feathers. Because the Peking Lacquered Duck atop Wild Rice Cakes that I was able to get Dean & Deluca to pull out of their asses in about, oh, 30-seconds, was

not

meant to be paired with drunk sorority girl music, a-thank you very much. If I knew this was the kind of shindig B#1 wanted me to throw, I would have just called Jumbo Slice and Tenley Liquors and saved myself an anxiety attack.

Christ

.
-

Autobiography

by Ashlee Simpson is one of my main gym jams. I don't really know what to tell you about that. I'm not saying she's the musical genius of a generation, I'm just saying when I'm losing energy mid-workout and she shouts, "I'M A BADASS GIRL IN THIS MESSED UP WORLD! I'M A SEXY GIRL IN A CRAZAY WORLD!", I sort of feel like "MEEE TOOOO A. SIMPS!

ME TOOOO!"

and feel like I can carry on. I don't know. That was a strong statement. I sort of wish I hadn't just written that but I'm too lazy to delete it. Anyway, I was walking home from the gym the other night singing

Autobiography

in my head and instead of singing, "Right now I'm solo but that will be changing eventually", I sang, "Right now I'm

sober

but that will be changing eventually."
And that is when I realized I might be a raging alcoholic. Thanks subconscious!

Wink!