Happy Drinking Game Friday gang! This week flew,

HUH?!

Sorry. Jesus. Why do I always irritate myself on Drinking Game Fridays? Anyway, before we get to this week's drinking game, there's something we need to talk about. My frequent misuse of "An." Yeah. It's on the table. Sit down. Let's talk about it.
If you don't read and/or take part in the comments section (and I don't know why you wouldn't; according to my mom it's the most entertaining part of the entire blog. You know, the part I

don't

write.) you may not know that I was called out by numerous people for the following grammar mistake in yesterday's post:

"

Uggggggggghhhhhhhhhhhhhhhhhhhhhhhhh

," she sighed as she rolled her eyes and moved her body

AN

single millimeter so I could pass.
For the record, I am 100% aware of how grammatically incorrect this sentence is and I know I should have used "a" where I used "an". It's an inside joke. We ironically misuse "an" to emphasize how small of an amount something is. For example:
"I asked her for more pickles and she gave me like,

AN

single pickle."
Some inside jokes translate well on the blog, some do not. This might be the latter. It was born at 4:30 in the morning at a train station in

Stuttgart

, Germany and involved horse

tranquilizers

...

sooooo

maybe I shouldn't have tested it in these waters. But I did. And the overall consensus seems to be that

a.)

nobody likes it and

b.)

everyone is relieved to learn that I'm not as grammatically-challenged as I

originally

seemed. Which I can handle! I decided I would stop using it on the blog but obviously continue to use it in my every day life. And then I got this email from Andrew, of The Great Juno Debate fame:
"[...]I love you and your blog dearly, but twice now in recent entries you've used "an" where you mean "a." Grammar mistakes make me as sad as my train schedule shirt makes you. :("
AND

GOD

DAMNIT

!

So, fuck it! I'm officially retiring

AN

. I'm carefully wrapping it in bubble wrap, putting in a box marked "Memories," taping it up and putting in the basement where it will inevitably get destroyed in a flood or eaten by mice. So there. I hope you're all happy.
AND NOW YOU ALL GET A RECYCLED DRINKING GAME! Not so much because I'm bitter about

AN

falling flat on it's face (WHICH I AM), but more so because it's the official movie of Meg's Fall Fun Day and this year's MFFD is this Sunday!

MFFD

might be the most glorious day of the entire year. And by might, I obviously mean

is

. Every fall since 2005, Helena, Alex, Andrew, Danielle and I pick a day in October, pile into my little Malibu Stacy car and drive up to

Lariland

Farms in

Woodsboro,

Maryland where we pick apples, get pumpkins, drink cinder, take

inappropriate

pictures with phallic-shaped gourds and such and then go back to Helena's house to make pies, carve pumpkins and drink our faces off while we play this week's drinking game—

The Sleepy Hollow Drinking Game!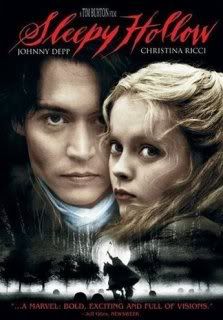 Heaving bosoms, Johnny Depp in tight pants and Christopher Walken. What could be better?
Rules:
Drink When:
- Someone's head gets chopped off
- Christopher

Walken

makes a "

GAHHHHHHH

!!!!

" noise
- Someone faints
- You see a burning pumpkin
- Katrina's bosom heaves
- Bram acts like a jackass (I understand this is subjective…just drink when Casper van

Dien

is on screen)
- Someone goes in or out of the Tree of the Dead
- Ichabod thinks out loud
- Ichabod uses of

dat

dem

der

fancy big city detective methods/tools
- Ichabod has a flashback to his childhood featuring his mother's inappropriate cleavage pouring out everywhere and anywhere
As always, thank you so much for reading, forwarding, emailing, tweeting and the like. We feel strongly about you. I'm not quite sure if it's love...but I think it could

grow

into love. And now we're making out. In my mind.

Blokay

! We'll see you next week!