So as I alluded to in yesterday's post, there was some "

Unpleasantness

" last week in hot yoga. Frankly, I just had an all around shitty class, which is totally upsetting because I felt like I really pushed myself the class before and was finally making my robotically stiff body slightly more limber. (

Slightly

.) To be fair though, I had a lot of things working against me last week:
1.) I had just come fresh from this debacle.
2.) I had had

AN

single drop of water throughout the entire day.
3.) The class was packed by the time Becca and I got there and we had to sit in the first row, right in front of the mirror. I hate that. I'm willing to accept the fact that I'm going to have to stare at myself sweating like a pregnant woman in labor for an hour and a half, but I'd prefer not to do it at such a romantic proximity to my own face.
4.) I had re-dyed my hair the night before. The problem here is that black hair dye is difficult to completely rinse out and tends to linger for a few days. Normally this isn't a problem because it just makes your hair seem thicker and darker than usual, which as someone with fine hair, I appreciate. However, when you're

sweating profusely

from your head, it has sort of a Tobias' new hair plugs affect: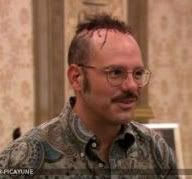 Which is...unique. To say the least.
All of these factors added up to me feeling distracted, tired and dizz
y
—
a bad, bad combination of things to feel. If you start feeling sick in class, you're supposed to lie down on your back and take deep breaths, which is exactly what I did about 15 minutes into class. Unfortunately, standing next to my sister, two people down from me, was a man who we lovingly refer to as "Soap Opera Guy," as he looks like an aging soap star. Fact: Soap Opera Guy sweats like a bitch. Which I totally get! It's 105-degrees! Lord knows I'm not judging. However, at the

exact second

I opened my mouth to take a deep and refreshing gulp of air, Soap Opera Guy whipped his arms out to his sides and sent two giant globs of sweat flying off of his arms and directly into my open mouth.
Let me repeat that.



Two

globs of Soap Opera Guy's sweat
—
his personal mystery sweat
—
were made airborne, traveled

past

my sister's body and landed directly

in

my open mouth. I consumed Soap Opera Guy's sweat. (And frankly, that's the most male bodily liquids I've consumed in a

month of Sundays...

) (...Which is an upsetting statement.) I didn't know what to do. I couldn't make a scene because the class was in the middle of a pose and I didn't want to break everyone's concentration. And yet, there was a good 90% chance I was about to vomit everywhere and claw my own fucking face off. In the end, I decided to suck it up (no pun intended,) block it completely out of my mind and let it re-surface later in the week at therapy. This worked quite well until Soap Opera Guy entered Trikonasana pose again, this time sending globs of his sweat flying onto my stomach. I decided I'd rather stand and risk passing out than continue to lay down and let this silver shower continue any longer.
It was a long, long class...
And now I'm nervous for tonight.