Happy Drinking Game Friday to one and all! Guess who's in an oddly good mood this morning? THIS GIRL! Why? BECAUSE IT'S OFFICIALLY PRE-HALLOWEEN SEASON! And we all know that Halloween is my FAVORITE HOLIDAY EVER!!!!1 And yes I will spend the rest of this post SPONTANEOUSLY TYPING IN ALL CAPS! Ok, I'm done. I'm annoying myself. I'll stop.
It's a damn good thing Halloween season is upon us because I've been a bit of a...oh how do I say this?...an

"asshole"

around the office recently. And I'm sorry. Except I'm totally

not

sorry because this summer was the worst summer of all time. It was boring and hot and humid and lame and not full of sex, yet totally full of cockroaches and horrible. I've pretty much been in a terrible mood since Memorial Day. A mood that I have absolutely no qualms about taking out on my co-workers via sassy attitude. Two real world examples from yesterday alone:
Boss #1

: Wow thanks for compiling this list of vegan-friendly caterers for me!
Me:

Yep.
B#1:

This is really thorough! Are you vegan?
Me:

No. God just blessed me with the unique ability to type "Vegan/Catering/DC" into

The Google.
B#1:
[Glares]
Later...
Russell the Co-Worker: It's raining out. My daughter's class was going to take a trip to the National Zoo today.
Me:

[Feigning interest]

Pretty horrible day to go to the zoo.
RCW:

And get this! They drove two hours from Ft. Royal to get here! I checked the weather as we were standing in line and it said it was going to rain all day and they just turned right back around.
Me:

Wouldn't the smarter thing to do have been to check the weather

before

you traveled the two hours from Ft. Royal to DC?

[Note: Russell's daughter goes to a school for the mentally handicapped.]

That's kind of retar...Unwise.
RCW:
[Glares]
But! I'm in a better mood now and I vow to decrease my sassiness with co-workers (and bosses...) by at least 67%. BECAUSE IT'S PRE-HALLOWEEN SEASON! (Shit. Sorry.) Tonight Becca and I are driving to our parent's house (AND YES I DID MAKE A SPOOKTACULAR MIX TO PLAY EN ROUTE!) (

God damnit!

Sorry again.) where we're going to have McBlogger Family Halloween Night 2009! My mom is making chili and we're going to gather 'round the fire and watch
the 1981 film,

Wolfen

. According to my dad,

Wolfen

"features a middle aged Albert Finney and Gregory Hines in a non-dancing, afro-wearing role of the hero's friend. Also appearing, Edward James Olmos playing something I can't remember. But the real star is … NYC. And don't forget about all the Indians (native Americans) working high steel. Very mystical and creepy. And tastefully done violence, if you ignore the blood and missing limbs.
" ...I've pretty much never been so excited for something in my entire life.
If you've had an equally disappointing summer and can't quite get in the mood for Halloween and the Fall, allow me to give you a helping hand. I give you this week's drinking game
—
The Hocus Pocus Drinking Game!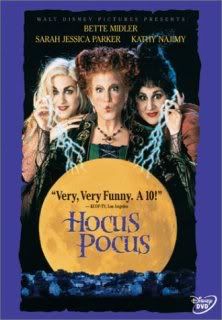 First and foremost, I would like to warn you that this game is

potent

. We wrote it a few weeks ago when Alex and I went to NYC to visit Co-Blogger Chris, with the help of our friend Bobby. I was out by the time they sang "I Put a Spell on You." But that might have been the numerous pitchers of Margaritas consumed earlier in the evening talking. Also! I had the biggest

a-ha!

moment! The guy who plays Ernie, aka "Ice," the bully in the graveyard scene (real name, Larry Bagby III) is the same guy who plays Larry Blaisdell, the closeted homosexual football player on

Buffy

, who made his first appearance in

Buffy

episode entitled "Halloween."

IT ALL. COMES. FULL. CIRCLE.

(...

Christ

.)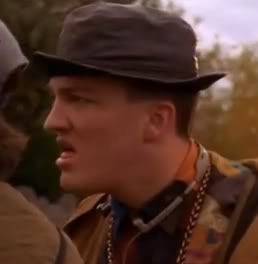 =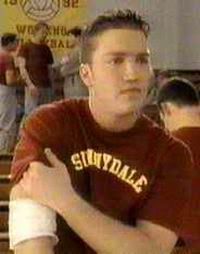 !
(PS: In researching those photos, I found this

current

photo of Larry Bagby III: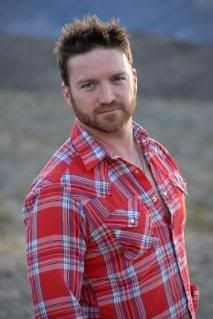 Kind of smokin' hawt, am I right or am I right?! Mmk. I'm right. Well. Let's just getsta drinking, shall we?)
Rules
Drink When:
- Sarah Jessica Parker sings
- A spell is cast

- Someone mentions a virgin
- The Black Flame Candle is lit

- "Yabos" are mentioned

- Whenever the witches are tricked by technology

- Binks (in cat or human form) says "Emily"
- Bette Midler speaks french
- Max is referred to as "Hollywood"

- A towns person talks about the myth of the Sanders' Sister
- The book's eyes open

- The butterflies fly away, the butterflies fly away, the butterflies fly away! (Specifically out of Billy Butcherson's mouth) (50 points if you just got that Miley Cyrus reference)

- There's a billowy white shirt
- Bette Midler says "SISTAHHHHHS"
- Larry outs himself to Xander (Wait...)

As per always, thank you so much for reading. We survive only on word of mouth, so we can't tell you how much we appreciate you threatening the lives of your friends and family if they don't read on a regular basis. You can also threaten them to follow us on Twitter, join our facebook page, vote for us here, here and here and write us in for Best Blog here. We love you and we'll see you bright and early Monday morning! (Well,

I

will. Chris will be in Mexico on vacation with his boyfriend having drunken vacation sex. But I'll be here! Single and sober...and in the office...weeping ever-so gently. K, I'm gonna go kill myself now.) Buh-bye!