Before we get to the results of The Great Juno Debate, I would like to take a moment and tell you about my traumatic morning. At 8 o'clock this morning I dragged myself out of bed feeling all Groggy Town U.S.A., stumbled into the bathroom, turned on the shower, adjusted the water temperature, looked down and realized that my left foot was three inches away from the biggest fucking cockroach I have ever seen not confined to the Amazonia section of the National Zoo: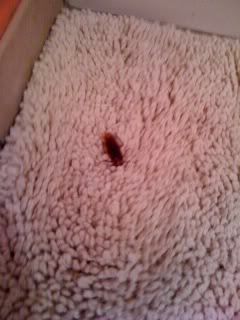 I am NOT okay. Nothing in my life will ever be okay again.

I didn't even know how to remedy the situation. It was too early in the morning to deal with. I just stood there staring at it in disbelief. Then the fact that it was real and breathing and had it's own zip code finally sunk in and I Super Bowl Shuffled my way out of that bathroom so fast his little cockroach top hat spun. I had no idea how to kill him. There was no fucking way I was going to "get him" with a piece of toilet paper as if he were your average spider. I mean look at that thing! I'd bend down and he'd roundhouse kick me in the face and steal my TV! I ended up throwing my commemorative Michael Jackson issue of

GQ

on top of him and promptly ran away screaming like a small child. That situation is still there right now. I know I just have to fold up the bathmat and put it in a trash bag and throw it out, but I don't know if I can handle it. I think instead I'm just going to move out and go live with my parents again where the only thing that size in the bathroom not paying rent is Evie.
My skin seriously has not stopped crawling all morning. I keep obsessively scratching myself like a meth addict. You should have seen me in the shower after I killed it. It was like the god damn

Crying Game

. I fucking hate cockroaches. I would rather a mouse or rat the size of a mini-cooper show up with a monocle and cane all "Ello Govna! I'm bunking with you, I am I am!" than one single cockroach scuttle through my bathroom. Although I should say I have a bizarre thing for mice and rats. I just think they're so effing adorable. When I was a wee little Meglet, I had a giant plastic squeaky rat that I carried around everywhere with me named after Templeton, the rat in

Charlotte's Web

. (Although I couldn't say Templeton so I called him Tem-Tem-Tem...god I was adorable.)

One night Co-Blogger Chris and I found the most adorable little mouse under the fridge in our Brooklyn apartment:
I coaxed her into a shoebox, fed her granola and named her Heidi Mousetag (GET IT?! Like Heidi

Montag?

! BAHAHA!) I begged Chris to let me keep her and he reluctantly agreed for all of five minutes before taking her to Prospect Park to set her free. Which I still frequently bring it up with him and remind him of how bitter I am.

Sigh...
Anyway, pestilence aside, here are the results of The Great Juno Debate:
Via comments:
Meg:

41 votes
Andrew:

35 votes
Via Online Poll:
Meg:

66.95%
Andrew:

33.05%
Before we go celebrating my victory, reader Jen referred me to an interview Jason Bateman did with NPR where he basically reveals that neither he nor the director really knew the answer to this question. Which is irritating because if it's meant to be ambiguous than how am I supposed to finally one-up Andrew? I mean, sure more people agree with me but we'll never really know which one of us is right. And that's horseshit. Andrew and I tried to contact Diablo Cody for the answer via Twitter, but she never got back to us. Which is irritating, but Andrew emailed me to specifically ask that I not "go Meghan McCain on her." Ugh...

fine.
I'm tempted to take the win, but officially, the results of The Great Juno Debate are

inconclusive

. So fuck me. I wonder if the cockroach voted. Lord knows he has the opposable thumbs to do it...

I was going to go with

Juno

for today's drinking game, but it seems that quite a large number of you aren't crazy about it, and you know I fear your wrath. I tried to think of a cockroach related movie but that just made me obsessively scratch myself more. I asked Chris what a good cockroach movie was and he made the completely valid suggestion of the 1996 Jerry O'Connell movie

Joe's Apartment

. However, neither of us have ever seen it. So I call this

The Well Fuck Me Drinking Game: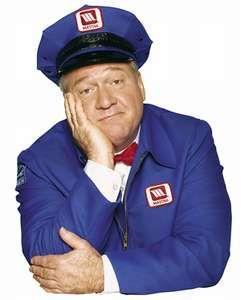 Rules:
Drink When:
- Your favorite blogger gets physically assaulted by a cockroach.

Well good now we're all drunk.
Have a fabulous weekend. I'm pretty sure I'm homeless, so if I could bunk with you at a certain point, that would be swell. Has snark; will travel.