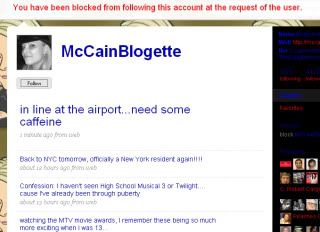 All I wanted was an apology. Just a simple little, "Sorry 'bout it!"

And I didn't want it for me; I wanted it for

you

, DC! All 591,833 of you fugly virgins who call this wacky District home. But I've got some bad news for you
—
old Meggles McCrizzle is having none of it.


I tried, DC, I really did. I tried long and I tried hard to open the door of communication with Ms. McCain via Twitter, but she repeatedly slammed said door in my face and has now blocked me.
Which seems somewhat odd given this MMcC tweet:




But, you know, Meghan McCain is a

serious

political journalist, you guys. I'm just some schmo comedy blogger! It really would be unfair to fault her for using her Twitter account strictly for business purposes and to communicate only with other journalists and key political figures.




Oh. And...the McRibwich people. Other journalists, key political figures and the McRibwich people.



And...Tila Tequila. Other journalists, key political figures, the McRibwich people and Tila Tequila.

But Meghan McCain use Twitter to apologize to the people of Washington, DC for offensive statements?? Now that's just

silly!

She went to

Columbia

! She doesn't have time for that kind of nonsense! Bringing back the McRibwich? Hellz yes; that sandwich is a national treasure! But making it right with the people of our nation's capitol?

Please

. Now you're just being a silly goose.


Oh Meghan McCain; you disappointed me. And I'm tired and viciously sunburned and in no mood to be disappointed. Therefore, get ready to feel the pain of my wrath. What am I gonna do? Oh wouldn't you like to know! Gettin' a little nervous aren't you? I'm all hopped up on Aloe Vera and Tylenol Cool Caplets
—
I'm feelin' a little crazy! Who knows what I'm capable of?!


Check this shit out: http://www.2birds1blog.com/2008/09/why-i-wish-i-could-vote-for-john-mccain.html


YEA THAT'S RIGHT:

I CROSSED THAT SHIT OU

T

!!!!!

OH SHIT! OH SHIT! OH SHIT! You are no longer one of the reasons why I wish I could have voted for John McCain. HURTS; DONUT? You fucked with the wrong blogger, bondie. I'm takin' you down, one strike-out at a time.

Take a long, hard look at that strike-out, Meghan McCain. And while you're at it, take a long, hard look at

yourself

. Yea, we Washingtonians are no Tila Tequila, but we're good people with feelings too. Akrite. Or else it becomes a

double

strike-out.