It's Drinking Game Friday gang! But guess what? This isn't just

any

Drinking Game Friday. No, this is perhaps the

best

Drinking Game Friday in the history of Drinking Game Fridays. Why, you may ask? Because I just found out that there is a Blair Waldorf sex tape. That's right. Blair Waldorf in nothing but a headband, gettin' her freak on. I haven't been this excited since I realized I could get free Kashi Go-Lean crunch through my office's Pea-Pod account.
Although the video hasn't officially been leaked yet, there's a teaser on Perez with stills and a promise that in the video, you see Leighton Meester give a "foot job." Frankly, the thought of Leighton Meester (or anybody for that matter) giving a

foot job

is enough to make me vomit my strawberry NutraGrain bar in my mouth a little bit. There's something so sad about Leighton Meester. I think it's because in reality, she's sort of white trash and has sketchy Lohan-esque family members who are always in-and-out of jail, trying to screw her out of money. That makes me sad. It also sullies the perfection and majesty that

is

Blair Waldorf, which makes me resentful. Therefore I choose to believe that Leighton Meester does not exist. Only Blair Waldorf. When I turn off the show, she continues to live in my TV and is in no way free to give anyone a

foot job

. I also choose to believe that the sex tape features Blair having a three way with Nelli Yuki and the ghost of Bart Bass. And she uses her vagina. Not her foot.
Unfortunately, since I haven't seen the Blair/Nellie/Bart sex tape (yet,) it can't be this week's Drinking Game. So, we'll just have to go with the next best thing. That's right, put some Lincoln Hawk in the tape deck, punch a Humphrey in the face and order Deroda to make you a martini—it's time for

the Gossip Girl Drinking Game!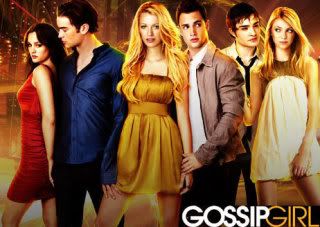 Rules:
I have to insist that this be played with 40s and wine flavored Black & Milds (which it turns out have a grape aftertaste, therefore making them "wine flavored"). The irony makes the experience that much better.
Drink When:
-
Gossip Girl posts (or people get texts from her)
-
Blair cries
-
Either Kati or Isobel speaks

- There is a drunk, slutty Serena flashback
-
Either Dan or Jenny whines about being "poor"
-
Blair wears lingerie
- Dan judges Sererna
- Dan makes anybody feel bad about being rich
- Anyone gets it on in a limo
- Anyone travels from the Upper East Side to Williamsburg
- Jenny makes an article of clothing
- Lily says "Rufus"
- Daroda says "Yes, Ms. Blair"

- Anyone says "Lincoln Hawk"
- Rufus strums his gee-tar, all lonely like
- Anyone says "XOXO"
As always, thank you so much for reading, forwarding, following us on Twitter, joining the Facebook page and emailing us. We love you guys and we'll be back here bright and early Monday morning. Have a great weekend! Kbyeeee!