2b1b reader @pdconnell tweeted me a link yesterday to a product called the "Go-Girl." What is a Go-Girl, you may ask?
"Simply put, GoGirl is the way to stand up to crowded, disgusting, distant or non-existent bathrooms. It's a female urination device (sometimes called a FUD) that allows you to urinate while standing up. It's neat. It's discreet. It's hygienic.

GoGirl is easy to use. Just lower your panties, and put GoGirl against your body, forming a seal. Aim and, well, pee. Pretty simple, huh?"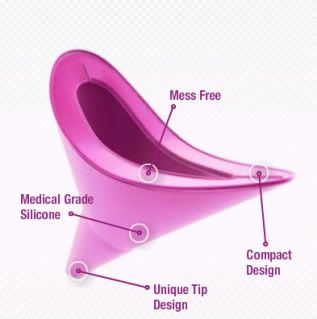 I'm sorry, but I just can't get behind the Go-Girl. I don't find it Tinge-worthy, but I'm fired up nonetheless.
First let me state for the record that I have nothing against female urination devices. Because I get it.

God

do I get it. The Go-Girl's website says it targets athletes, outdoorsy girls, travelers, road trippers and busy moms. They forgot a large portion of their audience: The Lazy Girl. I'm not going to lie, sometimes when I'm sitting at my desk and I've downed 3-5 cups of coffee, I just don't feel like getting up to go to the bathroom. There it is. The truth. How many times have I gchatted Co-Blogger Chris and whined about how I wish I were wearing a diaper? Too many times. That's how many. In high school, my friend Jen and I invented a little product we called "Urban Diapers For the Busy Girl-on-the-Go." And by "invented," I clearly mean we just wished it were socially acceptable for capable, yet lazy 18-year-old girls to wear adult diapers, but who's keeping score? So given my distaste for getting up to go to the john, you'd think I'd be all about the Go-Girl.
You would be wrong. Here's my problem with the Go-Girl: it's trying to make a ho into a housewife. It's essentially just a fancy way to cop a squat, and that seems exorbitantly unnecessary to me. Lord knows I'm willing to spend my money on tons of shit I don't need, but

urination accessories?

That's where I draw the line. Let's not pretend we're not going through a Recession right now. When you're considering workin' at the local strip club to make rent every month, I think you're officially not too good to cop a squat.
However, the Go-Girl people say their product is superior to copping a squat because it allows you to "avoid the usual contortions." Excuse me? Exactly what

contortions

are you performing when copping a squat? This isn't Cirque du Soleil; you're literally just bending your knees and lowering your ass to the ground. I feel like that sounds way less challenging than finding a way to discreetly shove a cup down my pants to pee in.
And why do we need to class up copping a squat in the first place? Sure it's rull country, but it gets the job done in a pinch. I'm not saying if I were given the option of using a toilet or copping a squat, I'd go with the squat; I'm just saying if it aint broke, don't fix it.
It might just be the Jew in me talking, but here's what it all boils down to for me:
Free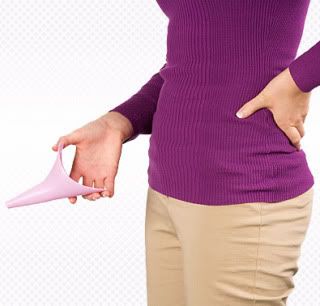 $18.99+s&h
(And by the way, why is that last Go-Girl picture is the scariest image I've ever seen in my entire life?)
The Go-Girl people actually address the issue of frugality on their website by suggesting that instead of throwing away your used Go-Girl, you

put it in the dishwasher and reuse it.

Now, I fully understand that urine is sterile and dishwashers can kill bacteria and blah blah blah, but if you have me over to your house and serve me a meal on a plate that shared real estate in the dishwasher with your

piss-cup

, I shall excuse myself from the table, pee on your child and/or most priceless possession and promptly exit your home.
Score:
Go-Girl: 0
Copping a Squat:

1