I don't think it's going to come as a shock to anyone when I say that I love

Gossip Girl

. Because I do. I love it. If I could take it down to City Hall, marry it, go home and fuck it, guess what? I would.
It might

also

not come as a shock to anyone when I say that I love shitty reality television. Because again, I do. I really,

really

love it. Just yesterday I discovered the CMT reality show,

World's Strictest Parents

. In this hee-larious show, rebellious white trash teens are sent to live with super-strict, equally white trash families to reform their troubled ways. I watched two back-to-back episodes yesterday. That's two hours of my life I will never get back. And I am in no way mad about it, because that shit is

comedy gold

.
So, given my love for Gossip Girl and shitty reality television, you can understand how excited I was to watch the premiere of Bravo's new reality show

NYC Prep

last night. For those of you who don't schedule your life around Bravo programming like I do,

NYC Prep

follows the lives of six teens attending New York City's most elite prep schools. It's basically a real life

Gossip Girl

. Yeah, that's right. A

real

life

Gossip Girl

. I squealed like a piglet when I first heard about it. My little curly-cue tail went pencil straight with excitement. I hadn't been this amped up for a television show since

Real Housewives of New Jersey

, and lord knows that shit didn't disappoint.
NYC Prep

premiered at 10 o'clock pm last night. It was an hour long. I watched it at Laura's apartment. Guess what I did at 10:33 pm? I walked out.
Yeah. Let's let that statement burn for a little longer.
WALKED

.

OUT

.
Hurts, don't it? Because it sure as shit hurt me! But I didn't have an option! I was so overcome with confusion and disappointment that I had to physically remove myself from the situation. It was that bad. But not so bad it was good. It was just straight-up

bad

. These "children" are horrible, horrible human beings who do not deserve the attention that having their own television show will harbor. Why—OH WHY—do we, as a society, keep rewarding stupidity, greed and general god-awfulness?! Here's a little laundry list of what upset me:
1.) Two of the main characters on the show have lazy eyes. Not one; TWO. That's 2 out of 6. This means that 33% of the cast has a lazy eye.

WHAT THE FUCK?!?!?!?!?!

You people are rich as sin! How have you not remedied this situation already?! I can literally feel the individual blood cells flowing through my veins right now
—
that is how fucking fired up I am about this. You stupid little twats have PERSONAL GOD DAMN SHOPPERS; I think you can afford a motherfucking

eye patch

. Can I please tell you something? Right now, at the very moment that I'm typing this, I have a giant zit, square in the middle of my forehead. If I knew, today, that a camera crew was going to walk into my office and fucking follow me around and broadcast their footage to the entire god damn world via Bravo TV, you bet your

balls

I'd be crying my face off at the dermatologists, begging them to do something about it. A Hormone shot, a steroid shot, a skin graft
—
anything. And it's just a zit! You little shits have LAZY EYES! I can't concentrate on the offensively overprivileged things coming out of your mouth because I'm too busy watching your left eye roll around your eye socket like it's a god damn Magic 8-Ball! Do you have the money and means to fix your wonk eyes?

SHAKE, SHAKE, SHAKE

!

My sources say

YES!

Of course you do! Fix the god damn thing!!!!!
2.) PC.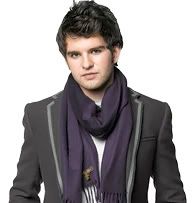 What in the fuckity fuck is wrong with you, kid? I mean

god damn

. I understand that you're trying to go for the whole I'm-a-total-asshole-and-that's-my-shtick-Chuck-Bass thing, but you might want to tone it down just a

tad

bit. There's a scene where one of the Lazy-Eyed Twins is talking to PC about how she wants to have a benefit for Operation Smile. PC guffaws, rolls his eyes and goes on a rant about how it's just so

in

right now to help a cause and Operation Smile is just s

o
passé
. ARE YOU FOR FUCKING SERIOUS?! Here's a little life lesson for you, kid. See this?
That's a camera. And see this?
That's a boom mic. The boom mic and camera work in tandem to record and broadcast everything you say and do. People don't tend to react too kindly to overprivileged assholes featured on Bravo television. Don't believe me? Go have a talk with the hollow shell of a former socialite that is Kelly Bensimon. I'm sure she'll have some good pointers for you about how to pick up the pieces of your shattered life.
3.) Right before I walked out, there was a teaser for an upcoming scene in which the other Lazy-Eyed Twin has a meltdown because although she's not dating PC, he flirts with another girl. To which I said, out loud, "I thought he was a homo?!", threw up my hands and walked out. Girl, I know you got one eye pointing towards the heavens and one eye pointing towards the homo, but as someone with two functioning eyes, let me help you out: that kid is a closeted homosexual. Remember Olivia's super gay cousin Nevan on

The City

? Remember how he was a one-man gay pride parade and yet "loved the pussy?" And remember how we all laughed at him and sort of felt sad for him at the same time? Yeah, well, PC is that guy minus five years. I recommend you take the time and energy you would spend chasing PC and direct it towards finding yourself an eye patch or a good optometrist. It'll save you a lot of heartbreak and eye-related headaches in the future.
4.) Taylor. Taylor is the show's "Jenny Humphrey" equivalent. She goes to public school, lives on the Upper

West

Side and struggles with her feelings of financial inadequacy. She's two devastating things: adorable and desperate to fit in with douchebags. Baby angel. I just want to take you in my arms, hold you, gently rock back-and-forth and whisper, "everything's gonna be alright," before softly kissing you on the forehead. My poor little Tay-Tay. Sometimes not fitting in is actually a good thing, depending on who you don't fit in with. If you were surrounded by a bunch of Nazis, would you think "Oh raspberries! I don't fit in! Better punch a Jew in the face so they'll invite me to their Nazi tea parties!" or would you think "Gross! Nazis! I better get out of here!"? I would like to think you would choose the latter. Overall, her entire situation just breaks my heart and I can't watch her sell her hymen up the river to fit in. I say good day to the entire situation.
5.) They all have blackberries at age 14. Do you know what I had at age 14? A subscription to

Nickelodeon

magazine and no period.
I just can't get behind this show. Not only has it made me not want to have children (

ever

), it's also robbed

Gossip Girl

of a bit of it's magic. Because now I know that the real Blair Waldorf has a wonk eye and a crush on the closeted kid. Thanks a lot,

NYC Prep

. You know how the captain of the Titanic felt so guilty about what he had done that he shot himself in the head and went down with the ship? Yeah, well,

NYC Prep

producers take note. It would be the honorable thing to do.