Just because the gang here at 2b1b loves you so much (and by

you

, I clearly mean drinking) we thought we'd give you a bonus DGF. In honor of this weekend being Pride, I give you

Tulane Chris' Gay Pride Drinking Game!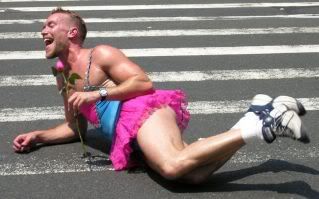 You can bypass all the following rules and just sip when you see a
shirtless man. This is a variation called "Suicide by Alcohol
Poisoning."
Drink when:
- You ask yourself "Is this person a lesbian or a thirteen-year-old boy?"
- A gay parent brings their kid to Make A Statement about how Gay People Are Good Parents and then has to shepherd them away from booze and almost-naked leather daddies all day.
- Some company puts a rainbow and their logo on a banner/cup/keychain/little twinky guy to make you think that Budweiser/ Ikea / Chili's / Amalgamated Consolidated cares about gays.

(- Throw a Molotov cocktail for each company that does this in lieu of offering partner benefits.)
- You hear a couple bickering about if one of them is checking other people out.
- You catch yourself wondering about the logistics of being a tranny or drag queen - where do you find size 14 chartreuse heels, is it expensive to have wigs washed and styled, etc.
- The entertainment lineup goes like this:
Drag queen stand-up comic
Angry girl band
Drag queen stand-up comic
Angry girl band
Drag queen stand-up comic
Angry girl band
Loretta Swit
Drag queen stand-up comic
Angry girl band
- Every time you hear a fag hag say something about loving gay men.

- Drink twice if she's homely. (She will be.)
- Every time someone bitches about how some OTHER city's pride is SO much better / worse than the one here.
- Every time you notice that some guy shaved his whole body three days ago, so now he has chest stubble.
- Drink in honor of the little twinks who went on "Pride diets" and starved themselves for six days, started drinking at 7 am, and were asleep in their own vomit by 8:30.
- Drink for every reference to Proposition 8, twice if you don't even LIVE in California, and three times for every crappy pun like "Prop H8."
- DRINK BECAUSE LIZA WON A TONY
- Drink when there's a grudging reference to AIDS, which though a serious issue is a total buzzkill.
If you're living in a major American city, enjoy your incredibly fagalicious weekend!