As many of you may recall, last summer I peaced out of New York and moved back in with my dear old mom and dad for a good six months. Those six months were dark days. On day 1 I got mono and spent two solid months in the fetal position praying for death to embrace me in his cold, sharp claws. After that I started the Great Job Hunt of '08. Again, I prayed everyday for death to embrace me in his cold, sharp claws. Basically when I

wasn't

praying for death to embrace me in his cold, sharp claws, I was hangin' with my parents, and they definitely made the entire post-NYC-what-am-I-doing-with-my-life-it's-a-recession-maybe-I-shouldn't-have-pissed-all-over-my-job-and-moved-home-to-be-an-unpaid-comedy-blogger-please-someone-hold-me phase of my life much,

much

more bearable. If not enjoyable!
Everyday I had the same little routine: wake up (cough—at noon—cough); check my email for the many "Dear Ms. McBlogger: Thank you so much for your interest in working for ______! Unfortunately at this time, you can suck our balls through our drawls. We will keep your resume on file for the future. Sincerely, ______" emails waiting for me; writhe around my bed listening to INXS's "Never Tear Us Apart" for a while; finally make my way downstairs; grab the cat, a box of Kashi and my laptop; plop myself down on the couch next to my mom and watch QVC/job hunt for the rest of the afternoon.
I got in some great quality time with my mom during this period of my life. (I also got some great Diamonique jewelry and Joan Rivers makeup, but that is neither here nor there.) My mom always jokes that she watches so much QVC she could make a QVC drinking game, so I thought, pfff
—
why not? Because who doesn't love The Q? It's hypnotic! Everyone is so perky and everything is so

shiny!

It's a zen experience. You can watch it for hours on end and completely zone out and forget all your worries and cares. It's a terrific way to forget that you aren't even qualified to work as a janitor at a gallery and that

maybe

that art history minor was a flagrant waste of time and ha ha...ha...
So without further ado, I give you

My Mom's QVC Drinking Game!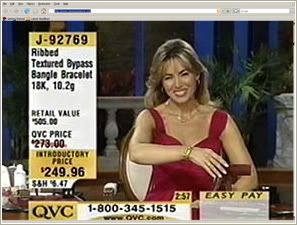 Rules:
Drink Once When Someone Says:
- "By the way"(given the right host, this alone can keep you blasted for 1-3 hours)
- "Pop of color"
- "Best of the best"
- "It has a good hand"
- Any time the host or caller says "thank you" while trying to end a phone call
- "You're my favorite host"
- A host says to a caller "thank you

sooo

much, that means

sooo

much to me"
- "you're on the air with ______, welcome in to QVC"
Drink Twice When:
- Today's special value is announced
- Something is available on easy pay
- A piece of jewlery is measured with the wooden ruler
- The host says she bought the item for herself or a family member
- The host tests the durability of a bracelet by violently banging her wrist on the table
Chug When:
- Joan Rivers or Tori Spelling make a special guest appearance


I'll add more if i can think of any, feel free to donate some of your own. I humbly submit these for your approval.
Love you, Empty Nester. (That's my blog name, dude.)
[Editor's Note: GET IT, YOU GUYS?! GET IT? Empty
Nest
er?! Because it's 2
birds
1blog?! Isn't she the best!?!????!]
Thanks mom! And thank

you

,

reader. Now normally this is where I ask you to tell a friend about the blog, but today, let's switch things up! I'm feeling a little crazy, so tell an

enemy

about the blog. Yeah, that's right, tell a straight-up jackhole to follow us on Twitter, join our Facebook page and/or shoot us an email (meg@2birds1blog.com; chris@2birds1blog.com). And thanks for that. Have a great weekend and we'll see you back here Monday morning!