Remember that time Original Co-Blogger Eddie and I were going to live blog the Academy Awards, but I showed up to the party halfway through the show and forgot to download the live blogging software, so we just posted our gchat conversation and the whole thing kind of fell flat on it's face? Well, hope you liked it, because we did it again. Except this time with the Tony's. And this time I didn't download the sofware because I fell asleep watching "Bridezillas" and overslept. When I woke up 15 minutes before the show, I could either download the software or go to Subway and get a delicious $5 footlong. I chose the footlong. And I in

no way

regret that decision. Enjoy!
me

: BRET MICHAELS?! ST. BRET MICHAELS IS OPENING THE TONY'S??? And did he just get clotheslined by the set?

me

: (ps: sorry i'm late, i ran into my sister and her boyfriend in front of my apartment)


Eddie:

dude. he has a musical.

me: can you please explain this to me? like is it just poison?

8:09 PM
Eddie
:

it is like rock songs from the 80's in a musical

Eddie:
journey, whitesnake, a few others
Eddie:

I still can't get over that my friend went to rehab with LIZA
me

: she must have been a poor influence
me

: this is a very homosexual experience already
did i see david hyde peirce up there?
8:12 PM
Eddie:

this was a big year for broadway
i mean harry potter fucked horses
jeremy piven couldn't do a play b/c of that sushi thing
me

: did NPH just make a "head" joke at brett michaels expense?
Eddie

: uhh
neil patrick harris is a liar
if by "i grew up in the woods" you mean on the set of a TV SHOW
me

: NPH is wearing a leather suit and is full of shit.
/the fetish people in the crowd are loving this
me

: james gandolfini always looks one heart attack away from the grave.
wow I need to buy her workout videos stat
8:16 PM
me

: that's a rather low-cut dress, ms. fonda.
YOU RAGING WHORE.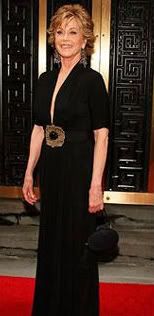 Eddie

: this is the problem with the Tony's
and I have seen 0 of the plays
me

: one of those people played a banker in tommy boy.
8:17 PM
Eddie

: do you think that is a stage name?
a little too sing song if you ask me
me

: is that man incredibly tan or somewhat african american?
8:18 PM
Eddie

: African American
me

: an african american gay. good for him!
Eddie
: and he's a Pac NW boy!
me

: oh shit, he had a recurring role on kojak. good for him
8:21 PM
sorry. i got honey mustard on my keyboard.
Eddie

: I hope you licked up it
that is important and we are in a recession every bit counts
me

: no, i used a napkin. THESE ARE THE TONY'S EDDIE. gotta keep it classy.
8:22 PM
ughh i just got like a gallon of honey mustard on my shirt.
holy shit i haven't seen this folger's irish dancing commercial in YEARS.
8:23 PM
it can make your eyes brown
BROWN
me

: whhhhhat?? i have never heard of this! it gives your lashes a boner!
Eddie

: which is fine and lovely
Eddie

: I think this shows our personalities I am sitting here thinking this shit is space age creepy
8:24 PM
and you are like 'OMG I WANT BETTER LASHES EHH MY EYES ARE ALREADY A BEAUTIFUL SHADE OF BROWN SIGN ME UP!'
8:25 PM
Even the donkey in Shrek the musical is a bit gay
someones mic was on 'LEAD SINGER' when they were clearly a background singer
8:26 PM
that was a musical joke
"hey na ne na ne no" is from once upon a mattress
(ps: i just cyber knocked the books out of your cyber hands)

Eddie

: if by books you mean my subscription to playbill magazine from 1996-2000
8:28 PM
me

: yes eddie, that's exactly what i meant. i knocked your playbill magazines (from 1996-2000) out of your hand.
ps: RE: lord farquhad: must suck to do like 2 performances everyday on your knees.
(if I say that several times it will start to get funny)
8:30 PM
how horrid would it be if he had a heart attack right now
me

: jeff daniels...you will never be more than lloyd from dumb and dumber to me.
8:31 PM
Eddie

: ACTRESS IN A PLAY
the drinking game was good luck
me

: you're welcome angela lansbury.
oh she got a standing-oh.
8:32 PM
awww she's crying!!!!!!!!!!!
i wonder if tulane chris is crying.
me

: yea man. she's sort of a regulation hottie.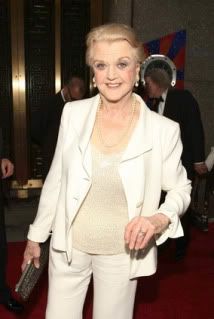 Eddie

: DISCO AND GLITTER BEFORE THE GAYS REVOLT
this is like a 95% black cast
or did I just make a horridly racist snap judgment
I still think almost abba/drag abba is better then mama mia
me

: drag queens have more heart than old white bitches.
8:36 PM
the fat chick on the right looks like eddie izzard.
Eddie

: if that was eddie izzard I would piss myself
now I would go see him perform in mama mia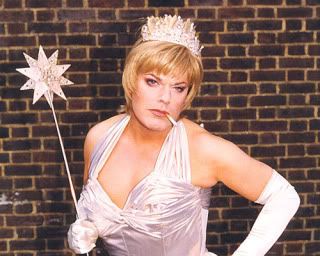 me

: have you seen "up"?

Eddie:

you mean did I sob the entire way through up
(I think 'up' is this generations Bambi)
me

: yea...see...i heard it was really good and it sounds interesting, but i don't think i'm emotionally stable enough to see it.
8:39 PM
me

: 'ehhhh.........i cry at "the hills". i'd probably hysterically cry and piss myself at up. and then pass out.
8:42 PM
why is neil patrick harris so god damn charming?

Eddie

: and down to earth
8:43 PM
me

: i think i think colin hanks is cute? i can never decide.
(Jinx)
me

: aww will ferrell...bless your heart.
Eddie

: Ok I am sorry I want Liza to beat him
8:45 PM
oh a horrid pot joke at the Tony's
it is weird to see him go from MTV to this
me

: yea? well i hope he beats liza. physically. on stage.
Eddie

: drags the tony out of her glitter filled hands
8:46 PM
oh sike, totes called that wrong.
8:47 PM
Eddie

: i've always wanted someone to get a tony
and start going FUCK YOU ALL YOU ASSHOLES THAT MOCKED ME IN HIGH SCHOOL.MIDDLE SCHOOL
"lisp man" just thanked his "wife"

8:48 PM
me

: i know, right? don't lie on stage, sir.

Eddie

: be proud of who you are
ps west side story is my LEAST favorite musical
8:49 PM
maybe b/c my high school did some fucked up version of it and maria was a white girl with an asian mom and tony was a black guy
me

: really? i saw it a few months ago when it was at the warner theater...and was in a regional production.
8:50 PM
Eddie

: ok if you are trying to show off
that you took west side story and added spanish
8:51 PM
why would you show off only the dancing?
me

: this has nothing to do with anything, but can i please tell you that someone just followed me on twitter and his bio is "Just an honest latino helping you with blogging."

Eddie

: why is tony dressed in like Jeans and a shirt from the gap when everyone else is in period dress
me

: because the character of tony is timeless. like a classic jersey gap hoodie.
8:55 PM
holy shit. i just remembered the dream i had this afternoon: i dreamt i was getting married. and the top of my dress was too big. and it was stressing me out. and it was an arranged marriage. and i wanted white twinkle lights at the ceremony and my mom was like, "WHITE TWINKLE LIGHTS ARE TACKY!!!!"
8:56 PM
me

: fuck you. this was a result of watching nothing but "tori and dean: home sweet hollywood" and wanting to get married and have babies ASAPS.
Eddie

: but hell after working in preppy wedding invitation store we are allowed to have tacky weddings
me

: speaking of unflattering dresses: what's up susan saradon?

8:58 PM
Eddie

: she is a creature of the night I would not fuck with susan saradon in an ill lit street
me

: oh god, neither would i.
8:59 PM
Eddie

: I love his accent
this lovely British accent
he could be saying "fuck my cock" over and over and over and I would still listen intently
me

: i really just wish they would stop cutting to shots of james gandolfini. he justs makes me feel so ungodly uncomfortable for no reason.
9:00 PM
Eddie

: susan is struggling
like someone who had few glasses of wine
me

: susan sarandon is drunk. and thanks for not running a comb through your hair before coming to the show.
9:01 PM
Eddie

: she probs thought "this is the tony's they will give me a wig or a giant hair piece"
(although lets me frank we are probs not rocking lovely outfits right now)
me

: i'm wearing leggings and a universitiy of tennesee hoodie. still i think i put more thought into my look than susan.
Eddie

: THEY MADE HAIR METAL GAY
9:03 PM
I'm wearing sweatpants and a glittery tube top
me

: HAHA. yes they did. in a very big way.
me

: i think i would rather gnaw my leg out of a bear trap than see "rock of ages" starring that guy from american idol.
9:04 PM
Eddie

: but I would hang out with that tuxedo guy hitting on LIZA
OMG HOLY RED LEATHER OUTFIT
9:05 PM
me

: ew jesus god ew constantine is kissing a girl. my eyes just melted.
WHY DON'T I OWN ONE OF THOSE
9:06 PM
I would use it every day
me

: umm...is that supposed to be the angel ghost of rip taylor?
Eddie

: "so you parents kicked you out b/c you are gay"
[insetert glitter gun] 'HERE DOES THIS MAKE IT BETTER?"
9:07 PM
me

: time out. seriously. i think that guy was supposed to be the ghost angel of rip taylor. and i can't handle that.
9:10 PM
WOAH WOAH WOAH...jenna elfman is still alive?!
9:11 PM
Eddie

: (I checked Larry Hagman is also alive at this moment)
9:12 PM
me: edie falco is wearing a crushed velvet gown.
it reminds me of a shirt i rocked the shit out of in sixth grade.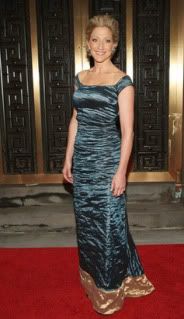 Eddie:

LIZA
Eddie

: Liza has overcome so much
Eddie

: and lets not forget
9:14 PM
her moms death started the gay rights movement
me

: liza overcame doing mountains of coke at studio 54. "kudos."
9:15 PM
me

: i want to crawl out of my skin and take a shower. that is how uncomfortable liza manelli makes me.
Eddie

: I love old women who ramble
9:16 PM
MAMA CAN YOU HEAR ME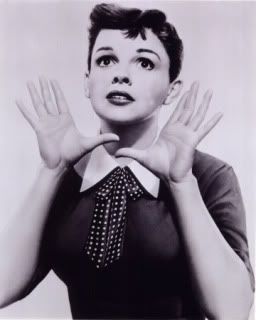 ok can we talk about the blond ladies dress
is that a skirt with a bar?
me

: it's some kind of ugly, that is for damned sure.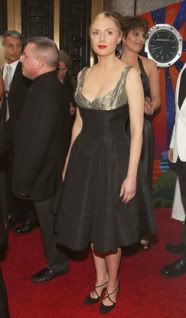 me

: the tony's is like a family reunion for heinous dresses.
ie: lauren graham.

Eddie

: the gays took the day off
9:18 PM
this is the 4th microphone problem
(they have a kid in a wheel chair singing "sit down you're rocking the boat")
Eddie

: this is where the glee kids end up
and just a tad bitter we missed our chance
9:20 PM
me

: i peaked at the tender age of 14 as the devil in damn yankees.
9:24 PM
this whole kentucky grilled chicken thing makes me uncomfortable. if i wanted grilled chicken, i would just grill some chicken. the point of KFC is that it's deep fried and delicious and fattening and god awful.
don't try to make a ho into a housewife, KFC.
9:25 PM
Eddie

: I was going to say the asians in kung fu gear made me uncomfortable for the outright racism
I am glad to know all around KFC makes us uncomfortable
9:26
PM
all the bad kids in our town worked at KFC and would like shoot up and then make chicken and they would take votes in school about what they should try to deep fry
me

: that's not racism. all asians wear kung fu gear, duh.
9:27 PM
me

: stamos is rockin' the skinny tie, and good for him.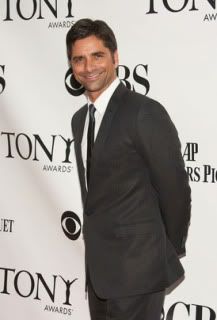 me

: that woman is just screaming for a supportive bra
just because you're lovely doesn't mean you're not subject to gravity
9:32 PM
Eddie

: did you see the back
me

: no i was hypnotized by her giant sagging boobs
Eddie

: the skirt comes up to her ho-ha and it is pretty much backless besides a string
me

: aw martha plimpton. good to see you.
slash sorry you just lost.
9:33 PM
Eddie
: ok her dress is ok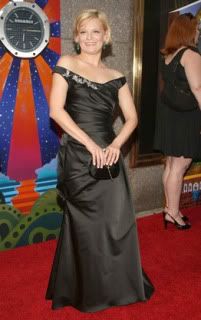 not a stunner but cute, she wears layers and layers of petticoats so i'll forgive her for no puff
9:34 PM
me

: woah, this woman looks like if carrie fisher and rosenne barr had a love child.
Eddie

: I don't even know what to say
IS THAT SERIOUSLY CARRIE FISHER?
9:35 PM
.......I ALSO HAVE NO WORDS.
just....wow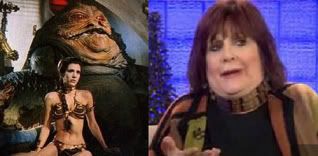 Eddie

: a musical about manic depression sounds just like a bad idea
9:36 PM
me

: yea this is pretty jaunty for a song about "dying alive"
Eddie

: I would say this is like watching "the Life" which was a short lived musical about hookers in times square
9:37 PM
me

: never heard of it. that's what i get for not subscribing to playbill magazine from 1996 to 2000.
this song is boring. you'd think a song about manic depression would be more interesting.
9:38 PM
woah that young queer is cute
Eddie

: this is like watching an awkward family dinner
not something I would pay money to do when i can go to the olive garden and do that for free
or the price of 9.99 bottomless soup salad and bredsticks
9:39 PM
how much money would you like to bet that dad and son (in this musical) have fucked
me

: i'd bet a whole basket of bottomless breadsticks.
9:40 PM
this song is so god damn angsty.

Eddie

: GOD NO ONE KNOWS ME
now if they made a musical about my so called life
what's clare danes doing these days?
9:43 PM
Eddie

: PS IN NEXT TO NORMAL THE MUSICAL
AND THE MOM IS hallucinating his existance!
9:44 PM
if that was spelled right
me

: wiat she's hallucinating her own existance or her son's existance?
HAHAHAHAHAHHAA JEREMY PIVAN JOKE. amazing.
9:45 PM
me

: ugh jessica lange...more sagging boobs. come on tony's. hand out some bra's in the swag bags.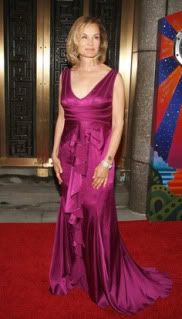 me

: OMG BEA ARTHUR
GOD YOU ARE A SICK, SICK, BASTARD
Eddie

: SO MANY GOOD PEOPLE DIED THIS YEAR
(didn't we already say that during the oscars?)
9:53 PM
me

: i don't want to live in a world where two titans like paul newman and bea arthur die in the same year.
9:58 PM
Eddie

: we suck at downloading the live blogging thing
9:59 PM
me

: yea i blame myself.
i took a nap and overslept. i blow....
10:00 PM
Eddie

: I went day drinking, fathers day crafting at a bar, watched some dallas and that was my day!
me

: theater nerds. nobody taught them.
10:03 PM
Eddie

: yeah no reason to wear one b/c no one will be taking them off
10:04 PM
ok seriously...the tony's is where fashion goes to die
Eddie

: BUT GLITTER GOES TO LIVE
10:07 PM
THIS BILLY ELLIOT KID IS SELLING IT
me

: yea he can stop squawking at any point though.
you know the story of billy elliot sort of closely follows my own life.
Eddie

: it does you had a dream
a dream of blogging and working with no pants on
10:08 PM
me

: people told me i couldn't do it.

they told me to put my pants back on.
Eddie

: and thank god you did not listen
10:09 PM
ok so this role is shared by 3 kids
I bet the other two feel fucking shafted
10:10 PM
me

: yea seriously. there's going to be some shady "showgirls" style knee-breaking behind the scenes.
Eddie

: in the opening number the other two were dancing around
10:12 PM
me

: the jerry curl mulleted back-up, back-up billy elliot.
10:13 PM
the little kid who played billy elliot in the movie version was smokin' hot.
Eddie

: all 3 are nominated for a tony too
10:14 PM
if three little kids win a shared tony
me

: well speaking of showgirls, what's up gina gershon?
worst up-do i've ever seen. i swear to god....the tony's.....

Eddie

: well drama kids can't be trusted
me

: 'ehh i'm tweezing my eyebrows and jacked up the right now. i hate my life.
Eddie

: you would fit in the tonys
10:23 PM
me

: you bite your tongue

oo the performance for hair is coming up. i hope we see some hardcore hippie nudity.
10:27 PM
Eddie

: I may or may not love this musical with all my heart
me

: where did angela's british accent go?
10:31 PM
Eddie

: OH THIS MANS MOM KNEW HE WAS SPEICAL
10:32 PM
HE IS BIG A GIANT OLD LIFE TIME ACHIEVING HOMO
10:33 PM
me

: i don't like anna hathaway. there it is.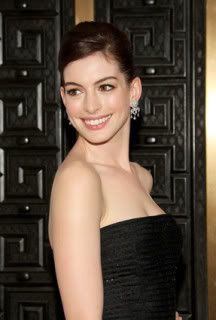 Eddie

: there is a vassar grad in the room who went to school with her who HATES HER WITH A PASSION
this is one of my favorite musicals
me

: oh for reals? see. i knew my instincts had to be right.
10:37 PM
aw kristen chenowith. bless her heart.
Eddie

: her boobs look weird
me

: they look incredibly fake
10:39 PM
Eddie

: I AM SO GLAD THE HIPPIES BEAT OUT THE SHIT THAT IS WEST SIDE STORY
10:40 PM
me

: ugh hippies AND theater geeks. it's the perfect storm of unfortunateness.
omg can we talk about the complete and utter weirdo to the right of the guy accepting the award

Eddie

: I think he is high
in grand ole hair tradition
maybe he plays the character that meatloaf originally played
10:42 PM
me

: well he is no meatloaf.
he is a giant loaf of awkward touchy-feely weirdness though
i want to know if they really work.
10:46 PM
HAHAHAHA DAVID HYDE PEIRCE. A++.
Eddie

: david hyde pierce!
YOU SIR ARE A LEGEND IN MY HEART
10:47 PM
the awkward musical
10:48 PM
Eddie

: WITH SO MUCH PASSION
me

: i wish she was quoting clone high JFK
me

: yea this woman is way too riled up and it's making me uncomfortable. take a xanax, say thnx and get off the stage

Eddie

: someone in the room I am watching it in just threw their shoe
me

: oh god she's talking about her BFA. god i hate smug theater people in ugly dresses.
Eddie

:

yes at sumg theather lady
10:50 PM
AUDRA MCDONALLD IS MY FAVORITE
she is one of the best singers ever
me

: aww the billy elliots won
10:51 PM
wait i'm confused, do they like alternate nights performing?
me

: or do all 3 play the role in one night?
they can't perform that much
so they have to split the part
me

: they're like the reject jonas brothers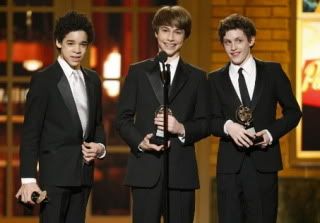 Eddie

: this is so awkward
10:52 PM
wow that middle one is a real fag
the one on the right is ADORABLE.
Eddie

: true you know one jonas is happy for that v-card pledge
me

: the one on the left looks like chris kattan
10:53 PM
see, the sassy black woman knows how to support her jugs
white bitches need to take note
10:55 PM
me

: wow the chicago jersey boys dude is FREAKY looking with a capitol F
Eddie

: this is like watching drunk people in a bar sing at the end of the night of they could all dance
me

: i have a crush on the broadway jersey boy guy
10:56 PM
Eddie

: (if they all could dance)
me

: why do i always have a thing for guidos?
10:57 PM
god damnit i just spilled heniken all over myself/my couch
and i'm too lazy to remedy this
Eddie

: maybe that's the answer to your guido question
10:59 PM
Eddie

: LIZA WITH A Z
Eddie

: I would name a kid Liza
11:00 PM
SHE IS SCREAMING ELTON
me

: HA

Eddie

: ELTON
11:01 PM
me

: wow. children. stop screaming.
Eddie

: KIDS ARE SO FUCKING LOUD
SLASH I WANT ONE! tori and dean style!
11:02 PM
Eddie

: I want the pugs tori and dean style
11:03 PM
me

: the pug died!
Eddie

: 60 min was on before the tony's and andy roony was bitching about how out he has hundreds of things on floppy disk "and now I never look at them" the segment ended "sometimes I think you remember the things you would rather forget" which may or may not be a sign from the gods about what we just did.
11:04 PM
me

: not to be insensitive, but why isn't andy rooney dead yet?
me

: "the show could not be any gayer, if liza was named mayor" - NPH


i give NPH A+++++ for his hosting abilities.
i expected nothing less from him.
winning him a bright spot in my dark dark soul
11:06 PM
ok. well i guess i should change my pants, as they are covered in beer.