Have you heard about this newfangled product called "The

Kush

"? I have. Because you keep emailing it to me being like

LOLZYAHHAHAHA

YOU NEED THIS, YOU FREAK! Now, while I always love getting emails from you fine people, I'm slightly offended so many of you insinuated I need The

Kush

. What is The

Kush

, you may ask? Well...
"The

Kush

is designed to fit between the breasts to maintain a more natural shape while resting on your side. No straps, no

underwires

, no constraints, no adhesives and no garments needed - the slip-resistant surface and contoured shape help keep

Kush

in place as a woman rolls from one side to the other during sleep. Providing millions of women with the opportunity for a more restful and natural sleep,

Kush

Supports Like A Dream"





Here's my beef with The

Kush

: it, like so many other things, is trying to make a ho into a housewife. The

Kush

acts like it's a helpful product for big-

hootered

girls. But it's not. And that offends me. I can only see two groups of people for whom The

Kush

would be helpful:
1.) Old Saggy Tits McGee
2.) Women recovering from breast enhancement surgery who can't sleep on their side without experiencing pain
For both of these groups of women, I'm sure The

Kush

is super helpful. And to them I say

mozel

tov

! But I don't appreciate the insinuation that girls with boobs bigger than a C-cup need to sleep with the aid of a boob

separating

device. I already feel like a freak. Life is hard with monster boobs: dresses are hard to zip; you can't wear button-up shirts without the middle button looking like it's clinging on for dear life; they don't make hot

lingerie

in size "circus freak"; bathing suites look

pornogrpahic

; your friends always try on your bra at sleepovers and stuff 'em with grapefruits and strut around and everyone has a good laugh but secretly you're crying on the inside
—
it's hard, OK?! It's not all giggles and

motorboatin

'. So thanks

Kush

, thanks for telling the world that in addition to these every day struggles, I also have to sleep with my

arm

between my boobs:
Who are you? Steve

Carell

? Boobs do not feel like sandbags. When you lay on your side, they don't stack on top of

each other

and cause you discomfort. They just kind of chill there. Now I know you're saying, "Well your boobs just chill there Meg because you're a young 24-year-old. When you get older they're going to turn into sandbags and drop to your knees and then who'll be buying a

Kush

?!" And to that, I say FINE! GREAT! GRAND! WONDERFUL! But advertise accordingly! Don't show a young, pert chick attempting to fist her boobs to sleep, when you really should only be showing this: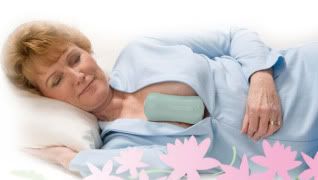 Because

that

is your target audience.

That

is who this product is made for. And yes, of course no one wants to see their grandma

tittie

-fucking a purple god-knows-what, but guess what? That's not my problem! Stop making me look like a freak! Just advertise your product using the person who should actually be using it! Like are we really supposed to think this product is the new, hip way to wipe your ass?
No, of course not! We all know this is for comically obese people who can't wipe themselves. Why are we dressing it up and pretending it's something it's not? Everywhere I look, I see false advertising and this American consumer will not stand for it!
In order to properly debunk The

Kush's

dishonest marketing campaign completely, I did a few experiments last night.
Exhibit A:
Here I am lying on my side. I assure you that I am not wearing a bra and I am in a comfortable sleeping position. Notice that once in a side-sleeping position, my boobs do not stack like giant cinder blocks crushing my spine and everything else that stands in their way.
Exhibit B:
A Jesus candle, the shape and width of

which

is

comparable

to The

Kush

. It fits perfectly betwixt the bosoms and it's holy iconography reinforces that this is a good, clean, Christian

experiment

.
Exhibit C:
Notice that when the Jesus candle is placed between the bosoms, it

does not

rest comfortably, but rather falls out of place. Now this could be because I'm using a large, heavy Jesus candle and not a slip-resistant

Kush

, sure, but it could

also

be because in reality, younger breasts don't stack like painful human bricks on top of

each other

when one lays on her side. And yet, this is exactly what The

Kush

asks us to believe. The

Kush

shows a young, pert woman using their product and promises to, and I quote, "fit between the breasts and maintain a more natural shape." To which I say

SHENANIGANS!

How can the breasts in question maintain their natural shape, if they are already in their naturally

separated

shape

to begin with?

Ah-

hah

! They

can't.

The young woman in the video is just a rue to glamorize the product and distract you from those who really need it
—
the old and the surgically modified. Which are both a fine set of people. God willing, I'll be both old and surgically modified myself one day. All I'm saying is, I'm neither old nor surgically modified

yet

. So stop advertising my body type as your product's average user because you're making me look like a sandbag-breasted
über
freak.
Oh

Kush

. Your tangled web of lies has turned you into yet another stupid and useless product that somebody somewhere (who's not me) is profiting from, much like The

Snuggie

, The Tinge, The

Peekaru

and the Go-Girl.
Therefore, Jesus and I proudly proclaim this myth: BUSTED.