OH MY FUCKING GOD. I FUCKING HATE THE INTERNET AND I HATE MY COMPUTER AND I HATE BOSS #2 AND THERE'S A PINCHED NERVE IN MY NECK THAT I JUST EXACERBATED WITH ALL OF THE CRAWLING AROUND ON MY HANDS AND KNEES I JUST DID TO REPEATEDLY PLUG AND UNPLUG MY COMPUTER 5,000 TIMES TO TRY TO FIX THIS WORTHLESS PIECE OF SHIT 1991 DELL COMPUTER THAT I'VE BEEN GRACED WITH AND TECH PEOPLE ARE THE BANE OF MY EXISTENCE SECOND ONLY TO BOSS #2 AND HERE'S YOUR GOD DAMN DRINKING GAME. FINALLY. SIX FUCKING HOURS LATER. AND YES I DID FORGET TO TAKE MY MEDS THIS MORNING, AS I HAVE FOR THE PAST THREE DAYS AND YES RAGE IS A SIDE EFFECT OF WITHDRAWAL, AND YES THIS DOES EXPLAIN WHY I'M OVERREACTING AND TYPING IN CAPS BUT WHATEVS. OK? GOOD. LET'S MOVE ON. HERE. DRINK.
---------------
Last night was a roller coaster of emotion, you guys. It started when Ronald, of has a clubbed foot fame, came into my office right before I left work and invited me to see the one-man play he wrote, directed, produced and stars in next month. I said YES and

please

. I didn't ask too many questions about it, but I'm praying to god it's a semi-autobiographical musical...
Riding that high, I went to the gym where I was immediately hit by a low: my gym crush wasn't there. I have a gym crush by the way. Tee hee ha ha hee hee hooo...He's a giant dreamy dream boat that I just want to sail away on. His name is Kyle. (In my mind. Clearly, I've never talked to him, nor do I have plans to ever talk to him. Because that would just be

crazy

.) Kyle is a veterinarian for sick and lonely pugs, owns his own row house on Capitol Hill and moonlights as a cage fighter. He's the best. He also has the best ass and calves you will ever see. I know this because I frequently stare at them. And by stare, I mean unabashedly gawk. Kyle has turned me into the person I hate: a starer. Because the only thing that gets me through my time at the gym is staring at Kyle's tight little ass bobbin' up and down on the treadmill. And I mean that in the most creepy way possible. I just shamelessly, shamelessly stare. Which is embarrassing because we're both facing the same mirrored wall and sometimes I'll look up from his ass and into his eyes and realize they're staring right back. With a look of concern. But if he doesn't want me to stare at him, maybe he shouldn't always pick the treadmill in front of my bike. Plus he wouldn't dress like that if he didn't want it...
After the gym, I moped all the way back to my apartment where my mood was immediately turned around. For in my mailbox was the most glorious treasure awaiting from a reader in John McCain's office—an autographed JMcC photo and bumper sticker: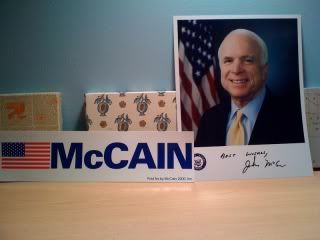 God yes. Who has two thumbs, cleared a wall and is going frame shopping this weekend? This girl. After prancing around my apartment for a few minutes, I hopped on the couch in high spirits and turned on the

So You Think You Can Dance

finale just in time to see my boy Evan get kicked off. Buzz kill. And that's when I looked down to see a blinking gchat message from Becky that said the unthinkable:
Becky:

dude john hughes died


me:

SHUT YOUR FUCKING FACE


HE DID NOT




STOP LYING




Becky:

he did!! i'm like totally freaking out


59




heart attack




I was shocked. Shocked and hurt and

destroyed

. I looked to my John McCain photo propped against the wall for comfort, just in time to see it FALL OVER. And it fell

HARD. Sigh...
What is there to say about the genius of John Hughes that hasn't already been said? I mean, he's the man who wrote perhaps one of the greatest cut downs in cinematic history:
"You're what the french call les incompetent."
No sir, you are les incompetent. Les incompetent, at staying alive. (Sorry. That was uncalled for. I don't deal with grief very well. Or any other emotions for that matter.)
It's with sadness in my heart and gentle rub of Molly Ringwald's shoulder that I present to you

The John Hughes Movie Drinking Game.
Rules:
Drink For:
- Every evil teacher/principal authority figure (i.e. Principal Ed Rooney in

Ferris Bueller's Day Off

, Richard Vernon in

Breakfast Club

etc.)
- Every character played by a brat packer
- Every stolen car (see:

Ferris Bueller, Sixteen Candles

etc.)
- Andrew Dice Clay cameo (see:

Pretty in Pink

)
- Unapologetically racist character names that would only fly in the '80's (i.e. Long Duck Dong)
- Every song that plays by The Smiths, Modern English, Billy Idol, Temple City Kazoo Orchestra or Simple Minds
- Any school dance scene (chug if it's a prom)
- [Sidenote: did you know that John Hughes wrote

Maid in Manhattan?

No? Well, drink.]
- Anyone kisses
- Panties are shown
- The term "richie" is used, or a poor kid is mean to a rich kid
- Conversely, a rich kid is mean to a poor kid
- Every reference to a "woobie"
- Personalized license plate shown
- Pair of boobs shown
- Gym class scene
- Reference to Chicago or a Chicago sports team
- Heart-to-heart between Molly Ringwald's character and her dad
- "Hey Howard, there's your Chinaman."



R.I.P. John Hughes...R.I.P.