Monday I announced that Nighthawks are officially at the top of my list of Evildoers for my War on Social Terrorism. Hah! I laugh at myself in retrospect. Nighthawks can't even hold a candle to the most socially awkward, uncomfortable, inappropriate and creepy group of people whom I shutter at the mere thought of encountering—People Who Stare.
We all stare, so before you think I've lost my mind with power, let me explain. In my Utopian world of Social Graces, it's not like everyone would be blindfolded to avoid incidents of inappropriate staring. Staring happens; it's inevitable. Being a

(completely unqualified, uneducated and unaccredited)

contemporary urban Social Anthropologist, I stare at people all the time. Sometimes I even creepily and not so discreetly take pictures of them with my phone to use as evidence on my blog for posts I'll later write about them. But let's not split hairs here, the point is that I stare in what I consider to be

the right and normal way

, which is as follows: someone intrigues you, you stare at them, they realize you're staring at them prompting them to make eye contact with you, you realize you're being creepy and quickly look away.
The wrong kind of staring

goes like this: someone intrigues you, you stare at them, they realize you're staring at them prompting them to make eye contact with you,

you continue to stare

not picking up on the social cue that this person is aware of your staring, the person looks away because they are uncomfortable

, you continue to stare

, the person looks back at you to see if you're still staring, you continue to stare, the person darts their eyes away embarrassed, you continue to stare.
What the fuck is wrong with you people?! Didn't your mothers tell you that staring is rude?! I don't even have a name for you socially awkward witches. You know how people with Asperger's can't make eye contact? You are the opposite of that. You have reverse Aspie's. I call it Seipsa and I argue that Seipsa should be added to the DSM IV as a form of Autism.
The worst part about being stared at by a Seipsa is that you feel embarrassed when

they

are the ones being inappropriate. I became so baffled with Seipsa's one time that I actually tried to stare at a stranger aware that I was staring at them for an inappropriate length of time, just to see what it feels like. I didn't last two seconds. I felt like I was looking at kiddy porn or my grandma stripping. It was wrong and shameful.
I first experienced Seipsa's when my friends and I went to Europe last summer. People understandably stared at us a lot (we're loud obnoxious Americans, I get it), but most of them looked away when we noticed what was up. But for the first time in my life, I noticed a large amount of people who wouldn't stop staring, opting to comfortably sip their coffee and stare like we're street performers. We are not street performers or your personal dinner theater! And I don't see you throwing a euro into our guitar case! Look away!
I'm willing to give European Seipsa's a pass because of the European factor. It's customary for the French to be assholes, so it wouldn't shock me if uncomfortable staring is tolerated by the EU. However this is America. Seipsa's get no sympathy here from me. And I have encountered far too many of them in the past two weeks.
Recently Anna and I were working on a writing project at Starbucks on Rockville Pike. I was enjoying my vanilla latte and ensuing productivity when I looked up and was met with two beady little eyes staring back at me from this guy: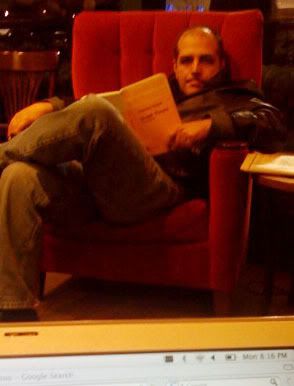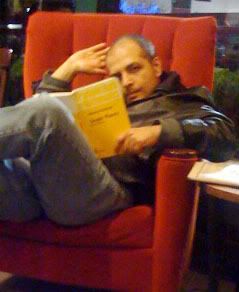 My immediate reaction was to look away, because, you know, staring is rude. But then I realized why should

I

look away?

He's

the one who started it, but I'll end it. I tried to stare back to prove to him that a creepy guy reading about "Graph Theory," staring at me like I'm giving the barista a lap dance doesn't intimidate me. I lasted nine seconds, a personal best. The best part about this guy is that when I was telling Anna that he was staring, (which led to a discussion about how bizarre it is that some people think it's ok to stare, which led to much reminiscing about the stare-downs we used to get in Europe (from people we called "

Stares

-ky and Hutches"...get it? Hah! Get it??) ), the whole while, HE WAS STARING AT US. THE. WHOLE. TIME. He could literally

hear

us talking about how weird it was that he was staring and

saw

us make pointing motions towards him, with accompanying "

ughhh"

faces, yet he still thought it was A-OK to peer on! It fucking boggles my mind and keeps me up at night!
Earlier that evening, I was writing in the café at Barnes and Nobles and was sitting at a table next to a teenage boy and girl doing homework. We had been silently coexisting quite well until I looked up and realized that they were both staring at me. I glanced down and then looked back up to find them still staring. I glanced down again, and looked back up to find that they were

still

giving me a once over. As if this weren't rude enough, after about seven seconds of staring, the boy started to nod his head and made a facial expression that said, "Yea. I guess I'd hit that" while the girl rolled her eyes and made a "mehhh" shake of her hand. WHAT?? Two feet and a biscotti are separating us and we're staring into each other's eyes like we're about to make love for the first time since your return from Iraq! Maybe there's a more appropriate time to agree that I'm a 7!
After the double Seipsa's attack that day, I thought it couldn't get worse. Ohhhh was I wrong. Saturday night, my friends and I were on the metro going home after a rowdy night on U Street, when Anna was the victim of one helluva Seipsa showdown, during which Anna managed to tell me that 1.) she had a

Stares

-ky and Hutch (ha!) on her hands, 2.) explain him to me in detail because I couldn't see him behind the partition, 3.) tell him she was going to have a stare-off with him, 4.) actually

have

a staring contest and 5.) announce herself the victor and him the loser because he blinked, ALL WHILE HE WAS GOD DAMN STARING IN SILENCE. Sir, there wasn't one part of that exchange which led you to believe maybe this nice young lady didn't want you to stare at her like she's a human TV and the Cinemax after-hours channel is on? I just don't get it! Thinking about people who stare is like thinking about how the universe is expanding and shrinking at the same time; it leaves me confused, overwhelmed and disoriented.
The best part of this Seipsa attack is that this guy had the gall to flick her off when Anna (not-so-discreetly…we had a few cocktails in us, I don't know what to tell you) took a picture of him with my phone.
Oh

I'M

sorry, sir. How rude of

us

! Where are

our

manners?? Please, go back to rubbing your hands together while you intensely stare at Anna like she's a Thanksgiving turkey and it's time to eat! I never thought about how rude it is to take a photo of a stranger. I'm appalled at my actions! I should take your advice and not take photos of the social retards I write about, but instead stare at them for 20 minutes no matter how awkward and painfully uncomfortable it makes them so I can sketch them from memory later! THANKS FOR TIP.
Oh, Siepsa's…
My thoughts exactly sir.