Happy "End of the Race!" Drinking Game Friday! I would like to officially declare: BEST. ELECTION. EVER. I think we can all agree that this week was an emotional roller coaster. Both candidates spent

Monday

campaigning extra hard to win over undecided voters.

Tuesday

we proudly poured into the gym to vote in record numbers and spent the rest of the day waiting for the results to be announced in eighth period.

Wednesday

we awoke to a new world and a new president, lives forever changed. A huge bombshell dropped

Thursday

—Mr. McAllister rigged the election and Dr. Hendricks asked for his immediate resignation, which he received. The person who deserved to win indeed won in the end, despite a controversial and incendiary campaign.
Of course, I'm talking about the Flick vs. Metzler election from this week's drinking game: The

Election

Drinking Game. What did you think I was talking about?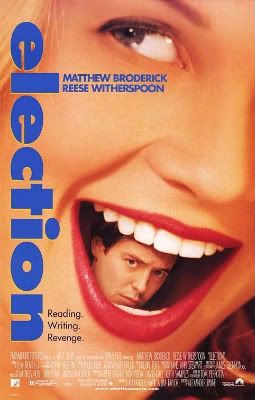 I first saw Election when I was 13-years-old and it was being marketed as a hilarious teen movie on MTV. It had Reese Witherspoon, Chris Kline and Ferris Bueller, so I figured it was a perfect sleep over movie. Yea…Not so much. I think I lost my innocence when the dirty math teacher described Reese Witherspoon's wet pu$$y and Ferris Bueller had homely, suburban sex with his wife (who was wearing a nightgown my mom owns and was shouting "FILL ME UP!") before heading into his porn den. Although, the sex scene with Chris Kline still comes in handy and Tracey Flick is still my all-time favorite sweater-vested character.
Take One Sip When:
- A character is introduced
- Any election propoganda is shown (poster, cupcake, buttons, etc.)
- Anything sexual goes down (pun indeed intended)
- Mr. McAllister is seen going through his morning routine
- Someone talks about what a good teacher Mr. McAllister is
- Someone prays
- Linda flirts with Mr. McAllister
- An election ballot is shown
- Paul mentions football
- During the following exchange, because it's LOLZ:
Mr. McAllister:

What have you got?
Larry, (the Student Government Kid):

Well, I'm not supposed to tell. Not until you've counted, too. We're each supposed to make an independent count.
Mr. McAllister:

You're kidding, right?
Larry:

Well, I thought those were the rules, Mr. McAllister. If they've changed in anyway, I can—
Mr. McAllister:

Larry, we're not electing the fucking pope here. Just tell me who won.
Thanks a shit ton for reading and spreading the 2birds1blog gospel to your friends. Have a great weekend and we'll see you back in the office Monday morning.