The

Don't Tell Mom the Babysitter's Dead

Drinking Game
Given this week's personal financial kick in the groin, I feel like Sue Ellen Crandell in the movie

Don't Tell Mom the Babysitter's Dead

. Except in my case I'm not financially screwed because I left all of my money in a manila envelope on the corpse of my babysitter, but I left all of my hopes and dreams in a

metaphorical

manila envelope on the corpse of my college degree. Either way, both Sue El and I have to get high paying jobs and

fast

. (Also we both love tacky acrylic earrings and Jewish boys, but that is neither here nor there.)
I have officially given up on trying to find a job in graphic design (time to celebrate bitches!) and am now scrambling to find some schmo secretary job that will pay my (amassing) bills. Of course, although I can type 77wpm, am

somewhat

familiar with the alphabet and have a sexily raspy speaking voice perfect for answering phones, I have no "real" administrative experience making it impossible to get hired.
To solve this problem, I thought to myself "What would Sue El do?" and have already tried faking a resume, which as memory serves worked so well for her. However I've gotten crickets in response whereas Sue El in a stroke of fate runs into Rose Lindy, CEO of General Apparel West who hires her on the spot to avoid promoting her cunty receptionist Carolyn. Damn you Unibrows Applegate! Why is fate knocking on your door and not mine?! And how come she gets to date Brian the hot Clown Dog delivery boy (aka Jake from "In Treatment"…still a stud) whereas the closest thing to a relationship I have is a crush on that Latino kid from the AT&T stand in the mall?! UGHH…I'll be trying on power-suits in a 90's fashion montage if anyone needs me…
Rules of the Game
Drink when:
- Kenny is stoned or drunk
- Sue Ellen is sketching her rad fashion designs or one of her sketches is shown
- Gus hits on Sue Ellen
- Carolyn is bitchy
- One of the kids complains about being hungry
- Walter is seen watching TV
- An excuse is given as to why the babysitter isn't there
- Sue Ellen wears a half shirt, or conversely a mini-skirt
- Someone buys something with the stolen petty cash
- Sue El's token black friend does the running man across the cat-walk in the fashion show looking like she just shit her pants while wearing her "whipping up fun in the kitchen" chef's uniform, because that shit is LOLZ: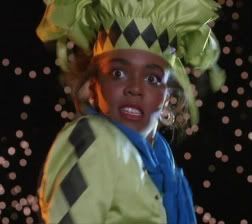 To get your 2b1b fix over the weekend, check out our catty thoughts live from the bar at

http://twitter.com/2birds1blog

. Maybe even take five seconds to make a twitter account and follow us because we need friends?...please be our friend...we'll

pay

you to be our friend...in sexual favors...it's all we can afford...but it's still worth the twitter account. Have a great weekend!