- I've totally fallen out of my gym routine. Which is irritating because it hurt like child birth to get me into said routine in the first place. My sister has been singing yoga's praises for months now and lord knows she's 50 times more jacked than I'll ever be, so I thought joining her Yoga/Pilates class last night would be just what I needed to get me back in the gym mood. Gym foreplay, if you will. It was my first yoga class ever. My thoughts:

1.) Yoga District is located in a fifth-floor walk-up. And yowzahs. Because it's always good when you're gasping for air as you

sign up

for the class.



2.)

Um, hi. I sweat like a bitch last night. Like, an embarrassing amount. And no it was not a Bikram yoga class, but given how disgustingly red and sweaty I was during and afterwards, it might as well have been.



3.)

Note to self: wear adorable, skimpy yoga outfit like everyone else next time.



4.)

PS to self: go to gym and lose weight

before

acquiring said adorable, skimpy yoga outfit.



5.)

So the instructor touches you, 'eh? I was aware she would probably have to touch me to adjust my stance and such, but at the end of class, during our quiet meditative time, she came around and gave each of us like a mini head/shoulder massage. Which I'm in

no way

complaining about. I just felt bad for her (...see thought #2).



6.)

Overall, this experience less motivated me to go to the gym because it felt so good and more motivated me to go back because I'm now incredibly aware of how grossly out of shape I've become. This was Becca's first class at Yoga District, and apparently it was no where near as challenging as she normally likes. As she said, it gave her "yoga blue-balls." I, however, feel like I got hit by a car this morning...Back to the gym I go.
- Speaking of ridiculous things my sister has said, the other day we were discussing her intense love of mustaches when she mentioned how excited she was because it's almost, "mustache season." Apparently, mustache season begins after Labor Day ends, in a sort of reverse White Pants Rule kind of way. Or as Becca puts it,

"When the white pants go away, the mustaches come out to play."



I have never felt so completely molested by a sentence in my entire life.
- Russell The Co-Worker is driving me completely fucking crazy for the following reasons:



1.)

Whenever he introduces me to one of his clients, he introduces me (in a Southern accent) as "Boss Lady Meghan." This makes me highly uncomfortable for so many reasons. Specifically because Russell is African American and his referring to me as his

"Bossy Lady"

makes me feel slightly too slave-mastery for my liking. I always feel like after he says that I should make a joke about how I can really

"crack the whip,"

but then the .5% of me that actually has some common sense tells the other 99.5% of me to shut the fuck up.



2.)

Oh. My. God.

The sucking noise.

Russell makes this noise with his mouth all god damn day long that grates my nerves like you wouldn't believe. To replicate the sound, please do the following: place the top of your tongue on the back of your front two teeth; pretend like you're about to say the word "Thursday"; now suck through your front teeth. Hear that high-pitched, squeaky noise that's produced? That's what I hear all day long.

ALL. DAY. LONG.

You know how they say that the painful part of Chinese water torture isn't actually when the water hits your forehead, but rather when you're

waiting

for the water to hit your forehead? It's the same principle for Russell's Chinese Air-Sucking Torture. The anxiety I feel at any given moment sitting at my desk, just waiting for him to suck air through his two front teeth is unparalleled. Unparalleled and

maddening

. What about being in a shared office environment makes you think it's acceptable to repeatedly make a high-pitched and irritating squeaky noise with your

mouth?

It's just endlessly confusing to me. And now I have all this anxiety about whether or not I should say something to him about it. Because on one hand, it's legitimately driving me insane and I'm about to lose it, but on the other, telling a co-worker to stop sucking air through his teeth might make me

That Guy

. Jury's still out.



3.)

I have to clean up after him all day long. I understand that he's never going to offer to help me clean up after big events like his meetings or lunches. Yes, it would be a nice gesture, but I gave up on society a long time ago. I've accepted that people don't really waste time on nice gestures, and I've moved on. However, what I

refuse

to accept is that he can't even be bothered to close doors or drawers after himself. I mean, honestly, how much extra effort does it take to close a drawer all the way?? The energy spent pushing a drawer shut all the way and the energy I will inevitably spend fuming when you

don't

are completely disproportionate. When you're done with a drawer or cabinet, close it. Completely. Because it just shows such a blatant lack of respect for me and my time that when faced with the task of shutting a drawer, he's like "

meh,

Meghan will do it," and gives it a half-push. Because, frankly, fuck you, buddy! I have better things to be doing with my time. Better episodes of

Dynasty

to be watching. Better paper airplanes to be making.

The following photos are actual photos taken this morning as a result of Russell's inability to shut doors. I assure you they were in no way staged: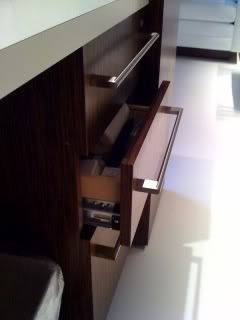 (True story: directly after taking this photo, I started to hear this irritating beeping noise. I looked around everywhere trying to figure out what it was, and then I realized it was the refrigerator beeping, as
—
SURPRISE!
—
Russell didn't close the door all the way behind him and the temperature had dropped too low. See next picture.)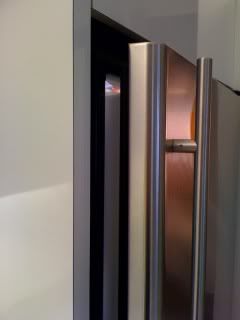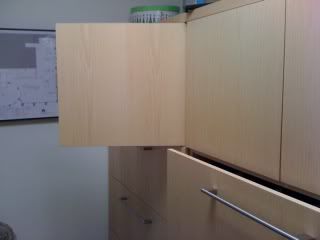 I am not your

wife

, sir. Nor are you my

child

. It is not my job to walk around and pick up after you all day. So shut the fucking door behind you or I will punch your front teeth out and kill two birds with one punch.
- What I'm about to share with you might very well be one of those things that's only funny to me, but it was also funny to Alex, so I'll take a risk and share with you. I'm going to let the e-mail I sent to Alex a few weeks ago while he and Helena were in Greece speak for itself:
From:

Meg


To:

Alex


Subject:

Important



Alex:





I just tried to download the Scissor Sisters song "Making Ladies" because I thought it would be a good gym jam. I couldn't find it on itunes, which only made me want to listen to it even more. I went to youtube, searched "Making Ladies" and subsequently found a video of someone designing female Sims characters and dressing them in gothic club outfits, which they wear to go line-dancing in, all the while with "Making Ladies" playing in the background.





I guess what I'm asking is, when you come back from Greece, would you like to get high with me and watch this video a bunch of times?





Please advise.





- Meg

To quote Alex after he first saw it, "Thank

God

the Internet was invented."