This has quite possibly been the most god-awful week I've had, both at work and in my personal life, in quite some time. I'm not really going to go into it because I'm not at the point where I can laugh about it yet. Usually when the shit hits the fan and my bosses treat me like crap, I can lolz it off pretty quickly and chalk it up to OH

life!

, but at the moment I'm still having oddly specific fantasies about going into a room full of expensive glass vases with a baseball bat and unleashing The Fury.
Things aren't all doom and gloom, however, and I

will

share with you that I, Meghan C. McBlogger, am in love. Yep, in mother-effing LOVE. What's his name? As per usual, I have no idea. Well, to be fair, he told me Tuesday morning (I know! I actually

talked

to this one!!!!) but I have the memory of a fruit fly so of course I've already forgotten it. Our studio is being remodeled this week (which isn't exactly

helping

The Fury) and he's one of the installers. I don't really know what's come over me. I mean, I fall in love pretty much every day, five times a day with baristas, FedEx delivery dudes, waiters, bartenders, bank tellers and guys who look like this:
but I've never been this much of a...well...fuckin' spazz about it before. And I don't get it! Installer Crush is a construction worker, probably in his late 40's, maybe going through a divorce, most definitely in camo pants and doesn't have a sleeve to his name! And yet
—
I can barely contain myself. I'm like a giggly tongue-tied teenager every time he talks to me.
If flirting were a sport, I'd like to think I could win Olympic gold. I'm pretty quick to come up with a cheeky little zinger or provocative come back. And that's not me being cocky, as I will be the first to tell you that's where my expertise with the opposite sex ends. (Unfortunately.) And the thing is, Installer Crush totally flirts with me hardcore! And in my head I'm like, "Meggles, what's wrong with you? He's totally flirting with you. Flirt back! THIS IS WHERE YOU SHINE!" So I try to say something cheeky but instead I just gurgle, turn red and run away like I just peed myself.
One of the rooms Installer Crush is working on has a wall made entirely of sliding wooden panels. To get into the storage closet at the end of the wall, you have to slide all of the doors shut. Yesterday, while Installer Crush was working in this room alone, I had to get something from the storage closet. I came in, managed to get a "h...h...hey" out and slid the door shut with just the two of us inside. As I was getting what I needed out of the closet, Boss #1 stood outside and knocked on the door. "Hang on one sec!" I shouted.
"You know," said Installer Crush, "from all the flirtin' we've been doing, your boss is gonna think we're in here doing something."
Gauging from the extreme shock that went through my body from that statement, he might has well have said, "You know, I want to cum on your tits, you dirty little whore."
I turned bright red, literally stammered and giggled (or

stimmled

, if you will,) stared at him with wide eyes and said, "Wh-wha-what?"
"I said, from us being so flirty and that door shut, I bet your boss thinks we're in here doing something."
Now, what I

wanted

to say in response to this was, "BAHAHAH

HEHEHE

Ooo0o0o HAHAHHAA

AHHHH!!!!

" But I could do better than that. I had to think of something witty and provocative to say back. And normally, I'd totally be able to! Because that's my shtick! That's what I do! But no. I was drawing a complete blank.
At this point a solid five awkward seconds had gone by and I had to say something.

Anything

. I couldn't just stare at him like a deer in headlights indefinitely. But what to say, what to say, what to say...say...um..

.




"Well I'll make sure to wipe my mouth as I walk out."

That was my response. And WHAT. THE.

FUCK?!
Why!?!?! Of all the things I could have said, WHY did I have to go with

that?!

I turned our innocent little game of office flirting into a hardcore pornographic awkward-fest. The second the words flew out of my mouth, I looked horrified.

Disgusted

and horrified. With my own actions. I couldn't believe I had just said that. I still can't believe I said that. I wonder if that's grounds for a sexual harassment suit. I'm going to be the first woman in history to have a construction worker sue

her

for sexual harassment.
After I said...

"

it

"

...Installer Crush sort of shifted his eyes around the room awkwardly and I made a facial expression pretty much on par with this: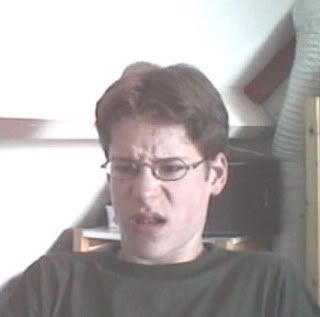 Then I promptly ran out of the room as fast as I could and have been avoiding him ever since. He will be here until next Monday.
I know it's a completely overused phrase at this point, but honestly
—
f

uck my life.

PS: I just found out his name is Vern. Well. Good to know.