Don't forget! Tonight is the series finale of Starving for Affection

More to Love!

I recommend you get yourself a hearty vat of home style gravy, mix it two-parts vodka and one-part Bailey's and pour yourself a tall glass of "Luke Juice" while you play

The More to Love Drinking Game!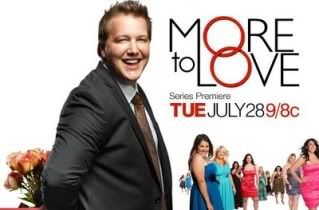 (A big, fat, emotional thank you to readers

Emah

and

Dawn

for coming up with this one! For a second I thought I was going to have to watch this shit sober...)
THE MORE TO LOVE DRINKING GAME
(Tuesdays are the new Fridays...for fat people)
Rules:
Drink When:
- Luke's muffin top makes an appearance
- A "because I'm fat, I've never..." statement is made

- Anyone cries as a result of a "because I'm fat, I've never..." statement

- Binge eating

- Awkward fat people hugs

- Whenever you get a mental picture of what Luke will find when he goes up the dress for The Tranny's garter at their wedding

- Crying in general

- Man boobs

- Host(ess) Emme looks particularly manish

- Luke says something pervy

- Someone waddles

- Luke says some lame scripted line about loving large women

- Luke's parents talk about loving fat girls

- Awkward parent moment

- Shot gun a beer when the loser cries over the proposal

- Shut gun another beer when the winner cries over the proposal