Spotted:

The most bona fide Kate Gosselin haircut I've ever seen not actually on Kate Gosselin's head
Where:

Metro Center
It Made me Feel:

Terrified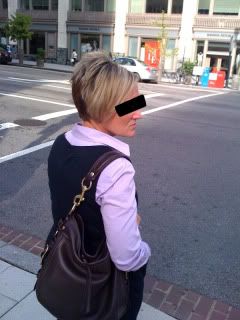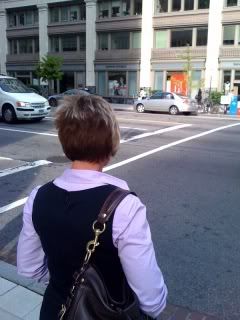 Of all the "celebrity" fads to catch on, why did it have to be the quasi-dykey and incredibly unflattering haircut of a butch reality TV mom? Who saw that coming? I mean, Khloe Kardashian has big boobs and a fat ass, why couldn't

that

catch on?
- I went to hot yoga Tuesday night. And despite my burning hatred of physically moving my body, being hot and sweating
—
I loved it! I know, I was just as shocked as you! I never thought I'd say this, but I'd take hot yoga over a trip to the gym any day of the week, and here's why:
1.) Oh my god I looked adorable. No fucking way I was going to be caught dead looking like Homely Helen again.
2.) Sweating like a fat hog isn't embarrassing
at hot yoga—
it's something I'm actually doing

right

.
3.) Oh hey scantily clad, smokin' hot young guy with dirty blonde hair. Thanks for wearing tight shorts that prominently display your downward-facing dog.
4.) I'm 100% aware of how emo this is going to sound, but I think I liked hot yoga for the same reason I like getting tattoos
—
it's the zen of Pain. Bear with me. When you get a tattoo, it fucking hurts. That's a given. But the thing is, there's nothing you can do about it. You just have to lay there, clear your mind and find a way to deal. There's no other way around it. When something hurts that bad, you're not thinking about how shitty your job is, or how you

still

haven't figured out how to change the light bulb behind the back splash of the bar, or how the hell are you going to pay this month's student loan bill
—
your mind is completely clear and focused. And for someone like me, that's a nice little change of pace. Because I'm a worrier and it's hard to get me to clear my mind. Normal mediation doesn't work for me. If you put me on a massage table, rub me down with eucalyptus oil and put me in a room with pan flute music playing for an hour, I

will

have a panic attack. That is entirely way too much time to sit there and think. However, if you jab me repeatedly with a needle or lock me in a 105-degree room for an hour
and a half—
enlightenment

.
- I was in the shower the other morning when I realized, if you change the context of

The Little Mermaid

song "Part of Your World" to be about a wheelchair bound person instead of a mermaid, it's sort of a giant Fuck You from Disney to the handicapable:
I wanna be where the people are




I wanna see, wanna see them dancin'




Walking around on those - what do you call 'em?




Feet!





[Spinnin' your wheels

,] you don't get too far


Legs are required for jumping, dancing




Strolling along down a - what's that word again?




Street





Up where they walk, up where they run




Up where they stay all day in the sun




Wanderin' free - wish I could be




Part of that world
When I re-visited this idea later that afternoon, I realized the thoughts I have first thing in the morning are shockingly similar to the thoughts I have when I'm high as a kite.
- Helena and I ended up making it to Meghan McCain's speech at AU last night. (As Helena pointed out, this was our first KPU event. Two years after graduating.) Final summation: Meghan McCain is a silly goose. And by silly goose, I of course mean inarticulate cunt-bag, but silly goose sounds more civilized.
My ultimate goal of the night was to somehow get Meghan McCain to sign an extra birth control prescription of mine:
My plan was to then put said prescription on my refrigerator to remind myself that there are some pregnancies the world would have been better off without. So take your birth control.
Unfortunately, you had to be on some list to meet her afterwards (?) and upon asking "who do I have to blow to be on that list?" Helena pointed to an unfortunate, lanky boy wearing mom jeans and we promptly decided to bounce. Despite this Fail on my part, Meghan McCain was adequately punked. By a kid in a wheelchair. (Not a mermaid.) And oh my just and gentle Lord was it awkward...
After McGiggles' (oddly short) speech, she held a Q&A session. One of the Q&A participants was a gentleman in a wheelchair who slowly and dramatically wheeled his way down the aisle towards the microphone to address Meghan. I fully expected him to be like, "Bah! I was shot in the legs in Afghanistan! Thanks for supporting our troops and mozel tov to your brothers!" but that's not quite how things played out. Which I should have known when he chose to open his question with, "Sorry I missed some of your speech, I came in late because I was buying liquor." At first I thought this was just a LOLzy OH

COLLEGE!

joke, but it became increasingly clear he may indeed have been adequately liquored up. For he went on to:
1.) Openly compare her father to Hitler
2.) Insinuate that her dad's about to croak
at any given moment—
not once, but

twice
and 3.) Came damn closes to tears while discussing his twice-divorced lesbian mother
...And holy shit. First of al

l
:
you fuck with John McCain and you fuck with

me

. I don't care who his daughter is. So back off, Roller Derby. Second of all, I mean, I hate Meghan McCain as much as the next person, but

for realzies?

Isn't yelling random and offensive shit in a public forum a little pass

é

at this point? All I know is I have never wanted to crawl out of my own skin more in my entire life and I had "Monster in a Wheelchair" stuck in my head for the rest of the night. So thanks a lot, asshole.