Oh god. It's another Roller Coaster of Emotions kind of morning. Because I'm That Guy who everything is a

Simpsons

quote to, this is what I feel like:
It turns out Vern the Installer Crush is MARRIED.
That's bad.
But they got done with the install early so he, along with the rest of the construction crew and obnoxious executives, left early!
That's good!
But I still had to work late last night.
That's bad.
But afterward, Alex and I went to the W for trendy and delicious drinks!
That's good!
...Where I inappropriately shouted "cock-block" really loudly.
That's bad.
But I had so many homemade ginger Dark and Stormy's, it didn't matter.
That's good!
Which is why I'm completely hungover this morning.
That's bad.
At least I got a delicious turkey sub from Subway on my way home last night!
That's good!
Which I dropped literally the second I sat down to eat it, causing the contents to spill out and all over my rug.
That's bad.
But there was still time to
catch th

e last 15 minutes of

Project Runway

!
That's good!
Except I turned on the TV to discover my cable had been turned off due to lack of payment.
That's bad.
Which should be remedied soon, as today is payday.
That's good!
But my boss didn't deposit my paycheck.
That's bad.
At least

it's

Drinking Game Friday!
That's good!
But I'm far way hungover and to think of a drinking game.
That's bad.
Good thing

Jason s

ent

me this awesome

Boy Meets World Drinking Game

last night!
That's good!
Really, really, really good.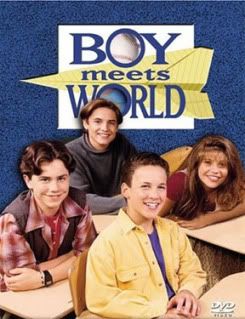 Because, "Life's tough. Get a Helmet." - Eric Matthews
Rules:
Drink when:
- Eric yells "

FEENY

"
- Shaun does something extremely dramatic
- BMW breaks down social barriers or addresses cultural concerns (i.e., interracial couples, teen drinking, and

pre

-marital sex)
- They eat at

Chubby's
- Cory acts obscenely Jewish
- They're in the backyard with

Feeny
- Shaun becomes an orphan
- Eric adopts the kid through the Big Brother program
- Shaun and Angela break up
- Cory and

Topanga

sing "WAR!" at karaoke
- Every time they switch the actress who plays Morgan.
Thank you Jason and friends! And thank

you

reader! Thanks for preaching the good 2b1b word, shootin' us emails, following us on Twitter, joining the Facebook page, voting for us here, here AND here and just for generally being you. Now I'm going to go try not to vomit Dark and Stormy everywhere, but I'll see you right back here Monday morning. Byeeee!