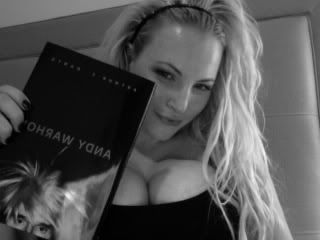 Remember when you were a kid and you'd hit your sister on the arm really hard repeatedly until she hit you back and then you'd run to your mom hysterically crying all, "MOMMM!!!!!

BECCA HIT MEEEEE!!!!!!!!!!!"

? That, in a nutshell, is Meghan McCain. And guess what? She's up to it again.
From Meg-Dawg's Twitter account (or so readers and Perez Hilton tell me, as we remember she blocked me months ago):
"...so I took a fun picture

[see above]

not thinking anything about what I was wearing but apparently anything other than a pantsuit I am a slut.."
Madam. Your tits look like they're being held up by fishing line and God is playing them like marionettes. Perhaps that, coupled with the fact that you look like you just got fucked six-ways-to-the-weekend, is the reason people think you look like a "slut."
I don't think your lack of a

pantsuit

had anything to do with it.
"I am going to take some more time to think about it but seriously I was just trying to be funny with the book and that I'm a dork staying in."
And that's commendable. I mean, how many times have I stayed home in my jammies to watch a little NatGeo? Answer:

too

many. However, I probably wouldn't take a picture of myself in front of the TV wearing nothing but nipple clamps, parting my vagina lips and flashing a peace sign and post it to my Twitter account with the caption,

"Jus stayin in 2nite n bein lame!!!"

(...

Probably

being the key word here.)
"when I am alone in my apartment, I wear tank tops and sweat pants, I had no idea this makes me a "slut"..."
Yep. Just hangin' around her apartment. In full makeup. And hair. With a fresh manicure. And her boobs hiked up and her top pulled down. Just a candid moment in the life of an average girl poopin' around her apartment. And ~*WhAt A dOrK!!1*~
"I do want to apologize to anyone that was offended by my twitpic, I have clearly made a huge mistake and am sorry 2 those that are offended."
Hm. Well, at least she's in good company.


Look. Homegirl. I have DD/DDD boobs. I, of all people, understand that sometimes it's hard to round up the troops and keep 'em in line. But your dad's a Senator. You're vying to be the new face of the Republican party. You are not Tila Tequila. It's time to recognize that that's your cross to bear, invest is some extra yardage and

Akrite

.
Love,
Meghan C. McBlogger