Yesterday Boss #1 took me aside and told me that she needed to talk to me about something. I was pretty sure she was either going to a.) fire me; b.) tell me something horrifyingly informative about her vagina or c.) ask me something horrifyingly informative about

my

vagina. Imagine my surprise when it was none of the above! Instead, Boss #1 asked me to have a sit-down with her 17-year-old daughter (who vehemently does not want to go to college) and somehow convince her that going to college is the best idea ever. And to that request, I say

Yowzahs

. For two reasons:
1.) Oh my god, I just don't care.
and 2.) I had literally just finished having this gchat conversation with Allison after sending her my resume:
Allison:

your resume is impressive!


me:

it's really not, but thank you!


Allison:

you're all "honors everything, CHECK. Winner of everything, CHECK CHECK."


me:

yea. i like, tried real hard in college 'n shit.
LOLZ HAHAHHAHAA
that was a bad call
because it got me "so far"


Allison:

yeah you tried hard in college - what was THAT all about??


me:

fuck
i don't know


Allison:

I feel ya - I had 85 internships in 4 years and was the president of every academic club in the entire university and I have been laid off twice in one year


me:

HAHAHA RIGHT??? i shoulda just been doing meth the whole time.


Allison:

I know...I can't believe the drug opportunities I passed up for THIS

Sooooo...maybe I'm not the

best

person to come to for advice on why you should go to college. Frankly, I don't think I'm the best person to come to for advice on anything ever, period. Unless that advice is about napping, how to kill time or The Art of Sass. That I got covered. But seriously, I worked my ass off in high school just to go to my safety school and then I worked my ass off in college to become what—a Professional Houseplant?? Who really gives a shit if she goes to school or not? Let's not lie to ourselves, by the time she graduates high school, I'll probably be dead in a ditch somewhere and she can just take my job (which she'll probably do a

far

better job of,) meet an architect, fall in love, get married, pump out a few kids and wash, rinse, repeat. And

PSHHHHH

—doesn't sound horrible to me. The world will not end if she doesn't go to college. Hell, Boss #1 didn't even go to college! What am I supposed to tell this girl? "Honey, you gotta go to college. You don't want to end up like your mom and become...my...boss?"

I also think it's slightly ridiculous that the only reason she doesn't want to go to college is because she's scared she's "not smart enough." I reject that excuse. Because have you seen the movie

Revenge of the Nerds

? Are you familiar with Fred "Ogre" Palowakski? If he could handle the pressures of academic life, football season, being an active brother of Beta Alpha, a member of The Greek Council

and

nerd-hunting, I'm sure she can too.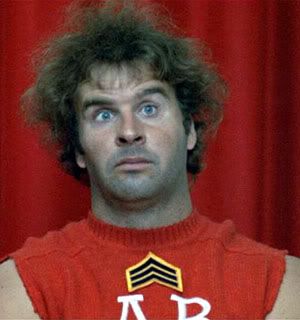 Perhaps toss your copy of

Princeton Review's 365 Best Colleges

out the window, aim a schmidge lower than your friends and you'll be right as rain come Fall.
Knowing that I'm inevitably going to have to sit down with this girl and talk about the merits of going to college, I whipped this up for, just for her. It's

Meg McBlogger's Top-5 Reasons You Should Go To College

:
1.) ~*BoYz bOyz BoYz!!*~:

Look. I talk to your mom on a daily basis. And your mom, bless her heart, is Boss #1. I obviously know everything that goes on with your snizz. What I'm trying to say is
—
I know you're a slut. And that's fine! I'm not here to judge. However, be aware that passing up college means passing up the opportunity to matriculate with thousands of young, eager and willing boys. And girls! Shit, I don't know what you're into. You seem like the kind of gal who after six drinks will bang anything with ears. And you know what? In college, that's fine! You

should

be banging anything with ears! Because college is your chance to get all that Freak out of your system before you enter the Real World where staying out all night having sex, jacked up on Zelko and Windex fumes is considered "A Problem." You want Candy Finnegan banging on your door or an RA telling you to pipe down? Yeah. That's what I thought.
2.) Close proximity to free food:

UM HI. I'M A DINING HALL, HAVE WE MET? Do you know how many 20-somethings there are out there starving every night, just wishing they could go swipe their way into the dining hall for even one single slice of chicken? Too many. Sometimes I have popcorn for dinner. There it is. The disgusting and embarrassing truth. I have sick and oddly specific fantasies about running through TDR with a tray in my hand and the wind in my hair, just grabbing whatever the fuck I want. (Oh

HEY

American University students reading this right now! Got extra meal blocks? LET'S DO DINNER! meg@2birds1blog.com) I know what you're thinking, "But Meg, if I don't go to college and live at home, I'll still get all the free food I want!" WRONG! Because mooching off of your parents while living at home is considered a "burden," whereas mooching off of your parents while living at college is just "how things work." When I lived at home, I couldn't reach for a single bowl of Kashi without my mom lecturing me about how I needed to get a job. Yet when I was at school, I could call her up all, "MOM I'M CRAVING YOGURT-COVERED PRETZELS! I NEED MORE EAGLE BUCK$! KTHANKSSSS!" and she'd be all over it within an hour. So next time you're snacking on popcorn, you remember that story. Also remember that somewhere out there, there's a sad, poor 20-something eating your

nosh

for dinner.
3.) Greek Life:

Elle Woods did it and now she's a lawyer.
4.) New Friends:

Whether you're willing to admit it or not, you're probably nervous about the whole starting over from scratch and making new friends thing. But you really shouldn't be. College is designed for making new friends. Literally everyone there is in the market for new friends. Do you know how I met the girl who would turn out to be my Sophomore year roommate? From this exchange on the first week of school:
Allie:

Hi, I'm Allie.
Meg:

Hi, I'm Meg.
Allie:

I miss having a circle of friends.
Meg

: Oh my

gawd

, me too. I hate this.
Allie:

Do you want to be best friends?
Meg:

YERP.
Allie:

Done.
And then we just were. I swear to God. That's literally how the conversation happened. You would have to be some special kind of ass backwards crazy to not be able to make friends in college. However, starting over and making friends outside of school is considerably more difficult. Whereas people were literally soliciting my friendship in the streets in college, I felt like I couldn't

pay

somebody to be my friend when I moved to New York. It's just harder outside of a collegiate atmosphere. Everybody, for the most part, already has their set group of friends and is kind of caught up in their own thing. You really have to make the effort and like, join a kickball league or some shit. And you know how I feel unnecessarily moving my body. I'd rather just go to grad school. Or move back to DC. Apparently.
5.) Because it's not that hard if you don't want it to be:

That's the beauty of college
—
you pick your major, you pick your classes, you pick which ones you actually go to, you pick whether or not you give Professor Montoya a lap dance to pass Spanish
—
it's all up to you. If you really don't think you're that smart, then go to fucking Easiest Ever University and major in Breathing. Who gives a fuck? You just need that little piece of paper that says "Whoop-dee-doo! You Know Your Ass From a Hole in the Ground!" so you can get a boring entry-level office job out of college and spend all day pretending to enter data in a spreadsheet while you count down the minutes until Happy Hour. Which sucks. So you might as well enjoy start enjoying the next four years of your life now and quit your emo whining about not being "smart enough." McDaniel College called; they're

rull

interested.



Aaaaand

you're welcome, Boss #1 Jr.