I currently have three schemes in rotation to get out of this whole "working" thing:
1.)

Rehab

. Every week there's a commercial during Intervention for a rehab facility that makes me want to dive into a giant swimming pool of cocaine and snort my way out. An all-expenses paid trip to Malibu where I talk about my feelings; learn to cook; enjoy some pilates and yoga; meditate and do all the arts and crafts I want doesn't sound

that

horrible to me. It's like summer camp for adults! Yes and

please

. There's only one problem: I'm not addicted to anything. (Unless you're of the Robert Palmer school of thought, in which case sign me up!)
2.)

Jail

. Do you know how many times I walk to work and litter, jay-walk, steal from street vendors, kill an anonymous hobo or grifter; praying to god a cop will arrest me so I can go jail and take a nap? Every single morning. Because taking a nap in jail would be preferable to coming here, where my only task is to figure out where the "dead critter" smell is coming from. That's not a joke. That really is my one and only task today. Figure out the

dead critter

smell. At least in jail we all know where the dead critter smell is coming from (crackhead, I'm looking at you.)
3.)

Get pregnant

. Did you know that in the Netherlands, both mother and father get one year paid maternity and paternity leave? How amazing is that?! Ergo, new life plan: unprotected sex -> move to Amsterdam -> eat falaffel ->Heinekin factor tour -> have baby -> 1 year paid Amsterdam vacation. Plus, I'd get a baby shower and tons of free shit. It's a recession! Can't argue with free shit!
So far option #3 had been my front-runner, but as of last night I've changed my mind. Jail is back on top. And it's all "thanks" to my parents cat, Evie.
Evie arrived at my apartment Tuesday night and I'll be

cat sitting

her for the next seven days while my parents are away on vacation.

Originally

, I was pretty psyched about this. When I moved into my parent's

house

after leaving New York, Evie and I pretty much became

BFF

4

lyfe

. We share a mutual love of napping and spent our days curled up on the couch in our pajamas watching MTV Hits, eating free

Kashi

GoLean

Crunch cereal and whining at my mom to give us attention. It was

awesome

.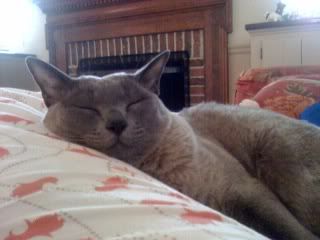 However,

cat sitting

her is less than awesome. She's driving me crazy. I feel like I've been given a small glimpse into the life of a new mother
—
and I want to claw out my eyes, close my legs and pretend like I never saw anything.
The meowing you guys, the

meowing

. It's got to go. All night long, she just meows. And I'm not talking gentle, adorable kitty meowing, I'm talking "Timmy fell down the well; you need to get your

fuckin

' ass up

now

," screaming/meowing.

Scr

-owing, if you will. She has this one kind of meow that starts with a "

meo

-" but ends in this deep, throat

gurgle

that distinctly sounds like she's telling me to eat shit.
The only way to shut her up is if I get out of bed and gently rock her in my arms like a baby. I do this and she's suddenly happy as a clam. Shuts right up and purrs her face off. HOWEVER, the second I put her down on my bed and try to go back to sleep, she freaks out, flies off my bed, jumps on top of her carrying case and

scr

-

ows

at me. So I have to physically

get out of bed

again

, pick her up and hold her for a little while. But god forbid I get tired and want to lay down in my own bed at 2:30 in the morning! If I do that she just
flicks me off, heads for her carrying case and yells

derogatory

things at me until I get up and hold her again. It's a vicious cycle.
I've tried everything. I tried reasoning with her. I tried begging and pleading. I tried shutting her in the bathroom (but felt bad and let her out after 30 seconds.) I put her favorite toy,

Fillipe

the frog, in my bed thinking that might coax her off her little soap box, but nope! There she was, atop her crate telling me to go eff myself. Then I got the genius idea to put her crate

in

my bed, thinking maybe that would solve something. Instead, she just stood where the crate once was, shouting at me from there. Even better, I forgot the crate was in my bed at one point and rolled over and slammed my face into the door.
I think at around 4:15

ish

, she finally ran out of steam and fell asleep. Two hours later my alarm clock buzzed and she woke back up. From 7-8 (aka my precious snoozing time,) she meowed. And

meowed

. And

meowed

. At that moment, I sort of understood why someone might be tempted to shake their baby like an Etch A Sketch.
I look like shit today. I didn't shower. There are circles under my eyes. I was 15 minutes late to work. This post isn't even well-written or funny. Somebody out there has to know
—h
ow do I get her to stop meowing? I can't hold her forever (L0

LZ

! That sounds like it should be a Maroon 5 song or something). If I ignore her, she meows louder. What do I do?!