It looks like Scott the praying mantis/head writer of The Hills actually listened to the constructive criticism I offered him last wee

k
—l
ast night's episode had nary a mention of the Stedi the Stach-tender plot line! Seriously Scott, I can't thank you enough. Because if I had to watch one more episode revolving around that busted plot line with that regional dinner theater caliber acting, I was going to smash a bottle of Cuervo over my head to put myself out of my misery. So thanks.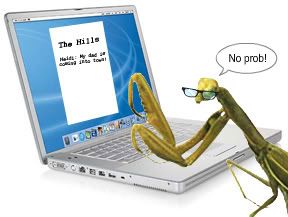 Damnit...I'm going to have to nutshell this episode pretty quickly. I spent a good portion of my morning photoshopping that picture of Scott and I was just informed I need to assist my boss on-site today. UGHHHH...I can't play Snood and make snowflakes out of post-its on-site! Bitches & hos man...bitches & hos.



THE HILLS:



Lauren fired Stephanie and she cried. Which made Lauren cry. Which made me cry. Which made Evie cry. And then we all just cried and held each other, wishing life were easier. It was cathartic, really.

Actually Stephanie didn't really care that she got fired. I mean, she

cared

, but she cared more that the guy she's been crushing on has a live-in girlfriend. Priorities.

Our main plot line centered around Spencer meeting Heidi's dad. Not Tim, her stepfather, her for reals

for reals

Dad. The guy who stuck it to mama Darlene in the first place. His name is Buffalo Bill and he's an honest-to-god cowboy who looks like a humanized version of Yosemite Sam. He carries a gun with him at all times and wears cowboy apparel in a non-ironic kid of way.

Let me tell you something about Buffalo Bill: he was

not

pleased that Heidi and Spencer decided to elope in Mexico. Every good prairie dog knows that you gotta ask your lil lassie's daddy for her paw in marriage.

Duh

. Spencer now has to win over Heidi's dad so he can ask her to marry him. Again. Actually, if I'm not mistaken, this would make the third proposal. It's like god is shittin' red flags all over the place and they still think it's an awesome idea to get married. Nothing says love like repeatedly breaking up.

Anyway, believe it or not Buffalo Bill and Spencer got a long like rawhide and fringe. They bonded over guns, social ineptitude and child molestery moustaches. While they were getting matching "BFF 4 Lyfe" tattoos, Spencer finally got the cajones to ask for Heidi's hand in marriage. "It puts the engagement ring on the hand or else it gets the hose again," the weathered cowboy said with a tear in his eye. Then they went out back and made love in an outhouse.

At the end of our episode, Spencer proposed to Heidi. Again. On a ferris wheel. Ferris wheels don't scream romance to me. They scream panic attacks, hot dog-laden piles of vomit and carnival folk, but then again I've never been in love. Maybe that's what love is; a panic attack and a big pile of puke. God I can't wait.

Anyway, Heidi said yes, but her "yes" came with a condition: Spencer has to apologize and make amends with both mama Darlene and Lauren. Spencer agreed, they made out, I puked hot dogs and that was the end of that.

FIN.