So Chris and I decided that although not siblings, it's high-time we do a Sibling Rivalry point/counterpoint post. Figuring out what topic to argue wasn't too hard as there are two things Chris and I will never see eye-to-eye on:
1.)

Bee Movie

. I loved it and thought it was heart-warming; he hated it and thought it was stupid. Does this have something to do with the fact that I have a soul and Chris does not? Probably. Is this topic interesting enough to blog about? Probably not.
2.)

Tourism

. More specifically, tourists and taking part in touristy activities. I'm very pro; Chris is very con. It's a sore subject in our friendship. I'd be lying if I said I've never thrown a temper tantrum in the middle of the National Mall because Chris wouldn't stop texting and acting above my monument tour. Jackass.
So it is with my fanny pack strapped tight and a map at the ready that I present to you the 2birds1blog Point/Counterpoint Battle on Tourism!
PRO: MEG
God I love tourist shit. Give me a guided tour or give me death. If there is a tourist trap within 10-paces; I'm there. Posing for a picture. And buying a t-shirt. And squishing a souvenir penny (yes I do very seriously have a souvenir squished penny collection—WHAT OF IT?!)
Double decker tour buses? Been there. Group photo in a giant wooden clog in Amsterdam? Done that. I have more photographs of myself giving the shocker in front of national landmarks than I do with my own parents. Why? Because it's stupid fun. And sometimes in life, we need to stop worrying what other people think about us and have some stupid fun.
That's the beauty of being a tourist—people already judge and think less of you, so you might as well throw your inhibitions to the wind and have some fun with it. It's liberating! You're never going to see these people again, so put on that sombrero, give two thumbs up and take a picture with the mariachi band! Sure, the natives think you look like a total jackass, but fuck them. In my opinion there's nothing worse than surly natives. Oh, I'm so

terribly

sorry that I'm interested in learning more about your city and it's history and culture! How terribly

rude

of me! And excuse the hell out of me for stimulating your economy with my hard-earned dollars! Gosh, I'm tacky! ...Please. Get on top.
It's important to recognize that tourists come in two distinctly different varieties: Responsible Tourists and Obnoxious Tourists. Obnoxious Tourists give us Responsible Tourists a bad rap. They're loud, poorly dressed, perpetually confused, inconsiderate and just plain ignorant. And I hate 'em just like you do. Do I have oddly specific fantasies about ripping the hearts out tourists who don't move to the center of the aisle when boarding a metro? Of course I do! But these people should not represent tourists as a

whole

, nor should they cock-block you from taking part in fun touristy activities yourself. Why let one bad apple spoil the whole barrel? It's like assuming that every German person is a Nazi and refusing to go to Germany because it's a Nazi country. Yeah, Nazis suck, but how completely unfair is it to assume that every person in Germany is a Nazi? Come on Bube, it's not 1942 anymore. Let yourself enjoy some schnitzel.
Take this guy for example: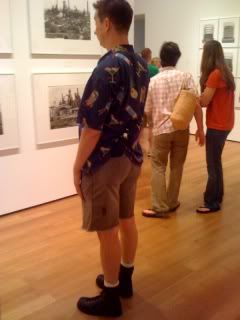 I saw this guy wandering around MoMA last year and thought he would make a great That's a lot of Look segment. But when I sat down to write it, I couldn't really fault him. So what he's wearing hiking boots and ankle socks at a museum and there are more cocktails on his shirt than in my stomach on any given Saturday night? He's not bothering anyone! He's just trying to absorb some culture and check out some art! That's something I can jive with! Plus, his ass looks kind of cute in those frayed little cargo shorts. Shame on me for being so snarky and elitist! I hope he had a fabulous day.
Good people make good tourists and bad people make bad tourists. You can't blame tourism as a whole for the assholes you run into on a daily basis. Because they're not tourists
—
they're just assholes on vacation.
CON: CHRIS
Living first in Boston and now in New York, I'm accustomed to tourists being all up in my bidness on a day to day basis. But just because I'm accustomed to it, doesn't mean I'm ok with it. Let's get one thing straight: I hate tourists. If you visit me in the city, I will gladly take you to a bar and get crunked or we can go for a walk in the park. But I'll be damned if I take you on a double decker bus to see the sights.
Not like I haven't done my share of touristy things. I manned up and went to Ellis Island a few weekends ago. (Stood in line for an hour just to get tickets while hordes of Asian children played tag around my legs. Was in the foreground of literally hundreds of pictures of the NYC skyline, as I had primo real estate for picture taking. Got muscled out of my standing position by some foreigners oversized backpack. You see where I'm coming from..) It's not that I don't like tourism, because generally some of the tourist sights are pretty cool. If I didn't have to suffer through being crammed on a ferry with a billion people yammering in not-English, snapping pictures of literally everything that stood still long enough I probably would have enjoyed Ellis Island alot more. What I don't like are the tourists.
People say New Yorkers are unfriendly. I'd venture that tourists are equally as unfriendly, unless they need something, like directions. If they are armed with their oversized map of the NYC subway system, they could give two shits less about how much of your personal space they are occupying with their fanny pack, because they are on a schedule and they can't be late to ride horses in the park because that would cut into the amount of time they have to take pictures with the living statues before seeing Shrek the Musical on Broadway. God forbid you miss lunch at the diner Seinfeld ate at.
Why do you think there are places that are called "tourist traps"? Because tourists are ignorant. If you put a statue in a heavily trafficked area anywhere in the world, tourists are going to take pictures of it. It could be of Britney Spears giving birth on a bearskin rug
, and sure enough, someone if going to put their kids on its back to snap a photo. And why do you always have to take pictures across a crowded sidewalk?! It's not my fault if I don't see you taking a picture, because I'm too busy trying to avoid the Fleece Vests, and I just assumed that sidewalks were for walking.
The last time Meg was in the city, we went to Coney Island, which is also heavily touristed. And while waiting in line at the Cyclone, the girl in front of me asks me "You from America?" Um...yes, I replied. And she's all like "What part?" I took a look at myself: flip flops, black shorts, polo shirt, sunglasses. Pretty standard hot weather attire. Is it wrong that I was offended she assumed I'm a tourist? Here's my question to 75% of the tourists I see out and about: If you wouldn't wear socks with sandals, a fisherman's hat, sunglasses with a neon strap so they don't get lost, two fanny packs, and a giant camera carrying case around the town where you live, why would you wear that shit when you are visiting somewhere else? Unless that's your signature look. But if it is your signature look, it is a look that says "Please mug me." Another tourist phenomenon: wearing matching clothes. Why?! WHY! The other day, I was the incredible pleasure (read: misfortune) of walking through Times Square. I had a train to catch at Penn in 15 minutes, so I'm bobbing and weaving like Evander Holyfield (is that an entirely outdated sports reference? You know I don't know these things) until I come across a family of four, all large an in charge with asses that rappers would swoon over. All. wearing. pink. polos. And moving at the speed of molasses, which is probably the last thing that crammed in their gullet before heading to NYC.
One of the first times I visited Meg in D.C., we did the tourist thing jetting around the National Mall, seeing the museums and monuments and what have you, which I was heavily not into. And in a fit of rage, Meg took my shoulders and told me to man up and let her take pictures of me in front of the Capitol building. I did, begrudgingly, but our yelling match, from afar, looked like a heart-to-heart, and a large Indian family reunion now thinks Meg and I are engaged. That's what tourism is people. False perceptions. Now I've got to go pick a tuxedo for the wedding.