You may have noticed that Meg hasn't posted an entry since last Wednesday and has been out "sick" all week. Well, I guess it's time to come clean. You may know Meghan McBlogger a little bit better by her real name—Casey Johnson.
BWAHAHA, just kidding. I'm right here. Alive. (Oh.

Meg

, that is. Not Casey Johnson. I'm pretty sure she actually is dead.) (By the way: Casey Johnson jokes. Too soon? Not soon enough? Yes? No? 17 carat hole in my head courtesy of Tila Tequila? Thought so.) But the Meghan McBlogger/Casey Johnson thing would explain my anonymity and sudden disappearance pretty glamorously though, right? Unfortunately I've just been genuinely sick and overall...out of it. And by "out of it," I clearly mean depressed. But that's ok, it happens to the best of us. And...by "us," I clearly mean people with Depression. People with Depression tend to get depressed; an irritating little fact. So I apologize for my disappearance, but every now and then I need to lock myself in my apartment and sleep for 16 hours a day, waking only to cry and drink Pepto Bismol. And watch a few episodes of

Maude

on Youtube. Because, you know, viva Bea Arthur. Plus, you really wouldn't want me to blog when I'm depressed. My entries would be like "The 20 Male Poses of Facebook

TO KILL YOURSELF BY

". And "Ambien & Evie &

MORE AMBIEN & WHISKEY

". BUT! I'm fine. I'm still here, doin' my thang. In fact, I just made the unique decision of unwinding from work by watching

Inglorious Basterds

for the first time. Alone. And Jesus

Crush

do I regret that decision. Don't get me wrong, it was totally badass and I highly recommend it, but I was in

no way

emotionally prepared for how violent and disturbing it was and I sort of wish I hadn't watched it alone. I'm not quite sure what I was expecting. It is, after all, a

Quentin Tarantino

film about

killing Nazis

. I knew what I was getting myself into. It's not like I popped in

Mary Poppins

and SHOCK! it turned out to be

Schindler's List

. This is like the time Alex called to see if I wanted to come over and watch

Jarhead

with him. I politely declined because I wasn't really in the mood and he jovially said he'd go ahead and watch it alone. He called back a few hours later and squaked out, "Meg...............

Jarhead

is

not

a romantic comedy." No, Alex,

Jarhead

is not a romantic comedy. And

Inglorious Basterds

isn't a lighthearted Nazi romp. These are the days of our lives...
MORAL OF THE STORY: I'm not dead. Although to be fair, it totally looks like I tried to slice open my right wrist, which is only

slightly

embarrassing. To clarify, I didn't try to kill myself. I mean, I'm depressed, but like listen to The Smiths, watch

Shopgirl

and cry and cry and cry depressed, not playin' the old wrist violins depressed. And more to the point, I didn't even do this to my wrist
—
my doctor did. Yeah that's right, I actually went to the doctor. And look what happened. Who's the "immature" and "unhealthy" one now, huh??
It all started on New Year's Eve (because

of course

it did. As discussed, only horrible things happen on New Year's Eve.) I really did get sick, that wasn't just a bullshit cover for being depressed. (Ain't no shame in my game. Lord knows you're not psyched 100% of the time.) After I ate lunch, I had what can only be eloquently described as an "explosive stomach situation." I assumed I had food poisoning because I made the somewhat questionable decision of getting tuna salad from an establishment that shall remain nameless because I can't afford foods that aren't in the gummy family, nevertheless a law suit. Let's just say I don't know what I was thinking when I went to the establishment in Adams Morgan that sells novelty over sized pizza slices to drunk people at 4 o'clock in the morning and thought, "Ooo! I bet they have

great

seafood!" I assumed I'd be fine after a day or so, but when the explosive part cleared up, the painful stomach situation still lingered. (Yet again,

no

, you can not have sex with me.) I decided the retching stomach pain

might

be worth taking a trip to the clinic for, so I hauled my ass in.
First of all, when I was filling out my medical history, there was an empty space for hobbies and I had a personal identity crisis when I couldn't think of anything to put. Although legitimate, "assing around" just never seems like an appropriate answer. Once in the room, the nurse went over my medical history with me. "So are you taking any other medication besides what you listed?" Nope. "...No

birth control?"

I had conflicting emotions about this question. Part of me wanted to slap him on the back and say, "Well bless your heart for thinking I need it!" while the other was sort of offended. Because Lord knows I alter my body chemistry enough, if I don't want to add anything else to it, that's my prerogative. And shit, maybe I'm a raging Catholic! What does he know? I figured he thinks I either look super: a.) attractive and therefore obviously sexually active; b.) slutty-slutty-two-by-four-can't-get-through-the-condom-door; or c.) Jewish. I made the executive decision to chose A. I take my wins where I can get 'em.
After a little pokin' and prodding by the doctor, she decided that I probably have an ulcer and therefore needed to run some tests and take a blood sample. Which was cool with me. When I had mono I got blood taken pretty much every week so I'm used to it by now. BUT OH NO! It's never that easy, is it? We had old nurse OrthoTriJackass at the helm. And of course he couldn't find my vein with both hands and a map. Seriously, I had weekly blood tests for a month and not

once

could the tech not find the vein in my arm. OrthoTriJackass, however, could not get over my petite little veins. He told me he was

super

sorry, but he was going to have to draw my blood from the inside of my wrist, which he

totally

doesn't like to do because it's painful but

geez

you must be a Vampire because where are those slutty little veins of yours?! My initial reaction was to ask him to look harder. I mean seriously, if it's that painful, maybe just slap my arm a few more times or tighten the band? Borrow my reading glasses? Phone a friend? Something? Anything? In the end I decided to keep my mouth shut because I figured getting sassy with the person about to stab me with a sharp object was probably not the

best

idea. He jabbed the needle into my wrist and applied pressure directly on the vein to help move the blood flow along (blood flows so slowly out of your wrist versus your arm, don't you know! LOLZ!) As this went down, I turned the other way and grabbed my scarf with my free hand to relive some tension. Not dramatically or anything. It was casual. Elegant. Jazzy. However, sensing this was not a pleasant experience for me, the nurse tried to make conversation. Which I can appreciate, I really can. However, he chose to lead with: "So Meghan, are you spiritual?" Great. I have a needle sticking out of my wrist and a small Indian man milking blood out of it. Let's bring the Lord in. This can only end well. "Uh...I don't know. Not really, I guess?" "Well it's just I noticed you're wearing a turquoise necklace. They say certain stones relate to the stars and the energy of the heavens." I don't mean to sound like a heinous bitch, but I had

zero

patience for this conversation. At that moment, I couldn't think of anything else in the world that I wanted to talk about less. What stone relates to not shitting your brains out on New Year's Eve, sir? Because

that's

the stone I'd like to talk about, and

that

stone only.
Finally the ordeal was over, the doctor came back in and told me her verdict: She was pretty sure I have an ulcer but some pills and lifestyle changes would take care of it. "What kind of lifestyle changes?" I asked. "Well you're going to have stop the alcohol and caffeine." My response?
L

O

L

!

!

!

1
I looked at her and with a completely straight face said, "Doctor, those are the two main staples of my diet." "...............Well,

change your diet

," she said with only a hint of horror and judgement in her eyes.
After I crossed-my-heart-and-hoped-to-die that I'd cut down on the alcohol and caffeine and dancin' with the boys and readin' the big city books, I left and immediately called my mom. "MOM!" I shamelessly whined, "I JUST HAD AN OWIE EXPERIENCE!" My mom's breath caught in her throat and she blurted out, "OH MEGHAN. PLEASE TELL ME YOU'RE NOT PREGNANT." Ok. First of all, I don't know if I'd describe finding out that I'm pregnant and possibly aborting a child to my mom as an

"Owie Experience."

Secondly, why does everyone think I'm gettin' some?! Because I will be the first to tell you; I'm not. And again, I guess I'm flattered by the assumption, but in the end it only reminds me that the only person sharing my bed is my laptop and occasionally Evie. "No Mom. I'm not pregnant. Only people who have sex get pregnant." "OH. GOOD. Well, sorry for you. BUT GOOD."
After assuring my mom that she wasn't going to be a Bube in nine months, I went to CVS to drop off my prescription. Unfortunately for me and my stomach, my rickety health insurance plan doesn't cover the medicine I need, so I spent the next 45 minutes passing love notes between my doctor, my insurance company and the surly CVS pharmacist. After being put on hold by my doctor for 20 minutes only to be disconnected (for the second time,) I decided fuck this noise, bought a pack of tums and went to meet Alex for dinner. As I followed Alex up the stairs to his apartment he told me I had to try a new drink he had made. "

Eeeesh

...I don't know. My doctor told me I should lay off alcohol and caffeine for a while." Alex's reaction:
L

O

L

!

!

!

1
"THAT'S EXACTLY WHAT

I

SAID!" Again, these are the days of our lives...


So, despite my stomach still being in knots and still feeling super "out of it," I finally put back on my big girl pants and went back to work yesterday. To cheer myself up, however, I brought in the Antwerp flag mouse pad my sister got me for Chrismukkah. "This way when you're at work and you want to kill yourself, just look down and think about running away to Antwerp!" she told me. (Most thoughtful gift ever, right??) About an hour after I got to work, Russell the Homophobic Co-Worker came in, walked passed my desk, pointed to my mouse pad and with the fear of god in his eyes asked, "Is that a

gay pride flag?!"



(

Not

:)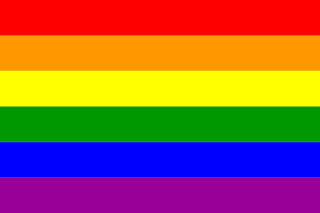 Sigh

. "No Russell. It's Antwerp's province flag." Russell gave out a hearty laugh, shook his head and walked away muttering something, the only word of which I caught being,

"shoo."

I looked down at my accidentally suicide-y wrist wresting on the Antwerp flag and thought to myself, "Yep. I'm back."