I'm going to level with you about something: I'm not always right. BOOM. There it is. It's something I've come to terms with over the years and frankly, I feel like a better person for having done so. Would I say I'm right about most things? Yes. Yes, I would. But! I acknowledge that there's always a chance that I could be wrong.
Here are some things that I've been wrong about recently:
-

Thinking that wiping sitting down is weird and wiping standing up is normal. I was wrong. My mistake.


-

Thinking that most little boys don't see their dad's junk outside of a molestery arena. Incorrect! After last week's Dr. Reuben post, a few readers pointed out that it's actually pretty common for a dad to pee next to his son while potty-training him to show how it's done. And upon further reflection, that completely makes sense. Point taken.


-

Thinking that most men don't compare the size of their junk to their father's. Again, thanks to very kind and open readers, I've come to learn that as a result of the above, it's actually pretty common. And again, it totally makes sense.


- Thinking that Cal Ripken, Jr. is a known wife-beater. Which isn't true, but for

years

I thought it was and maybe kind of spread it around town like it was a known fact. It turns out that he's not though. I was actually thinking of Garth Brooks. And even that's not true. I was just thinking of the antagonist in his incendiary The Thunder Rolls video. My bad, guys.

My point here is that while I can be stubborn about some things, I'm genuinely not one of those people who always thinks they're right about

everything

and says good day to anyone who says otherwise. I like to keep an open mind, even when it comes to my own ignorance.
That being said, HELENA IS WRONG ABOUT SOMETHING AND I'M RIGHT AND I REFUSE TO BELIEVE IT COULD BE ANY OTHER WAY. HELENA = WRONG. MEG = RIGHT. COULD I BE MISTAKEN?

NO

. CASE CLOSED.
Let me break it down for you. Helena and Laura came over last night to enjoy some rooftop wine and Chipotle action and somewhere along the line, Helena brought up an interesting

This American Life

piece she heard on NPR about a guy who got rid of his allergies by traveling to Africa and stomping around barefoot in a pile of scorching hot human poo, thereby picking up hookworms. Because apparently if you have a couple dozen hookworms camping out in your guts, allergies are a thing of the past. But it doesn't stop there! So content with this miracle cure, was he, that he starting

selling

the hookworms he shat out on the internet to help out other allergy sufferers! You can listen to the entire piece here. (10 minutes in.) (If you dare.)

Now, I thought Helena brought this up in a HA, HA CAN YOU BELIEVE THE WORLD WE LIVE IN?!

KOOKY!

kind of way, but after a few minutes of her defending this guy tooth to nail and snapping at me and Laura for being so grossed-out, it became increasingly clear that she brought this up because she thinks it's a

good

idea. To which I say no. Just,

no

. I say no to her, I say no to him, I say no to the hookworms, I say no to procuring hookworms on the internet from a man's asshole, I say no to parasites as an option for allergy relief, I say no to Ira Glass, I just say no to the entire situation. That's my entire argument: no. And I think it's pretty damn good one, if you ask me. And there's absolutely no chance that I could be wrong. I'm right. So there's that. Good day.

This fired Helena up like nothing I've ever seen before and she fought long and hard to persuade us to see her side of the worm. Did we? No. Of course we didn't. Why? Because, no.

"FINE! Then you go on your blog tomorrow and you ask your readers what they think! THEN WE'LL SEE WHO'S WRONG!" she challenged.

Oh,

really?

You sure you want to open those floodgates? Because we're not talking about the politics of ass-wiping, and I'm not mixing up my rednecks with blue eyes and shorn hair—WE'RE TALKING ABOUT PURPOSELY INGESTING WORMS WITH RAZOR SHARP FANGS TO KEEP THE SNIFFLES AWAY. Something tells me I

might

be right on this one. Sorry to get all cocky about it.

It blows my fucking mind that Helena, of all people, thinks this is a good idea and given the opportunity, she'd totally do this. Normally that would be enough to make me question myself and think something is wrong with me, but NO!

Nothing

is wrong with me. I'm right; she's wrong. And if she wants you guys to be the judge and jury on this one, then that's fine with me! I am

more

than comfortable with that.

Here's what she has to say for herself:

I've suffered from vicious allergies my entire life. The constantly runny nose, the leaking from every facial orifice, and general cranial discomfort. But I've come to accept it. UNTIL NOW.

Picture it: The Bus. 6:30 on a Monday morning en route to work. Listening to

This American Life

and suddenly I regain consciousness! Because there is a COMPELLING story re: allergies. Apparently there's a cure. HALLELUJAH.



Pros:

NO MORE ZYRTEC.


Cons:

living with hookworms.

Listen, as the world's biggest neat freak (seriously, I lost a BFF/roommate over this) I can respect the desire to not inject a parasite, but this is 1000% worth the trade-off. And I know that's not a real percentage. I'll take anything

Radio Lab's

Jad Abumrad says as gospel, but I think this is the most useful story he's done. Slash most upsetting. Essentially, getting comfortable with a few hookworms living inside you means you'll never have an allergy again. All they'll do is sing your immune system gentle lullabies and take a very small percentage of nutrients from your digestive system in return. Parasites are a part of life and in this part of the world, we've done a bit too much suffocation of the good stuff. All we need is a bit more action from our primordial partners.

Listen to the segment. In Ye Olde Western World, we're too clean and we've effed ourselves over. I'm not going to say I'm comfortable with mail ordering Jasper's excrements. BUT as soon as the FDA is on board with lab-approved treatments, I'm IN. Until then, sorry Jad/Jasper, I'm holding off. I really need a clean bill of health. I only hope it happens soon.


My rebuttal:

No.

OK, I'll expand slightly. (Although I don't think I have to.) Reasons why Helena, bless her heart, is bat-bird crazy:



-

Let me get this straight, you don't think the word "poon" is civilized, but you're A-OK with a shanty town of hookworms living in you??

Shenanigans

.



-

I have allergies too. They blow. I've been on a steady IV drip of Mucinex and Claritin D for the past month. It's irritating. However, it is not irritating enough to INGEST

WORMS!

What's the big deal with taking a pill? Hookworms are like the IUD of allergies; they're invasive and creepy and I don't care how many doctors tell me you can't feel 'em—I'd just rather take a pill everyday. If Mucinex and OrthoTriCyclin teamed up, I'd buy a Costco membership in 15 seconds flat.





-

That's how confident I am in my side of the debate. One of my arguments is literally just a picture of Mr. Rogers' Neighborhood. Why? Because it's not of hookworms.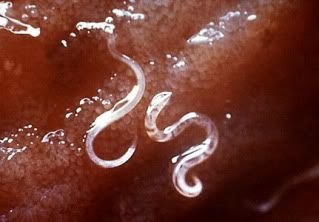 -

Because

those

are hookworms. They're the size of a piece of hair and they wriggle around your lower intestines mooching off your salad. No fucking thank you.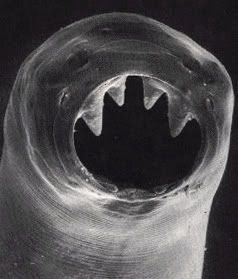 - FANGS!





-

I can understand the argument that the First World is too clean and we're actually hurting ourselves in the long run (mainly because I saw an episode of

House

about it...) but that means I'm willing to go to the extremes of drinking tap water to get more fluoride and don't feel the need to excessively Purell my hands day and night. IT DOES NOT MEAN THAT I WANT TO INGEST

WORMS!





-

If it was a matter of life or death, I would obviously ingest the damn worms. If I picked up some parasite that could only be killed by another kind of parasite, which could eventually be killed off by medicine; fine. Give me all the worms in your worm farm and then some. However, I'm talking about a

life or death situation

. I'm not experimenting with parasites in my body to get rid of watery eyes and and the occasional sneeze.



-

"But pills have chemicals! Worms are natural!" OH

I'M

SORRY, HIPPIE! Does that mean I get to take away all of the bleach you so regularly clean your house with? Maybe moonbeams and flower power will get your bathtub to sparkle, huh??

Look, Helena...I love you more than Hagman and Rasta Pug combined, but you're just

wrong

. The entire situation is

wrong

. But because I recognize that there's always the (very,

very

, microscopically small) chance that I'm not right here, I open up the floor to you readers and invite you to weigh in on the matter.

Thank you for your input and I'm sorry to Helena in advance.