Christ on a croissant. Allow me to share with you a text I got from
Allison
this afternoon while I was at work:
No Post Monday. Your father and I aren't mad. We're

disappointed

.
Sigh
. Now allow me to share with you a gchat conversation two readers from Texas had and sent me:
Kate:

it drives me nuts that meg never posts on mondays anymore
and EVERY tuesday is like LOLOLZZzo NO POST MONDAY SORR ABOUT THE BAG
and im like
.... that doesn't make up for it, meg.
that. doesnt. make. up. for. it.
Sent at 3:24 PM on Monday


Sarah:

I KNOW
its annoying
its like I NEED THIS
it's not a game at this desk


Kate:

hahaha


Sarah:

what is she doing mondays if shes unemployed?


Kate:

she works retail
and she drinks sunday nights
so she barely has time to put on pants mondays when she wakes up at 10am for her 11am shift
ugh, meg.
i feel like i know you
and yet, i dont.


Sarah:

its so creepy yet so necessary
maybe we should send her this convo
And then they did. And I'M SORRY, YOU GUYS! I'm
sorry. I can't even tell you how much No Post Mondays stress me out. I kept remembering that I didn't post anything this morning at work today and feeling all guilty and stressed out like I forgot my kid at daycare or something. Which is absurd because this is just a
blog
. But, you know, it's more to me and I feel guilty.
I don't even have a good excuse for not blogging yesterday. I got home from work Sunday night and like the responsible young blogger I am (or strive to be), I curled up on the couch with a glass of wine, a very much alive and somewhat kickin'
Cella
and
Dr. Reuben
's
Everything You Always Wanted to Know...
with every intention of writing a
Q&A
post for Monday morning. And then I passed out AN single page in. I woke up five hours later at 2:30 in the morning curled up in a ball on the couch, pantsless, TV still on, spooning my laptop with mascara all over my face. It was pretty much the closest I've come to having sex since I made consensual love to a box of Thin Mints last Thursday.
Despite being half asleep and in the midst of nap afterglow (
nafterglow
, if you will,) I vowed that I would get something—anything—up on the blog to avoid yet another No Post Monday. So I made a list of everything that's going on in my life at the moment. And the list went as such:
- I had a really satisfying salad for dinner last night.
And that concluded the list. I'm not kidding. I very seriously wrote that sentence, blanked on anything else to write and thought, "Welp! That's the ballgame. This is my life.
Aaaaaaaand
hells bell's it's depressing. Good night and god speed."
But I refuse to believe that that's the only noteworthy thing in my life right now. That I had a satisfying salad for dinner. (Although it's worth noting that it really was a satisfying salad. So much so that I had again for dinner tonight. And some soup. Because it was a rainy, lazy, cozy soup kind of a day. OH MY FUCKING GOD, DO YOU SEE?! DO YOU SEE WHAT'S HAPPENING TO ME?!)
No!
I'm not letting this happen. I will not talk about depression, or soup, or salad, or soup and salad combo meals, or anything else that will make me sound like a living, breathing
Cathy
comic. Today I'm going to talk about
other
things. This, my friends, IS WHAT'S GOING ON.
-
UM. Reagan, a 2b1b reader from Houston sent me this tank top the other day:
Oh
I'm
sorry, Reagan. Did I just go gay for you? Yep. Sure did. So, what are you doing this weekend? ME!? Hehehehe, oh
MY!
You bring the flannel; I'll bring the power tools.
(Side note: I really want to add a merch store to the blog, specifically because I want to create an official "
sorr about the bag
" tote bag and proudly sport it around town on a daily basis. If anyone knows anything about how to set up a merch store on a blog, hit a bitch up: meg@2birds1blog.com. Especially because if I get a store up and running, it might solve my next problem...)
-
I need $500 and Adderall
. Fast
. I realize this couldn't sound sketchier if a one-armed Russian drug dealing sailor was involved, but I swear both are for legit purposes. I think I may have solved my
laptop problem
!
Lara
's going off to grad school in the fall (THAT'S RIGHT! My design
protégé got accepted into Parson's web design masters program,
DID YOURS?!
Oh. He did? Well. Good for him. He should talk to Lara because she's talented and easy on the eyes. Oh, and he's newly single? Welp. I'm mighty glad we had this conversation.) and needs to get a new computer before she goes. She dropped by the store tonight and informed me that she's going to sell her old (sexy) laptop (which just got a new battery and comes with CS3!) for $500 and I shotgunned that thing so fast my name tag spun. Unfortunately Lara wasn't quite as excited. She kind of awkwardly looked at the ground, shifted her eyes back and forth and asked, "Uhhh...Meg...no offense, but do you
have
$500?" Well, no, not in the
technical
sense, but I sure as shit can find a way to get it!
So, what am I good at? Drinking, making charmingly awkward conversation and occasionally baking things. Thus, for a nominal fee, I will come to your apartment with a bottle of wine and bake you something. Perhaps a
poon cake
. It's kind of my specialty. What's the nominal fee? In the words of the church, "give what you can." And then a few bucks more because things are touch
and
go. Come on! It's like a bake sale that comes
to
you! It's a lazy man's wet dream! Invite some friends over! We'll make it a night! (PS: those friends should also give what they can. God bless.)
Oh, and the Adderall is just because
I have ADD
and need it, but can't afford to go see a psychiatrist anymore. Poverty is
mighty
inconveniencing. I'm rationing out my remaining anit-depressants like meat in wartime.
Now, I don't know how "legal" this is, but I have a request. Is the request to mail me any spare Adderall you may have lying around your house? No. No, it's not. But it's also not
not
to mail me any spare Adderall you may have lying around your house, if you catch my drift. And if say a spare painkiller found it's way in there too? Well, I certainly wouldn't be mad. THAAAANX!
-
Becca
recently asked me to start thinking about what kind of bridesmaid dress I would want to wear in her wedding. She's pretty sure she wants her bridal party to be in gray, but since I'm the Maid of Honor, mine gets to be a little bit different. When she told me this, I obviously heard, "you can wear whatever you want," and immediately knew the perfect dress—the dress that Alexis Carrington/Colby/Dexter/Rowan wears to Steven and Sammy Jo's engagement party in the season 2 episode appropriately titled, "The Party."
when Becca was over the other week, I decided it was a good time to inform her that I had found
the
perfect Maid of Honor dress for her wedding. "Awesome! Let's see it!" she said. So I juiced up the old DVD player, popped in "The Party" and paused it on the following still:
She seemed to not think it was an option. Although, to be fair, I failed to mention that the mink stole and gold seashell clutch are
optional
. That might make a difference.
Flash forward to yesterday when
Ex Co-Blogger Eddie
sent me a link to a dress that she said I should buy because a.) it looks like
Dynasty
threw up all over it and b.) it would make my boobs look good: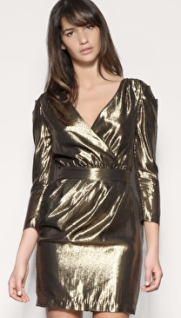 Oh,
I'M
sorry. Is that not just a modest version of my dream
Dynasty
dress?! IT'S PERFECT! I mean, gray is sophisticated and elegant and all, but gold lamé? Gold lamé is like surviving a heinous car crash, plunging into a vat of ice-cold water or getting kicked in the groin—it reminds you that you're
alive
. If there's any fabric more appropriate for a wedding, I'd like to know what it is.
Soooo
...fingers crossed she goes for that.
-
What does it say about me that I legitimately almost peed my pants laughing the first time I saw this video?
And keep in mind that a large part of the near urination factor was due to the kid's blood-curdling screams. Not to mention the fact that right it can get any funnier, a rogue donkey scampers across the shot. I mean, this is pretty much what dreams are made of. I've very seriously had this video open in it's own tab for like, four days straight now and I can't imagine living in a world where I close it. Hell should be nice...
-
I was having dinner with my parents last weekend and we somehow started talking about
Project Runway
. During this conversation, my dad informed me that it is his ultimate dream for me to go on
Project Runway
and make it to the final 3. Not because I want, or have
ever
wanted to be a fashion designer, mind you, but
because that means my dad would get to meet and subsequently hug Tim Gunn during the home visit episode. "I don't know," my dad explained, "A hug from Tim Gunn seems like it would be so
cathartic
. Like everything would be OK. He just seems like such a
nice
guy!"
...From now on, whenever people get weirded out by the fact that I have tattoos dedicated to my parents,
this
is the moment I'm going to refer them to. I just feel like it might clear things up a bit.
- In case you didn't know, I'm on the
Twitter
. Fellow Twitter user and 2b1b reader @
toastedzen
tweeted me the following this past Friday night:

toastedzen @2birds1blog I would give just about anything to hang out with you. Hell, to DATE you. I am in love!
"Well that's awfully nice of you, sir," I thought to myself, before tweeting "done and DONE!" back for good measure.
The next morning, he tweeted this:
toastedzen @2birds1blog FYI I have no idea how much sake I had put back before I wrote that. Just in case, you know if it doesn't work out between us.

To which I joked, "what?? so we're NOT dating?!" And this is what I got back:


toastedzen @2birds1blog its not you, its me. really. umm... I just think we should be free to see other people. but we can still be friends.
OK, let me just get this straight: I'm getting dumped by

fake

boyfriends, these days
? Before even
meeting
me? Is this really how far I've fallen? I'm not mad, mind you. I'm just asking. Clarifying, really. Because when you discover my lifeless body hanging from a shower rod, I don't want there to be any confusion as to what happened. I don't want any lingering theories out there that perhaps old Meg McBlogger
David Carradine
-ed herself. It was intentional. So we're all on the same page here? Good. Moving on.
-
AH! WEIRD! So after writing that last thought, I went to the bathroom to wash my face and on my way back, grabbed the most recent issue of
Cosmopolitan
Becky
has and brought it back to bed. I opened to the horoscope section and read mine:
Aries
The forecast:
As Uranus makes its agitating debut in your sign, you're bound to unleash your grumpiness on all the wrong people. Sign up for a bad-mood-busting kickboxing class, pronto.
Work mode:
Cashing in. Moneymaking Mercury settles past-due payments, and you'll enjoy a post-tax windfall.
Love life:
A three-way planetary lineup could send hot prospects to singles. Meanwhile, the coupled-up Ram will finally start showing off her man at company events.
Power Day:
27th
First and foremost: HAHAHAHAHAHA!
Uranus
.
Secondly: HAHAHAHAHAHA!
Three-way
.
But come on! As much of a giant pile of horse shit that Cosmo is, that's a pretty creepy horoscope, right?? I'm grumpy and taking it out on the wrong people (
you
, via No Post Mondays) but my money problems will soon be solved (thanks to my new poon cake chef on-the-go business!) Thanks Cosmo! I never thought I'd say this, but you made me feel better about life. And don't worry, I won't forget to
play with his balls
.