I'd like to think that I'm pretty good at laughing at myself and all of the soul-rapingly embarrassing things that happen to me on a daily basis. Typically when I blog about something embarrassing, it's like I purge all of the bad energy associated with whatever happened and as other people find it funny, I find it funny too. It's a wonderful little win-win situation. That being said, there remains one event that is still not funny: Sorr about the bag.
"Sorr about the bag" happened Sophomore year of college in my Computer Literacy for Design class and is still unbelievably traumatizing to think about. Shortly after it happened, I documented it in my LiveJournal and last year I wrote about it again in the blog post

An Annotated Anthology of Awkward

. That means I've purged the negative energy twice, yet it's still too soon to find it funny. If only you could coke-douche emotions...
From An Annotated Anthology of Awkward:
I

forgot to bring a jewel case for the CD that my design project is on. So what do I use to protect my CD? A ZIPLOCK BAG WITH LITTLE BITS OF CRUNCHED GOLDFISH CRACKERS AT THE BOTTOM I FOUND IN MY MESSENGER BAG FROM GOD ONLY KNOWS WHEN. Who the fuck does that? And then to compensate, I wrote "sorry about the bag" on it, but I forgot the "y" in the word sorry. So I had to draw a little carrot and a y, making myself look like an even bigger asshole. So now I'm that girl who came into class 20 minutes late the first day, who's computer is never connected to the server and who presented her first project in a ziplock bag with bits of goldfish crackers and "sorr about the bag" scrawled on it. I am so fucking awkward.

[note: I damn near had a panic attack remembering this incident. The next time our class met, the professor (whom I had such a huge crush on) held up the bag in front of the entire class and delivered a five-minute lecture on how disrespectful I was and how designers who don't take pride in their deliverable should change their major. I have never felt so stupid in my entire life. I went back to my dorm room and cried my fucking eyes out. Oh my God.]
That's not funny. You know how when something really traumatic happens you can remember really oddly specific details from it? Well, not only can I remember
exactly
what I was wearing the day my professor berated me in front of the entire class, I remember what

he

was wearing

and

the girl next to me. And when I close my eyes, I can still see what was on the to-do list next to my computer because I remember staring at it while crying my face off thinking, "what's the use of doing any of that because I

clearly

don't have what it takes to be a graphic designer!" Oh my god. Seriously. To former graphic design adjunct professor
Tobin Lehman
: go eff yourself, you pompous little twit on a power trip. You have no idea how much you scarred me for life. Because, dude

—a

private note on my grade sheet would have sufficed; you didn't have to ream me out in front of the
entire
class. Stupid, sexy Flanders.
Unfortunately for me, my friends really,
really
like "sorr about the bag" and ever since blogging about it last January, not only does it get brought up (a lot) in every day conversation, it's actually become incorporated into daily vernacular as a way to say I'm sorry. And no one finds it more hilarious than Tulane Chris.
Whereas 97% of all text messages/emails/gchats/voicemails I receive from Ex-Co-Blogger Eddie are updates on Larry Hagman's health, 97% of all text messages/emails/gchats/voicemails I recieve from Tulane Chris are him saying "sorr about the bag" in various contexts. On one hand I'm glad I can bring so much joy and laughter into Tulane Chris' life, but on the other, I

really

hate this constant reminder of the most publicly embarrassing failure of my life.
From a typical gchat conversation with Chris:
Chris:

I know it was really embarrassing for you
But sometimes I imagine "

sorr

about

the

bag

"
that story causes me so much anxiety

Chris

: I can hear you saying it
I with that was your catchphrase
4:40 PM
me

: Meg McBlogger:

sorr

about

the

bag

since 1985
Chris

: Meghan McBlogger, how do you plead?
"

Sorr

about

the

bag

, your honor."

Chris

: I was so tickled with that one I had to leave

the

room and collect myself.
It's so awk to like LAUGH at your own joke
4:45 PM
me

: let's get matching tattoos that say "sorr about the bag"

Chris

: Meghan McBlogger, 1985 - 2060. Friend, Wife,

Sorr

about

the

bag

.

Chris

: Something old, something new, something borrowed,

sorr

about

the

bag
4:48 PM
me

: omg. i'm so tense right now. you're killing me.
and for the record, i'm still

sorr

about

that

bag
4:51 PM
Chris

: Bless me Father, for I have sinned. It has been 24 years since my last confession. I am

sorr

about

the

bag

.


me:

you need to stop.

Chris

: ON your deathbed:
Do you accept our Lord, Jesus Christ? Do you renounce

the

devil, and all his empty promises? Are you

sorr

about

the

bag

?


Chris:

Has the jury reached it's verdict? We have your honor. What say you? We the jury find the defendant, Meghan Catherine McBlogger sorr about the bag.

5:00 PM
Chris

: I, Meg McBlogger, being of sound mind, am

sorr

about

the

bag

.


And using it as an everyday replacement for "I'm sorry":
Chris

: I have a favor to ask. I need someone to sign for some papers I'm having sent
Would you mind doing it and then just regular mailing them?
3:02 PM
Like it just needs to be that someone got them
But no one I know is HOME IN

THE

DAY
3:05 PM
If it's a hassle no big
I know it's annoying

3:06 PM
Sorr
about
the
bag


Cracking himself up.

Again

.
Chris

: We

the

People of

the

United States, in Order to form a more perfect Union, establish Justice, insure domestic Tranquility, provide for

the

common defence, promote

the

general Welfare, and secure

the

Blessings of Liberty to ourselves and our Posterity, ARE

SORR

ABOUT

THE

BAG
I want to do a "

sorr

about

the

bag

" of that "oh my god shoes" thing
6:56 PM
I'm snickering aloud in

the

computer lab
And finally, from a text message I received the day I got
fired
:
While I'm pretty sure Tulane Chris is extremely satisfied with himself and finds this all
hilarious
, it's still way too soon for me. Four years later.
Flashback to this past
Friday
. I got home from a long, hungover and generally rough day at work and all I wanted to do was put on my
Jack Daniel's pajama pants
, crawl into bed and make love to a sandwich while watching
Dynasty
. As I walked into my building, Henry at the front desk motioned me to stop and got something out of my mailbox. He handed me an envelope and I was baffled—it was an extremely urgent FedEx envelope with a return address of American Telegram in Las Vegas.
What? Who would send me a
telegram?
Truth be told, I didn't even think you could send telegrams anymore. Suddenly my heart dropped into my butt—was I finally being
served
by my ex-bosses? It looked so official, it
had
to be something to do with that. But don't I have to be there to be officially served? Isn't that what
Pineapple Express
taught me? WHAT THE FUCK COULD THIS BE?!?!?! Either way, it probably wasn't anything good. I got into my apartment and tore it open, all the while thinking, "like this day could get any worse."
And then I saw what it was: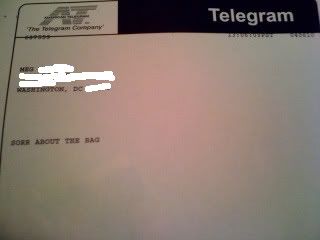 That's right.

Tulane Chris FedEx-ed me an urgent telegram stating, "SORR ABOUT THE BAG".
..............................................................I literally put the telegram down and—
completely
alone in my apartment—started a slow clap. This kind of dedication to an inside joke isn't stupid; it's
art
. And thus, today after work, I came home, framed it and hung it on the wall directly underneath my
Dr. Dre stickers
.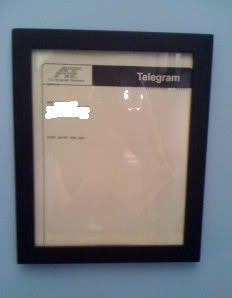 So with that, I announce my big news: On the ninth day of April, in the 2010th year of our Lord and savior Jesus Christ, "Sorr about the bag"

officially

became funny to me.
Thank you Tulane Chris.
Thank you.